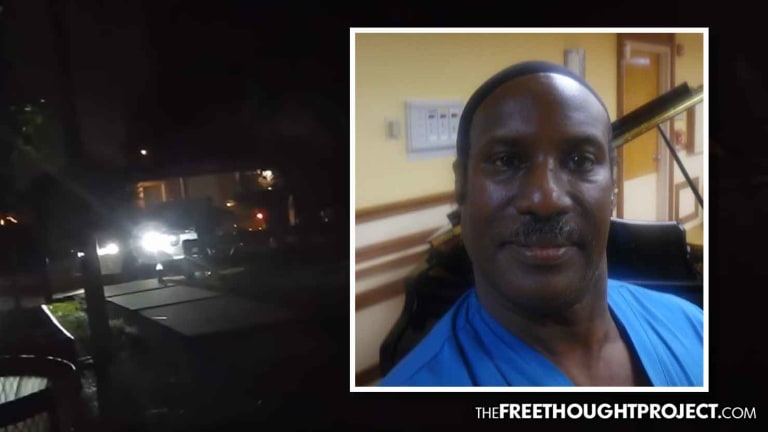 Video Shows Cop Walk Up to Innocent Retired 63yo Veteran, Attack and Arrest Him for No Reason
While sitting on a park bench across the street from his home, a veteran was attacked and arrested by a power tripping cop for no reason.
Miami, FL — Oscar Julien-Riou, 63, honorably served his country for 20 years and retired from the Army, he then became a nurse and continued to serve his country by treating fellow veterans at the VA Clinic. However, that country he dedicated his life to fighting for betrayed him last December when a Miami police officer attacked and falsely arrested him for doing nothing other than sitting on a park bench. Now, after the department refused to discipline the officer who attacked him, Mr. Riou is fighting back in the form of a lawsuit.
"Mr. Riou is a retired Vietnam veteran who had recently retired from his job as a registered nurse after 20 years, subsequent to retiring from the Army after 20 years of service," the suit states. "He volunteers at the V.A. playing the piano for Veterans in palliative care. He'd never been arrested in his 63 years of life."
The incident unfolded when Riou was sitting on a bench in Liberty City's Alonzo Kelly Park, which happens to be across the street from the retired Army veteran's home. As Riou is also a minister, he was making a video likely designed to give to his followers.
As the video shows, Riou sees the officer sitting in his car and says, "there's the Miami PD, doing what they are supposed to be doing." He then continues recording his video.
He was doing absolutely nothing wrong and as the video shows, he thought he had nothing to worry about from the police. Sadly, however, he was mistaken.
For six minutes, officer Ioannys Llanes shined a spotlight toward Riou before exiting his vehicle and assaulting the innocent man.
As the video shows, Llanes began to tell Riou that the park was closed to which Riou responded, "yes sir. I'll close out then," noting that he was making the video.
Riou was polite and listened to everything the officer was saying, but the officer attacked him anyway.
"You're hurting me, sir!" the retired veteran tells the officer as the officer smashes him into the concrete.
The officer then accuses Riou of dropping something. However, there was nothing to be dropped and police would quickly realize this. Instead of admitting they made a mistake, the officer arrested Riou on false charges of resisting arrest, according to the lawsuit.
"Defendant Llanes used unreasonable and excessive force against Plaintiff Mr. Riou when he forcibly pushed/threw him down to the concrete, manhandled him in such a way as to cause physical injury, searched him without consent, called other officers to the scene to physically apply unreasonable and excessive force in reliance on his call, forcibly put him in handcuffs when he was already under the physical control of the Defendant, detained him for over an hour, and created a criminal record for Mr. Riou by falsely charging him with resisting arrest," the suit says.
What's more, according to the lawsuit and an image provided in it, the park has no clearly defined closing time, meaning the cop had absolutely no reason for approaching the innocent veteran, much less attacking and arresting him.
Before this incident, Riou had never been arrested or had any negative interactions with police. So much for the saying of "don't do anything wrong, and you won't get beaten or arrested by police."
"After giving 20 years of his life to serve our country, Mr. Riou was violated and deprived of his civil rights by those sworn to protect and serve," the suit states. "He was stripped of his humanity and dignity, overwhelmingly suffering by what was done to him. He feared for his life, stating, 'They descended on me like S.W.A.T.! I was thinking they could kill me, and my children would never know what happened to me.'"
Sadly, veterans — who dedicate their lives to defending this country — are all too often arrested, beaten, or killed when they come home from their service. If you truly want a glimpse into the disturbing nature of police officers abusing veterans, you can take a look through our archives, here.