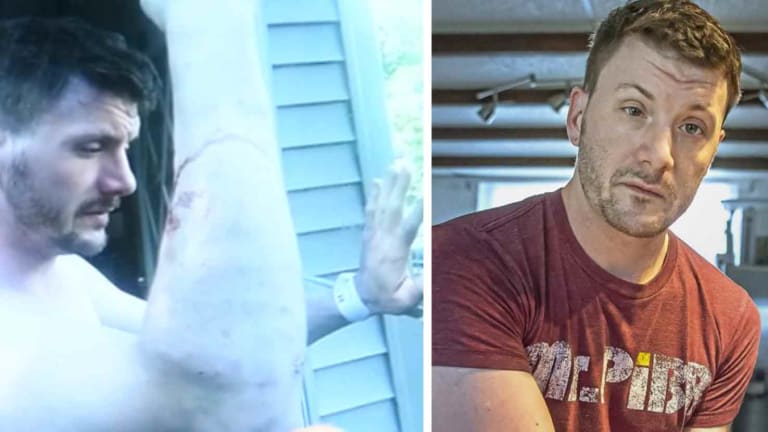 Cops Force K9 to Maul Innocent Sleeping Blind Man in His Own Home—Taxpayers Held Liable
An innocent blind man was asleep in his home when cops broke in and forced their K9 to maul him for no reason at all.
Mount Washington, PA — On that fateful night back in June 2017, Robert Aldred had committed no crime, had harmed no one and was asleep in his own home. Despite being entirely innocent, militarized cops with a blood thirsty K9 broke into his home, went into his bedroom, and savagely attacked this innocent man, who is also legally blind.
Now, after filing a lawsuit against the city for the abuse, the city is issuing him an insultingly low settlement that Aldred says doesn't even cover his medical bills.
The fact that police felt it necessary to force their K9 to attack a naked blind man as he slept is bad enough, but the ridiculous settlement makes it that much worse.
"It was extremely traumatic," Mr. Aldred said Wednesday at a news conference. "It was the police department. They're here to protect and serve."
Sadly, protection and service were nothing close to what Aldred received on the night of June 23, 2017.
As the Post-Gazette reports:
The night of the incident, Mr. Aldred got off work and went to a lounge in Downtown with a couple of friends before returning to his apartment about 12:30 a.m. When he got home, he noticed that the front screen door was broken, but the door remained intact. He went to his third-story apartment and fell asleep.

Pittsburgh police officers Logan Hanley, Joshua Matthews and Michael Soroczak responded after an anonymous neighbor called 911 to report a burglary was taking place at Mr. Aldred's home. The officers entered the residence with a K-9 and made their way up to Mr. Aldred's room.

Mr. Aldred, who didn't hear police enter the residence, woke up when the officers came into his room. He said he was unarmed and naked, and he was confused why they were in his room.
Instead of realizing they had just startled a sleeping blind man in his own bedroom, police escalated force and unleashed their K9. According to the lawsuit, officer Hanley was the dog's handler who encouraged his hell hound to continue to attack the harmless naked blind man.
As Aldred raised his arm to shield his face from the dog's bites, the dog latched onto his arm and began shredding it. The K9 also tore into the innocent blind man's leg as well. After they finally pried the dog from the screaming and bloodied man, instead of immediately administering first aid, officers handcuffed the naked blind man, put sweat pants on him and hauled him outside to question him further.
Mr. Aldred, who was "hysterical, crying and still bleeding profusely," the lawsuit said, told the officers that he lived in the residence, but they continued to question him. Around 2:00 a.m., Aldred's roommate comes home to the chaos, after Aldred had been handcuffed and bleeding for well over an hour. He tells the cops that the innocent blind man does indeed live in the residence and they finally removed the handcuffs. An unidentified officer then asks Aldred if he needs to go to the hospital.
"Mr. Aldred told the officer that he absolutely needed to go to an emergency room because he was still bleeding profusely and in excruciating pain from the attack," the lawsuit said.
Aldred said his medical bills from that night were over $10,000 and police paid for none of it. The innocent blind man was never charged with a crime.
"Mr. Aldred will never be the same," said Todd Hollis, Mr. Aldred's attorney. "And the fact that this happened in his own home, I'm certain it will have lasting consequences."
Indeed, it already has. According to Aldred, his neighbors were so scared of police doing this to them, that they all moved away.
Mr. Adlred's case is a perfect example of why TFTP exists. When police can break into an innocent blind man's home, based on an anonymous call, force their K9 to shred his flesh, never say so much as "I'm sorry," and then pass their liability on to the taxpayer, something has gone seriously wrong. If we the people do not speak out about the increasingly unaccountable and violent nature of police in America, by the time most people realize it is going on, it will be too late.