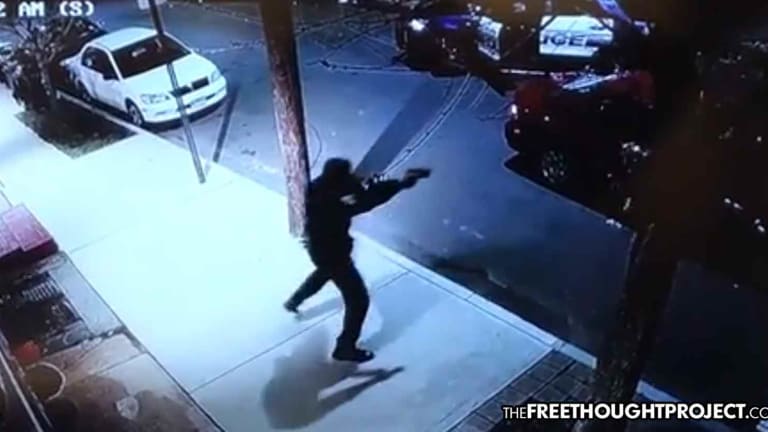 WATCH: Trigger-Happy Cops Open Fire on Innocent Couple After Mistaking them for Armed Robbers
Two trigger happy cops mistook an innocent couple for armed robbers and attempted to murder them.
New Haven, CT -- Citizens of New Haven have been protesting every day since last Tuesday after police blocked in an innocent couple in their vehicle and opened fire on them for no reason. The entire incident was captured on video and showed the utter cowardice and ridiculous violence carried out by New Haven's best.
Stephanie Washington, 22, was hospitalized last week after two trigger-happy cops opened fire on her and her boyfriend Paul Witherspoon, 21. According to police, Officer Devin Eaton and Yale police Officer Terrance Pollack were responding to reports of a robbery at a nearby gas station when they stopped the vehicle in which Washington was a passenger.
In only seconds, both officers jumped out of the vehicles and began shooting at this innocent couple. After they shot Washington, they realized the couple was unarmed and hadn't done anything wrong.
Witherspoon's uncle told reporters that there was an argument at the gas station, but no attempted robbery. His comments were backed up by the fact that no charges were filed against either of the vehicle's occupants.
Hamden Mayor Curt Leng called the shooting "shocking, haunting." And he's right. "I am so deeply sorry to the individuals who were involved that this ever occurred, and also very thankful that the healing has begun," he said Saturday in a statement. "We will do better. We must do better." Rightfully so, the town is outraged and has been expressing this outrage in the form of peaceful protests since this disturbing scene unfolded last week.

"The university has been very open to having a transparent process, but I think they continue to frame this as an unfortunate tragedy when in reality it was preventable," Yale Divinity School first-year student Joshua Cayetano told NBC News on Saturday.
Police claim that Witherspoon had a weapon so they had no other option but to begin dumping rounds into the car. However, a search of the vehicle, video footage from surveillance cameras as well as the officers' own body camera footage, shows that no such weapon existed.
What's more, police claim that they opened fire because Witherspoon "exited the vehicle in an abrupt manner" and turned toward them. However, as the video shows, that never happened.
As the video shows, the officers were the only ones who jumped out of a vehicle and they immediately opened fire for absolutely no reason.
The officers' actions were so excessive and careless that Pollack was hit with a bullet as well.
As you watch the video below, realize that this could've happened to anyone. Witherspoon and Washington had committed no crime, yet two armed agents of the state blocked them in and attempted to murder them.
Had they been successful at their attempted murder, rest assured that no one but the taxpayers would be held liable.
Police officers opening fire on unarmed couples in their vehicle is a tragically common scenario. One of the most egregious cases TFTP has reported on was the execution of Timothy Russell and Malissa Williams.
The shooting came at the end of a November 12, 2012 high-speed chase involving more than 100 officers and 62 police vehicles to go after Timothy Russell and Malissa Williams. The pursuit began when officers standing outside police headquarters mistook the sound of Russell's backfiring Chevy Malibu for gunfire. When the car stopped outside city limits, officers opened fire, perforating Russell with 24 shots and Williams with 23.
The shooting lasted 19.3 seconds. For anyone who's ever been to a shooting range or is familiar with firing weapons, 19.3 seconds would seem like an eternity as all those rounds were flying down range. To discount the malicious intent of these officers continuing to fire after the first few seconds is outright criminal.
Neither of the victims were armed, or suspected of anything more serious than traffic violations resulting from the pursuit. A search of the vehicle following the double homicide revealed a crack pipe. Both Russell and Williams had been diagnosed as mentally ill. All five cops who murdered the couple have since returned to duty.