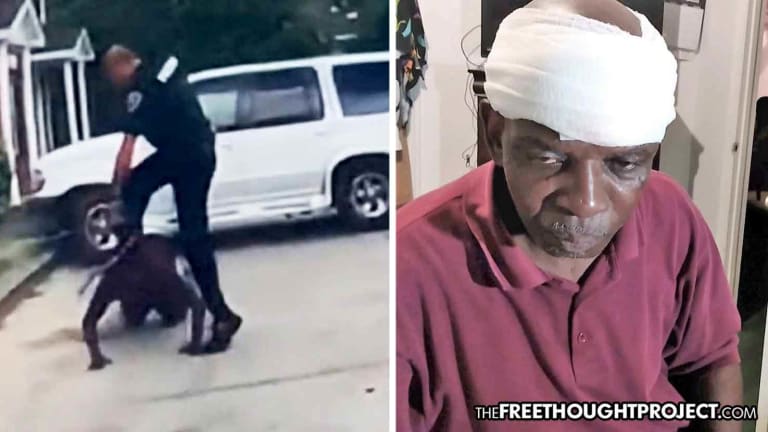 Cop Orders Innocent Disabled Man to the Ground, Stomps His Head for Not Moving Fast Enough
An innocent disabled man was unable to get on the ground fast enough after being falsely accused, so a cop stomped his face into the pavement.
Orangeburg, SC — As the Free Thought Project points out regularly, the phrase "If you don't want to get shot by police, don't break the law," is oft-repeated by the police apologists. Unfortunately, however, this phrase is proven wrong on a regular basis and the proof comes in the form of injured innocent people and dead bodies. Clarence Gailyard, a 58-year-old disabled man, learned this the hard way last week when he was attacked by police for simply walking down the street.
On July 26, Gailyard and a friend were on a walk in his neighborhood when Orangeburg police officer David Dukes claimed to be responding to a call about a man with a gun and approached the two men.
Without telling them what he was stopping them for, Dukes pulled his gun out, and at gunpoint, he ordered the two men to the ground. Though they had done nothing wrong, neither man protested and they both immediately complied.
Gailyard has multiple pins and rods in his leg from a surgery he received after he was hit by a car. As a result of his injuries, he often walks with a cane and is not very fast.
Though he was complying with the jackboot's orders, his injury made it difficult for him to quickly get down on the ground. His slow movements infuriated officer Dukes who then proceeded to speed up Gailyard's actions by stomping his head into the pavement.
Investigators with the South Carolina Law Enforcement Division (SLED) said Dukes approached the victim, who was in a defenseless position on his hand and knees, and raised his right leg and "forcibly stomped with his boot on the the victim's neck and/or head area." According to SLED, the force of the blow caused the victim's head to strike the concrete.
The officer's boot forced Gailyard's head to the ground so hard that the pavement left a laceration on his forehead and he had to be hospitalized. He had committed no crime, harmed no one, and was simply walking outside with a friend.
Dukes' partner, Officer Aqkwele Polidore is a good cop and immediately intervened and stopped the officer from further abusing the innocent man. She then reported him to their supervisors.
"She didn't lie. She told the truth. She's a good officer. All officers are not bad — some are good," Gailyard said.
Highlighting the severity of the attack on Gailyard is the fact that Dukes was immediately fired and arrested once his superiors viewed the body camera footage.
Dukes was arrested on Monday and is charged with first-degree assault and battery.
Gailyard has since hired attorney Justin Bamberg who was responsible for making the department release the body camera footage publicly. Bamberg pointed out that this attack is part of a disturbing trend in Orangeburg where police officer often resort to excessive force.
"There's no reason not to release the video so that this community has the opportunity to see everything with their own eyes and decide if what's going on not just on that day but inside that agency is ok for their community," Bamberg said. "So we're demanding the immediate release of that footage."
Illustrating the problem with bad cops is the fact that Dukes was fired from the Calhoun County Sheriff's Office for insubordination in October, according to personnel records obtained by The Times and Democrat of Orangeburg. Despite being fired, he was able to become a gypsy cop and get hired on with Orangeburg where he was allowed to assault an innocent disabled man.
"I want a change. That's what I want," Gailyard said. "I don't want them to do that to somebody else like they did to me. You know, it could've been worse. But I'm glad it didn't."
"Every time I look in the mirror, I see the scar on my forehead, and it's not OK. The only thing I want the community to do is change," Gailyard said.