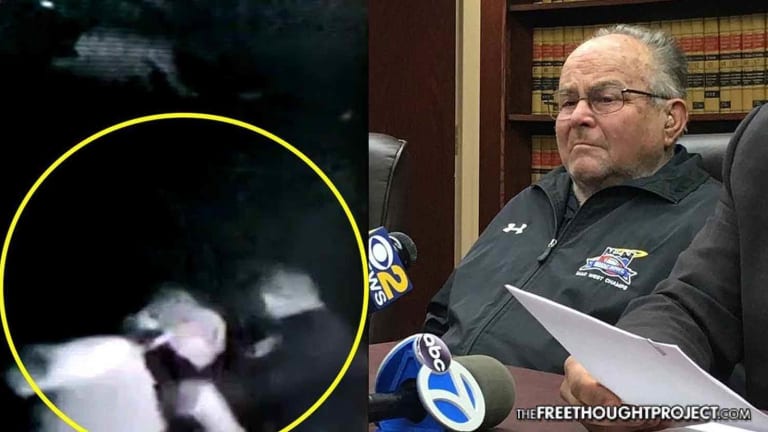 Surveillance Video Catches Cops Brutally Attack Innocent Elderly Man & Then Lie to Arrest Him
An innocent elderly man's surveillance camera saved him from years in prison after it showed that cops attacked him for no reason and lied about it in their report.
Long Island, NY — An innocent elderly man was yanked from his front porch, thrown down stairs, and then brutally attacked by those who claim to protect and serve. Then, after he was permanently injured, police charged him with a crime.
Robert Besedin, the 72-year-old Air Force veteran has since filed a federal lawsuit against police after he said two officers "pushed him, grab him by his neck, hurled him down four steps and body slammed him to the ground."
The force with which the officers attacked Besedin was so brutal that it knocked his hearing aids from his ears.
After the officers savagely attacked the innocent elderly man, he was arrested, brought to jail, locked in a cage for days—unable to hear anything without his hearing aids—and charged with felony assault against two Nassau police officers. The only thing is, he never touched them.
The fact that Besedin was innocent was of no concern to the officers who charged him. In their sworn testimony and their written statement, the officers had accused Besedin of resisting arrest, stating that he "violently flailed his arms, kicked, screamed, and pushed Officer Mantovani down four steps" after a confrontation on Besedin's front porch.
Luckily for Besedin, however, he had a surveillance camera on his front porch which captured the incident on video and proved the cops were lying thugs.
While in jail, Besedin told police that there was video of the incident but they never cared to look at it. The charges were held over this innocent man's head for a year because the cops lied and the "investigators" couldn't have cared less about video evidence exonerating Besedin. It was not until this week that all charges were dropped against Besedin, in spite of the original attack happening a year ago.
"These officers lied," Frederick Brewington, Besedin's lawyer said. "And there's no question they lied."
Officers Stephen Beckwith and John Mantovani haven't faced any discipline for their role in beating an innocent elderly man and lying about it in their report either.
According to Brewington, police responded to Besedin's home that night because his phone "butt dialed" 911 several times.
"There's a question of how all those calls were made," Brewington said. "We believe that a good number of them were made accidentally, kind of what we refer to as 'butt calls.'"
Regardless of what brought police to Besedin's home that night, attacking an innocent, non-violent man and then lying about it to falsely charge him was a criminal act and the officers need to be held accountable.
Sadly, however, if history is any indicator, only the taxpayers of Long Island will pay for the crimes of Nassau's finest.
Video footage surfacing days, weeks, or months after a violent incident involving police often disputes their original versions and prove that cops have no problem lying to justify their brutality.
One such incident involved an officer's dashcam. In 2013, Officer Adam Lin spotted 19-year-old Dontrell Stephens in a "high-crime area" — the man's own low-income neighborhood — riding a bicycle in a manner the deputy found suspicious.
Lin stopped the youth, who dismounted the bike with a cell phone in his hand and slowly approached the officer. Just outside the range of dash cam video, the officer shot Stephens four times — claiming he was in fear for his life — but footage and evidence clearly showed the claim to be baseless.
Three of the bullets remain lodged in Stephens' body, according to the Sun Sentinel — two in his arm and one in his spine, which left him paralyzed and dependent on a wheelchair for mobility.
Stephens won a massive $22.4 million settlement. U.S. Magistrate Judge Barry Seltzer, last year, however, set a precedent, and instead of the taxpayers being held solely liable, nearly everything this officer owned was seized to pay back Stephens — including everything from his furniture to his clothing.