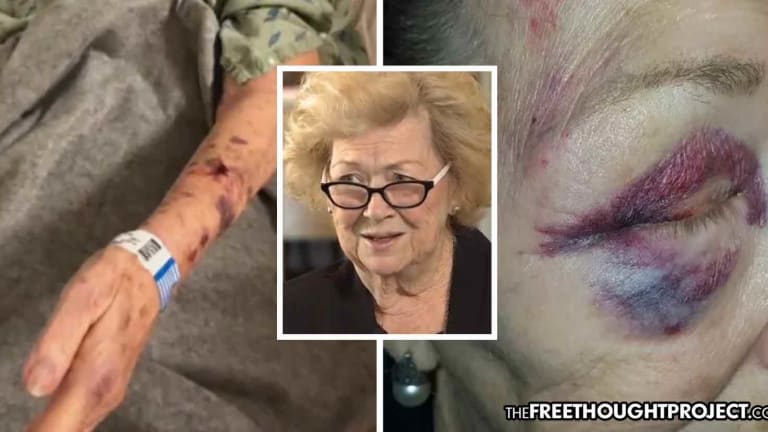 WATCH: Innocent 84yo Grandmother Sues After Cops Attack Her on Video and Lie to Cover It Up
After police failed to hold their own officers accountable for attacking an innocent 84-year-old grandmother—hospitalizing her—she is now fighting back.
Mesa, AZ — An Arizona family has learned the hard way what calling the police to help a relative can often look like as their grandmother was hospitalized after a welfare check. Showing their incompetence, the welfare check was for another family member but the police assaulted the innocent grandmother anyway. Now, the grandmother is filing a lawsuit and the taxpayers will likely be the ones held accountable.
The Free Thought Project reported on the incident when it happened in February. Days after the incident, police released body camera footage showing how this grandmother got so hurt.
Although they released the video, the Mesa police department deliberately blurred the entire clip. However, even low resolution can't hide the sadistic act of abusing an innocent grandmother.
As we previously reported, Ashlee Hahn detailed the assault in a dramatic Facebook post which showed the extent of her grandmother's injuries. Hahn's grandmother, Virginia Archer was hurt so badly during the check that she had to be hospitalized.
"I've never been treated like that in my life," Archer told KTVK. "Nobody had ever treated me like that. And I certainly didn't think it would be the police," she said holding back tears.
"It only takes watching that video for one minute to know that these officers' actions were improper and most likely criminal," Archer's attorney Solomon Radner said. "And they've done nothing. So now, we need to do something," he said of the lawsuit.
Virginia Archer filed the suit last week at the U.S. District Court in Phoenix, alleging she was unlawfully arrested on Feb. 14 and subjected to "excessive, brutal and completely unnecessary force" by Mesa police officers who went to her home checking on the safety of her grandson.
The complaint names officers C. Orr and D. Grimm, as well as the department.
"Defendant Orr's and Defendant Grimm's actions were uncalled for, and they knew it immediately," the lawsuit says. "Since they knew they were wrong, they attempted to justify their actions by lying to multiple people that Plaintiff (Archer) was being combative and/or 'not following directions at all.'"
According to Hahn, at the time her grandmother was "recovering from her fourth stroke and is confused, cognitively impaired & barely physically able to stand on her own because of uncontrollable shaking."
Hahn's mother had called in a welfare check for her son who lives on Archer's property. She told police her son was suicidal. Police were even given specific instructions not to disturb the 84-year-old because she is easily confused and fragile. When police arrived, the son was fine, but, as the body camera footage shows, the innocent grandmother was not.
"The police were called to her residence for a wellness check for a close family member who lives on her property," explained Hahn. "They were specifically asked not to bother or question my grandmother because of her present and very fragile state."
In spite of telling them to steer clear, however, police did the exact opposite.
"They forced her out of her home into the street, holding her arms tight enough to leave bruises and bleeding," wrote Hahn. "Her inability to hold still (because of her previous strokes, as seen in uploaded videos) inclined them to slam her down, head first on the asphalt. They handcuffed her after she woke from her unconscious state."
Indeed, the video shows this exact scenario. Officers forced the woman from her home by repeatedly telling her to come toward them. When she gets by them, she was clearly confused and had no idea what was going on.
Illustrating just how out of it she was, Archer starts referencing officers being behind the cars like a movie. As she turned around, the officers grabbed her and then surrounded her.
"You are not following my directions," says a cop to the severely frail innocent elderly woman. Moments later, the innocent grandmother is slammed to the ground as cops jump on top of her and put her in handcuffs.
When Hahn's grandmother woke up, she was in the hospital, bloodied and bruised. Police then immediately began conducting damage control.
"After seeing the damage they had done & sending my Grandmother off in an ambulance, they called my Mother (who made the original wellness check call) and told her that my Grandmother "slipped," Hahn explained.
To try and alleviate their liability, an officer was sent, not to check on an elderly grandmother who'd just been the subject of a savage attack, but, instead, to defend their fellow cop and his choice to inflict harm on an innocent old lady.
"The officer who came down to the hospital only seemed to care about deflecting & defending the officers involved. No accountability. No apologies," Hahn wrote.
What's more, to try to legitimize the attack on an innocent grandmother, police then charged her with obstruction.
Hahn filmed part of the interaction with the officer in the hospital as he defended his fellow cop's decision to needlessly confront her (against the family's wishes) and then violently throw her to the ground.
"Why did he put me down on the asphalt?" asked the innocent elderly woman.
"It is my understanding when I spoke to the officer, that you pulled away from him a little bit and he took action like that, okay?" the officer callously explains of how his fellow officer could somehow rationalize assaulting an innocent grandmother.
Pulling away from an officer "a little bit" in the land of the free will now apparently result in innocent elderly women being thrown to the ground.
Despite the incident happening nearly six months ago, no news of discipline for the officers involved has been released. The Mesa police department only said that the investigation is still currently underway.