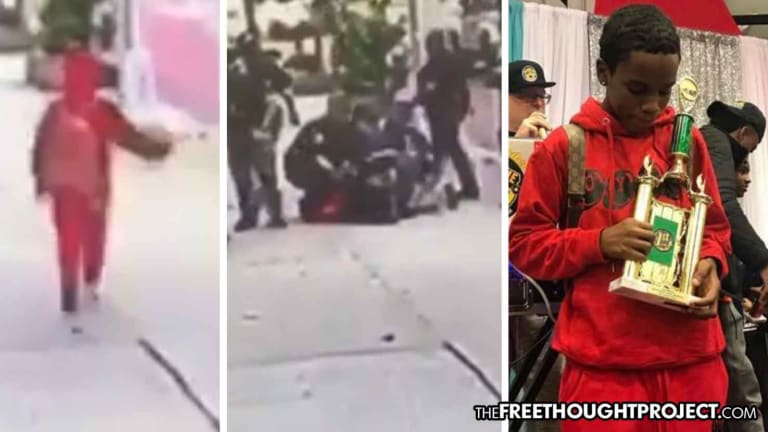 WATCH: Innocent Kid Playing Outside, Attacked and Kidnapped by Cops for 'Fitting the Description'
An innocent small 17-year-old kid was dribbling his basketball when a dozen cops, claiming he was a criminal, attacked and kidnapped him.
Crown Heights, NY — Nicholas Simon is a 17-year-old kid with no criminal record and who has never been in trouble with the law. Now, however, thanks to incompetent cops who wrongly claimed he was a criminal, he is fighting charges, which are clearly false.
Last week, Simon was minding his own business, dribbling his basketball and walking home when armed men from the 71st Precinct of the NYPD jumped out and began attacking him. Simon was thrown to the ground as a dozen cops pull up in multiple cruisers and savagely attack him.
Clearly using excessive force, Simon — who is just 5-foot, 3-inches and weighing 119 pounds — was picked up in the air, thrown to the ground and had multiple 200 pound cops dig their knees into his neck and back.
Simon explained to News 12 Brooklyn that when cops threw him into the patrol car they continued to ask him "Where is the gun?" The 17-year-old kid with no criminal record explained to the cops who'd just kidnapped him that he had no idea what they were talking about.
Once he got to the station, police eventually realized they had the wrong person. However, to justify their snatch and grab of an innocent child, they charged Simon with disorderly conduct for squirming while a dozen massive cops attacked him. But that's not all, they also mistreated him and his family when they tried to find him.
As News 12 reports:
His mom says she never received a call of his arrest and learned of it from neighbors. Police issued a summons for disorderly conduct to the teen.

Simon has sickle cell anemia and asthma. When his mom tried to tell police at the 71st Precinct, she claims she got the cold shoulder.

The family has hired an attorney who plans to clear the charges and file a lawsuit against the NYPD. Sources tell News 12 there was an incident of shots fired nearby where four people were arrested. Simon was taken into custody but received a summons when officers determined he was not involved in the incident.
Simon is small in stature due to his medical condition which also doesn't allow him to attend regular school, so he is homeschooled. His Instagram page shows that he is a local DJ in town known as DJ Nick and it also shows him winning trophies and laying in a hospital bed to be treated for his condition.
Also on his Instagram are several photos of him wearing the red athletic suit he had on last week when he was attacked by police.

According to Keith White, who is representing Simon and his family in the soon-to-be lawsuit, while in jail, Simon — whose medical condition requires him to remain well hydrated — asked for water, but was denied.
In a post to White's Instagram account, he described Simon's situation as follows:
This is normalized behavior. No one is surprised here. Even I'm not surprised- I get these cases all the time. I even have a rough estimate of how much money I'll get for Nicholas based on these officers conduct.

But when does our abuse stop being transactional? The city budgets include a fund for these cases. But when do we make systemic changes? This doesn't make the news and all these politicians can ignore it because it's normal now- it's not egregious enough. But imagine a similarly situated rich white kid being kidnapped by the police and then given a fake charge to substantiate the false arrest?
Sadly, as White points out, Simon's case is anything but unexpected. Innocent people, including children all too often become victims of police incompetence and "fit the description." Many of these people are beaten, shot, killed, or as Simon's case illustrates, falsely charged.
As you watch the video below, remember that the people jumping out of a car and attacking a child who is just 5'3" and 119 pounds, are the ones who claim to keep society safe.