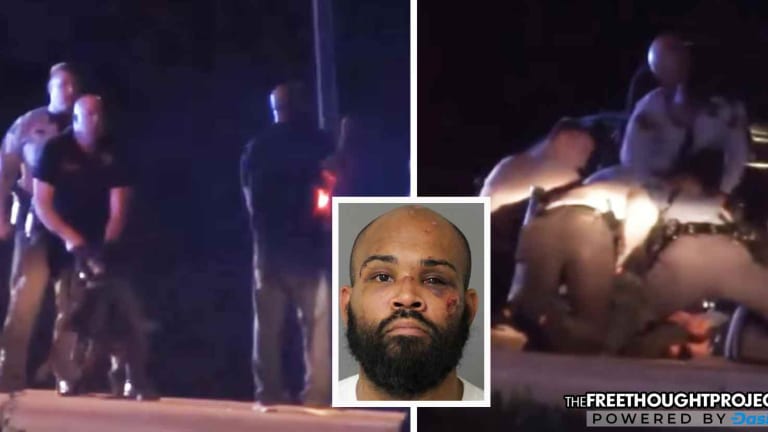 3 Cops Arrested After Video Showed Them Sic K9 on Innocent Man, Taser, Kick, and Stomp Him
An otherwise entirely innocent man was walking down the street when he was surrounded by police who then sicced a K9 on him and began punching, kicking, and tasering him for no reason.
Raleigh, NC — A North Carolina judge released a series of disturbing videos this week showing the horrifying attack on a man who had done nothing but walk down the road. Kyron Dwain Hinton, 29, had harmed no one and committed no crime when he was surrounded by police, mauled by a K9, pistol whipped, kicked, punched, and stomped on—for nearly five minutes.
The incident happened on April 3 and the videos are so horrifying that three of the officers involved have actually been charged for it.
According to police, they received a series of calls about a man walking down Raleigh Boulevard around 10 pm. When police responded to the area, they found Hinton.
First on the scene was the North Carolina Highway patrol, followed by Raleigh police. Things remained calm as officers talked to Hinton until Wake County Deputy Cameron Broadwell arrived on the scene with his police dog, Loki.
Hinton was peacefully standing there, talking with deputies when deputy Broadwell decided the time for talking was over. Without cause or provocation, Broadwell begins shouting at Hinton to get on the ground.
"Get on the ground now or you're gonna get bit," the deputy calls out. "Get on the ground or you're gonna get bit. Get on the ground or you're gonna get bit."
Hinton appears confused and frightened and does not immediately get on the ground. At this point, Broadwell forces the dog to bite Hinton and as he goes down, Broadwell begins punching Hinton in the face.
"Get him, get him, get him!" Broadwell screams as more than a half dozen cops pile on top of this unarmed man.
The chaos and gore was so horrific that even one of the officers yelled, "Get that f---king dog out of here!"
Hinton, who was clearly distressed, can be heard saying "Yahweh help," and "God is good."
After nearly five minutes of dog biting and beating, the dust settled and police attempted to justify the pseudo lynching they just dished out.
"He wouldn't get on the ground," Broadwell said, claiming that he thought the situation was a 10-80, police code for a chase in progress. But there was no chase, and Hinton—although he may have been in a diminished mental state—was simply talking with police, who had him entirely surrounded.
"I sicced my dog on him while he was in the middle of the street," the deputy tells another officer as he breathes heavily, catching his breath. "My dog bit him in the side. I've got to take pictures of the dog bite. I got to get my camera, man."
During a portion of the video, Broadwell is heard saying, "I'm glad my radio broke, man. I punched him in the face while Loki was biting him."
Another officer then says, "hey," as if to warn him he was being recorded on body camera.
Broadwell then responds, "Yeah, yeah, it's fine. I gave him a chance to get down on the ground."
For two months, the police departments blocked all the footage from being released. However, on Wednesday, Wake County Superior Court Judge A. Graham Shirley responded to the multiple requests from media and finally released the video.
"I understand that these cases are difficult and expose what can appear to be deep rifts within our community," Wake County District Attorney Lorrin Freeman said last week after the judge approved the release of the video. "...The question under the law is whether the use of force by the officers who have been charged was excessive in light of all the known circumstances. As district attorney, I am asking our community to allow the justice system to operate. While we understand and respect that there may be individuals who want their voices heard throughout this process, we pray that such actions be done peaceably."
Local state and local leaders of the NAACP gathered for a press conference on Wednesday to give their statements as well.
"First, let me thank God that another black man was not killed by an obviously poorly trained and poorly disciplined state trooper and two other officers," the Rev. T. Anthony Spearman, head of the state NAACP, said. "Second, let us thank the voters for putting into place a fair-minded district attorney, and for a fair-minded judge, A. Graham Shirley, who ordered the release of the videos this afternoon."
Wake County Sheriff, Donnie Harrison also released a statement, questioning why Hinton would have so much support and said the "real leaders" would make sure justice would prevail.
"Now that these videos and other recordings have been released, I ask that everyone reserve judgment until all the evidence is brought out. These recordings contain a lot of information, but all the information will not be revealed until this case comes to trial," the statement says. "I have full faith and confidence in our justice system and look forward to this matter being resolved in a fair trial. We have a very good working relationship with the real leaders in our community, and I will continue to work with them to ensure that our community remains safe. We all need to be aware that there are some people proclaiming to be leaders who don't have the citizens best interests at heart and will try to exploit this case. I will continue to ask for your help by remaining calm and being patient with the legal process."
According to the News Observer, Hinton initially was charged with disorderly conduct, resisting a public officer and assault on a law enforcement animal, but Wake prosecutors dismissed all charges against him.
For walking down the road, Hinton was severely beaten, mauled by a K9 and hospitalized for several days. He suffered 21 dog bites all over his body, a broken nose and a fractured eye socket.
Broadwell has been charged with three felonies — assault with a deadly weapon inflicting serious injury, assault inflicting serious bodily injury and willfully failing to discharge duties. N.C. troopers Michael G. Blake and Tabithia L. Davis have both been charged with assault inflicting bodily injury and willfully failing to discharge duties, according to the News Observer.
Below is the disturbing video.