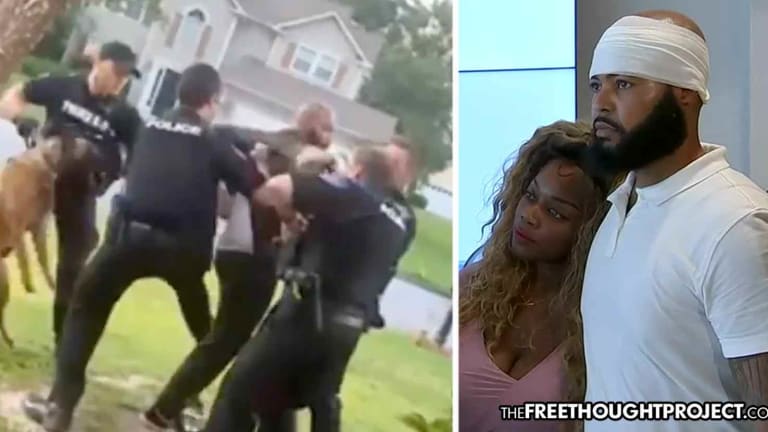 Innocent Man Who Needed Help Held Down by 4 Cops as Dog Forced to Maul Him—Taxpayers Held Liable
"There was no reason for him to even be detained or arrested. But instead of an ambulance showing up, eight officers showed up."
Alpharetta, GA — As TFTP reports on a regular basis, families who dial 911 for medical help with their loved ones often times receive police instead. The results of sending cops to medical emergencies have been utterly catastrophic over the years with innocent people in need of a doctor receiving fists, batons, pepper spray, and even bullets instead. Travis Moya is the latest victim of this gross incompetence and his violent punishment for needing medical help came in the form of a K-9 mauling him in his front yard.
After battling bogus charges — brought to justify the brutal actions from police — the Fulton County District Attorney's Office announced that they will not prosecute Moya.
A lawsuit is now underway.
Senior District Attorney Melissa Roth said in a court filing dated June 2 that after reviewing police bodycam video "the state believes a jury would find insufficient evidence to support a finding of guilt."
An attorney for Moya, L. Chris Stewart said he believes police video shows Moya didn't deserve to be charged and the past year has turned his client's life "upside down."
"You're charged with something and it's public on TV and it's not fair," Stewart said, adding that the upcoming lawsuit is intended to seek justice. "This could've sent that man to jail for nothing. He didn't deserve it."
Moya was indicted in April on three felony obstruction charges as well as misdemeanor obstruction for a police incident outside his home on July 25, 2021, according to the Atlanta Journal-Constitution.
Attorneys representing Moya are pushing for the officers involved to be criminally charged for their actions that day. However, after investigating themselves last summer, police released a statement noting that "it was determined that there was no violation of departmental police or federal or state law regarding necessary use of force standards."
The incident unfolded last year as Moya "was having a mental health crisis and awaiting an ambulance" at his home in the Atlanta suburb of Alpharetta, according to Stewart. But when the police showed up, "A K-9 was set loose" and attacked Moya, who Stewart said "was unarmed, non violent, and was not resisting arrest."
Cellphone video taken by Moya's wife shows the attack unfold as police throw Moya to the ground, jump on top of him, hold him down, and then force the K-9 to maul him.
"He couldn't move, he couldn't kick. He couldn't fight the dog off. He had to lay there while the dog ripped him apart," attorney L. Chris Stewart said.
Video from the hospital shows just how bad the injuries were to Moya's arm and upper shoulder. Warning, they are graphic.
Remember, as you watch the video below, Moya had committed no crime, had harmed no one, and needed medical help — not cops.
After forcing the dog to maul a helpless man, instead of getting him the help he needed, police arrested him, and charged him with a felony. For needing medical help and getting mauled by a police K-9 instead, Moya faced felony obstruction, despite being innocent.
"There was no reason for him to even be detained or arrested. But instead of an ambulance showing up, eight officers showed up," attorney Gerald Griggs said.