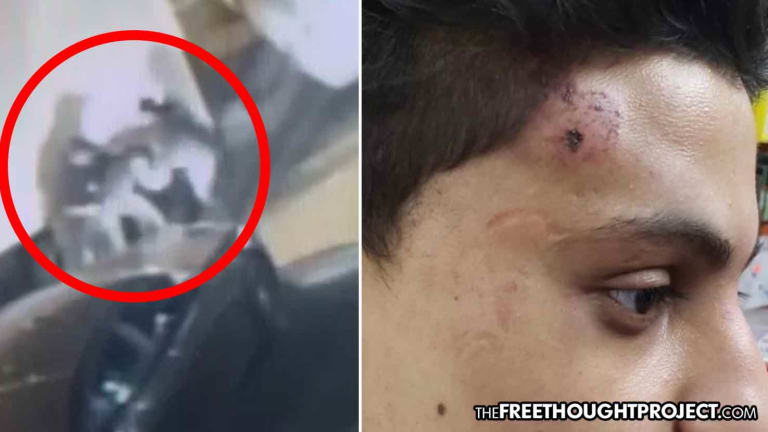 WATCH: Innocent Teen Left Partially Blind After Cops Jump Him in Alley, Fabricate Charges
An innocent teen is facing multiple charges after being severely beaten for crimes that video shows appear to be entirely made up by two Jersey cops.
South Plainfield, NJ — The New Jersey chapter of the Council on American-Islamic Relations (CAIR-NJ) is calling for the firing of Paterson police department officers Kevin Patino and Marcos Martinez after a disturbing video surfaced this week, showing them attacking a Muslim Arab-American teenager. The video completely refutes the claims made by the officers used to bring charges against 19-year-old Osamah Alsaidi.
According to the police report, which was uploaded to Instagram by Alsaidi, police claim they were responding to a report of a suspicious person. According to police, while on this assignment, Alsaidi walked up to them, "screaming profanities and acting belligerent." Police claimed they ignored this person, later identified as Asaidi, until he "got closer to these officers and proceeded to get in an aggressive fighting stance by blading his body and clutching his fist."
"Mr. Alsidi [sic] proceeded to get closer to this writer and struck this writer with a closed fist about the chest area causing this writer to stumble back," the officer wrote in his report. The officer then went on to justify the multiple blows to Alsaidi's head, claiming this teenager — half their size — somehow began battling them out in a cage match.
Alsaidi was subsequently arrested and charged with multiple offenses: Aggravated Assault on LEO, Disorderly Conduct, and Resisting Arrest. He now faces the possibility of years behind bars over the claims of these officers. The only issue is, according to the video, none of it actually happened.
If you watch the video, Alsaidi is merely walking down the street when an unmarked car nearly runs him over. All of the sudden, two cops in plainclothes emerge from the vehicle and appear to accost the innocent teen. As the officers shove and push Alsaidi, the teen jerks away in what appears to be a simple reflex.
The jerking away was apparently enough of a green light for cops to the unleash a fury of punches to Alsaidi's head and face. As the video shows, one officer is holding the teen as the other delivers punch after punch to his face. Alsaidi is then body slammed to the ground as the officers continue to pummel him.
The incident was so violent that an onlooker appears to try to jump in and stop it. He is quickly pushed back by the cops who arrived later on the scene.
The original incident took place on December 14, 2020 but Alsaidi was not made aware of the video until two months later. It appears to completely exonerate him of these clearly bogus charges.
"After I was released, I had to go to the hospital on my own and I was diagnosed with head trauma and concussion. I was having migraines and was partially blind for the next couple of weeks," Alsaidi wrote in the Instagram post.
Alsaidi said that after he went to the hospital, another officer, Bishnu McKnight, assaulted him away from cameras to avoid witnesses.
"I have no criminal record," the teen said.
CAIR-NJ Executive Director Selaedin Maksut issued a statement decrying the incident after the video was released calling for the officers to be fired.
"The disturbing video shows two officers approach and beat the youth to the ground. The teen posed no visible threat to either officer and was not given an opportunity to comply with the officer's orders — assuming any orders were even given. Instead, the teen was brutalized while two additional officers came to clear the area of witnesses. He was later diagnosed with head trauma and a concussion.

"The officers then allegedly fabricated a story in their police report to cover up their assault. Their report was proven to be false once the video surfaced almost two months later.

"We are calling for the immediate termination of Officers Kevin Patino and Marcos Martinez for their brutality and their attempt to cover up their crime. Anything less than termination would be an insult to the residents of Paterson, and an affront to justice. Furthermore, a thorough and transparent investigation into the involvement of Officer Bishnu McKnight and Officer Kendry Tineo is needed immediately.

"To see such a reprehensible attack happen at the hands of those who supposedly serve and protect Paterson residents is more than disheartening, it is revolting and deserving of immediate punishment.

"The Paterson Police Department must act swiftly to rectify this horrific situation and take actionable measures to mitigate the possibility of it ever reoccurring.
Below is that video.