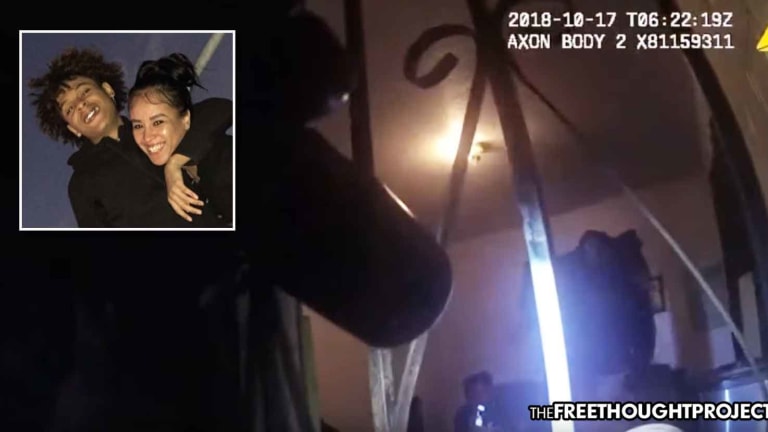 WATCH: Cops Open Door to Home, Don't ID Themselves, Kill Innocent Unarmed Teen and a Dog
An innocent unarmed teen was playing video games on a couch when a police officer opens the door, without announcing himself and kills him.
San Antonio, TX — Charles "Chop" Roundtree Jr., 18, had never had a run in with police and had never had so much as a speeding ticket. Despite being entirely innocent and unarmed, however, he was gunned down last year by San Antonio Police officer Steve Casanova. Now, as the family asks for answers, body camera footage showing the teen's unnecessary death has been leaked to local media.
The incident happened on October 17, 2018 when police were called out to a neighborhood for a complaint at the home of Davante Snowden. When officer Casanova opened the door to Snowden's house, he never announced himself and instead simply shined a light, yelled "lemme see your hands," and then started shooting. Roundtree was shot in the chest and died inside the home as he played video games on the couch.
"It's a very unfortunate tragic incident that happened," Police Chief William McManus said after the shooting.
According to police, the bullet grazed Snowden and then hit the innocent unarmed Roundtree in the chest.
As the video shows, Casanova is dealing with a couple who says a man fitting Snowden's description assaulted a man. When police respond to Snowden's house, Casanova walks up on the porch, pulls open the door and began firing. Never once did he announce himself as the police.
Casanova said that Snowden pulled a gun on him, but this is not evident in the video. What's more, Snowden had no idea who was at his front door shining lights into his house pointing guns at them, so he naturally would've wanted to defend it from a home invader.
Geary Ramey, a law professor and police adviser agrees and described to KENS 5 the mistakes made by the officer.
"He certainly needs to identify himself quickly because he's wearing a dark uniform. This is in the middle of the night," Ramey said. "So it's not going to be clear to anyone who is on the porch."
Indeed, as the body camera footage shows, Snowden asks "who is it?" just before Casanova tells him to show his hands and fires.
"There's nothing at the point of the shooting that would justify a use of deadly force in order to make an arrest," Ramey said.
We agree.
After Casanova shot Snowden and Roundtree, he ran back out into the street where he joined up with his fellow cops. At this point, a dog runs out of the house and is seen walking toward another officer before that officer opened fire, killing the dog.
When the cop kills the dog, all the officers then begin to yell conflicting orders at the rest of the people in the home.
"Hey! What's going?!" yells a woman.
"Hey…stay in the f***ing house!" Casanova says.
"Get in your house and you won't get shot!" another cops says.
Contradicting the other officers, another officer then yells, "Come out of the house, guys! We're not leaving until you come out!"
Eventually, one by one, the occupants emerge from the home, showing the officers that none of them are armed. Luckily, no one else was shot.
Snowden would be the only person arrested that night for felon in possession of a firearm. It is unclear as to whether or not he actually had the firearm on his person when Casanova opened fire. No one has been charged for the death of Roundtree.
Patricia Slack, Roundtree's mother, recalled the last conversation she had with her son. She told KENS 5 that she didn't want him to leave that night.
"And the last thing he said was, 'I love you and I'll be back,'" she said.
"I want his uniform taken away. I want him to pay the same price we have," Slack said.
Sadly, however, the SAPD has a long history of violent and criminal cops who are almost never held accountable. This is likely the reason that Casanova is still gainfully employed with the department and has yet to face so much as a slap on the wrist. In fact, the original police report listed Casanova as the victim and the innocent unarmed Roundtree as the suspect.