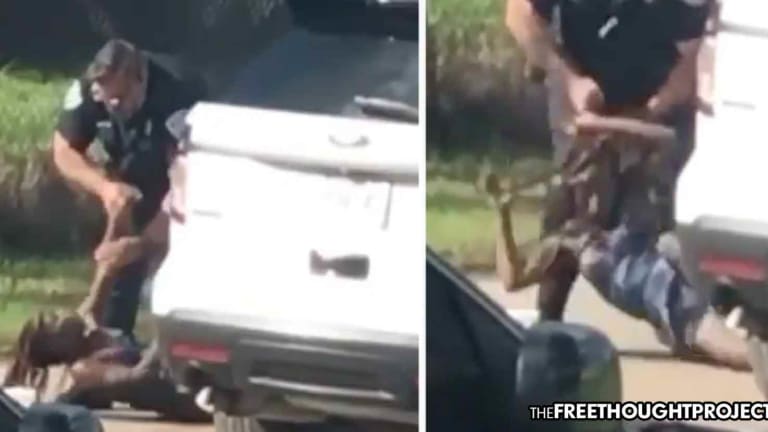 WATCH: 3 Teens Attack Innocent Woman Before a Deputy Shows Up and Beats Her Even More
An innocent woman had just been attacked by three children and as she walked home, a massive deputy, grabbed her by the hair and beat the hell out of her.
Jefferson Parish, LA — Shantel Arnold is still recovering from the horrifying experience she went through last month that will likely leave permanent scars on her body as well as her mind. A brief video captured part of the incident in which a massive deputy with the Jefferson Parish Sheriff's Office can be seen slamming the 4-foot 8-inch tall, 100 pound woman around like an animal.
According to a report from ProPublica, the incident unfolded on September 20 when Arnold, 34, was attacked in her neighborhood by three boys as she walked down the street near her family's home.
Arnold's family told ProPublica that she often made an easy target for the bully kids because she is missing her left eye from a car accident years earlier and is very small. The boys attacked Arnold for several minutes — which was also captured on video — before 71-year-old Lionel Gray, whom Arnold considers her stepfather, jumped in and ran the boys off.
Just moments after she was attacked, and walking home, a deputy with the JPSO arrived on the scene and began questioning her from his patrol car. Instead of offering to help the young woman who was just attacked by three bullies, the deputy began to interrogate and berate her.
"I'm on my way home. I ain't make it all the way to the block, the police come out of nowhere, swarming, getting me like, 'Come here.' I'm like, 'What's going on? I just got beat up by two children, what ya'll doing?'" she said, according to a transcript of her conversation with an investigator obtained by Nola.com.
According to the internal investigation, Arnold told the deputy that she was just assaulted and wanted to go home. But he wasn't having any of it.
As ProPublica reports, according to Gray and another witness, Arnold's 55-year-old uncle, Tony Givens, the officer jumped out of his vehicle, grabbed Arnold and threw her to the ground, unprovoked. Gray and Givens were standing at the foot of the family's driveway, about 20 feet away.
The video picks up at this point and the massive deputy is seen slamming Arnold into the pavement by her hair.
"She didn't have a chance to pull away because, you know, this guy was strong," Gray said. "He grabbed her arm, and some kind of move he made, and she went down to the ground. ... So I was walking up to him and he told me, 'If you come any closer I'm going to kick everybody's ass out here.' So, I said ... 'you don't have to use that type of force on that little woman right there, she's a midget.'"
Though the video is only 14-seconds long, it is long enough to see the belligerent deputy in action as he throws Arnold around by her braids so violently that he tore some from her head.
Arnold was injured so badly that she had to be taken away in an ambulance to be treated for her injuries which included head trauma, bruises, and cuts all over her body. She now suffers from recurring headaches as a result of her injuries which she blames on the deputy — not the children.
Illustrating the disturbing nature of the beating is the fact that Arnold had committed no crime and was never charged. Despite these facts, the deputy is facing no charges at this time and has only just become the subject of an internal investigation. He is still on duty, and according to Arnold and her family, he drives down their street to intimidate them regularly.
According to ProPublica, Alanah Odoms, executive director of the ACLU of Louisiana, said the video of Arnold and the deputy was "yet another testament to the shocking frequency that JPSO targets and brutalizes innocent, unarmed members of the Black community."
Indeed the JPSO has a history of doing just that. Earlier this year, TFTP reported on the case of 14-year-old Tre'mall McGee, who was complying with officers, unarmed, and completely defenseless when he was shot in the back by a JPSO deputy. That was the second shooting of a 14-year-old by the JPSO on which TFTP reported in less than a month. No officers have been charged and details of the cases remain under lock and key.