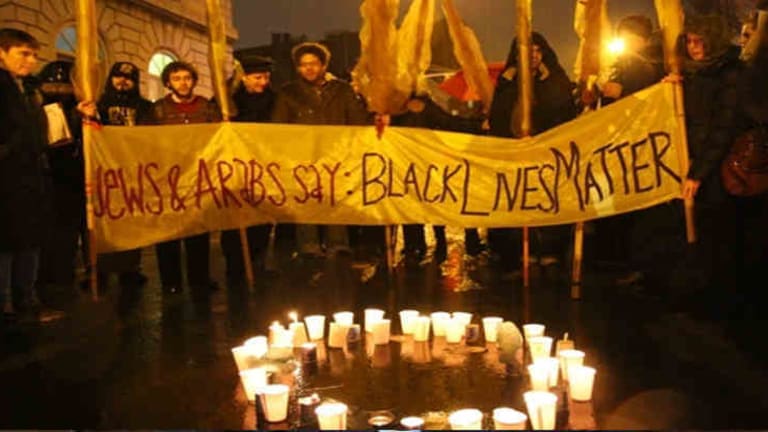 Jews And Arabs Unite in Solidarity Against Police Brutality
"Together we celebrate the miracle of resistance that we will not let die!"
Brooklyn, New York - This year, three seemingly different New York activist groups came together for a common cause on Hanukkah. At a time where the mainstream media is attempting to promote racial and ethnic division, Jewish and Muslim groups gathered to protest police brutality.
Jews For Racial and Economic Justice, the Arab American Association of New York, and Bend the Arc took part in #ChanukahAction, a protest against police violence and misconduct. Similar protests were also held by Jewish and Muslim groups in other American cities, including Albany, Boston, and San Francisco.
City councilman Robert Cornegy Jr. was even in attendance, and gave a speech to protesters about police brutality.
"Last night was pretty special because you see a demographic of people who don't necessarily have to put themselves out in that way, this is the civil rights issue of our time. What I know about the civil rights movement is that, any modicum of success that was gained through those movements and through those actions were based on solidarity across racial lines, across socioeconomic lines. That's when change happe," Cornegy said.
"Seeing religious groups coming together sends a powerful message that this is something that affects all of us. And that we want to stand side by side together … to demand justice," 23-year-old Aslan Rahman said at the demonstration. Cris Hilo, an Arab Association of New York member led many of the speeches, where he discussed racial unity in the face of police brutality. "We dedicate ourselves as Jews and Muslims, as Arabs and Asians, Latinos and African Americans, to building an alliance that will light our way and let us say: black lives matter! Together we celebrate the miracle of resistance that we will not let die," Hilo said at one point. Other members of the crowd even called out black police officers for the violence that they inflict on their own community. "Your silence is consent to the murder of your own people!" activist Daniel Majesty Sanchez was seen shouting at African-american police officers. Sarah Gold, a representative of the Jewish organization JFREJ, said that the conditions in American remind her what her grandfather experienced as a Holocaust survivor. "It wasn't that long ago that Jews were subjected to state violence and abusive policing, I know what he went through and how he was targeted just because of who he is, and not because of anything he did. As a Jewish person, I have a responsibility to make sure that doesn't happen again. To anyone," Gold told reporters.
John Vibes is an author, researcher and investigative journalist who takes a special interest in the counter culture and the drug war. In addition to his writing and activist work he is also the owner of a successful music promotion company. In 2013, he became one of the organizers of the Free Your Mind Conference, which features top caliber speakers and whistle-blowers from all over the world. You can contact him and stay connected to his work at his Facebook page. You can find his 65 chapter Book entitled "Alchemy of the Timeless Renaissance" at bookpatch.com.