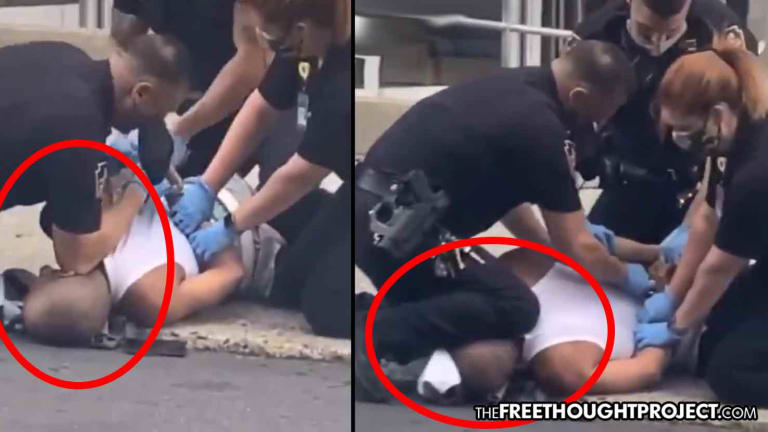 WATCH: 'Just Like George Floyd,' Cop Kneels on Restrained Man's Neck for Acting 'Erratic'
An innocent man was accused by police of being erratic, moments later he had three cops on top of him, and a knee on his neck, just like George Floyd.
Allentown, PA — Officers from the Allentown police department are under investigation this week after video was posted to Twitter showing two cops hold down a man, with his hands behind his back, while another knelt on his neck — just like former officer Derek Chauvin did to George Floyd before killing him. The video was so similar to the officer's involved in Floyd's death that Floyd's family attorney actually responded to it.
According to police, the entire incident began because a man was acting strange outside of a hospital. The man, who remains unidentified because he was not charged with a crime, had harmed no one and was merely accused by police of acting erratically.
"The observed erratic behavior resulted in the officers and hospital staff interacting with the individual. The individual began to yell, scream and spit at the officers and hospital staff. As the officers attempted to restrain the individual, all parties fell to the ground. The individual continued to be noncompliant which required officers to restrain the individual and the hospital applied a spit shield. The male in question was escorted into the hospital for treatment. The male was treated and later released," Chief Glenn Granitz with the Allentown Police Department said.
Prior to resisting the officers who attacked him, the man had committed no crime which is likely why he was not charged and released. Unfortunately, officers who stop normally harmless mentally ill people on the street have zero training when it comes to dealing with their reactions.
Instead of de-escalating, often times, police officers will begin scream at, grabbing, and beating mentally ill people which only tends to make that person more uncomfortable and more prone to resisting and violence.
"When we saw the video. Every last one of us was shocked," said Black Lives Matter organizer, Justan Parker whose chapter posted the video with the following description.
According to WPVI, Allentown police's use of force policy does prohibit neck restraints or chokeholds unless it prevents "imminent death or serious bodily injury to a member or citizen."
Clearly there was no immediate threat of death or serious injury as evidenced by the police department's own report. An "erratic" man on the street does not equate to imminent death.
What's more, the two officers who helped hold down the man as the officer drove his elbow and knee into the man's neck and face, did nothing to prevent their fellow cop from potentially killing a man.
"Really there's two things in there. The knee to the back of head that shouldn't have happened and also, too, there's an accountability portion in there where officers that are seen excessive use of force are required to step in with this use of force policy and that did not take place," Parker said.
After the video was posted to Twitter, it was so over the top that the attorney for George Floyd's family responded and shared the video.
Ben Crump, the attorney for the Floyd family shared the video saying, "@AllentownPolice held down this man's face to the pavement and then one of its officers placed their knee on his neck!! This happened yesterday and is exactly what led to #GeorgeFloyd's death. We need this officer's name and badge # NOW. #ICantBreathe."
After the video began to go viral, the police department was forced to issue a statement. They noted that an investigation is now underway.
"The investigation into this incident is moving swiftly. Part of the investigation has included the review of a 23 second video posted to social media. Although significant, the entirety of the interaction is being reviewed. Witnesses are being interviewed and additional videos of the interaction are being reviewed. We plan on releasing relevant videos later this week as we complete this inquiry," said Granitz.