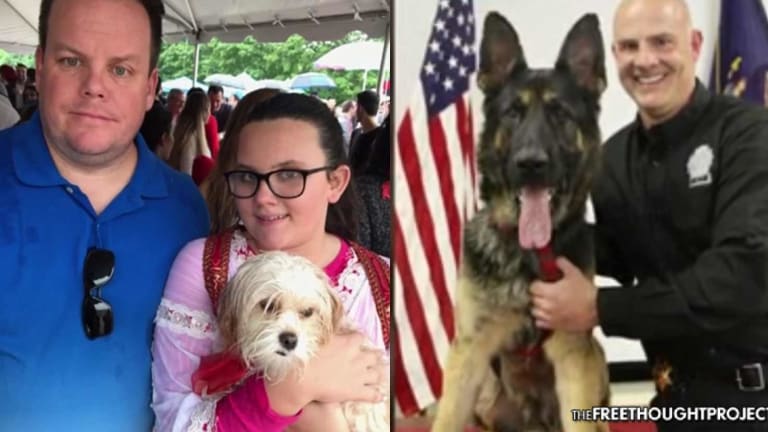 Girl Heartbroken After a Police K9 Mauled Family's Tiny Dog for No Reason, Watched It Die
A little girl is heartbroken after a police K9 mauled their beloved ten-pound Cavapoo and the deputy held her in the car for on hour as she died.
New City, NY — A family is grieving and asking for answers after Ginger, their beloved Cavapoo — a Poodle and a Cavalier King Charles Spaniel mix — was mauled to death by an out of control police K9.
"She was my best friend," Kristine Forde said of her tiny little dog that weighed less than ten pounds.
Forde happens to live in the same neighborhood as two Rockland County Sheriff's deputies. One of those deputies is a German shepherd who lives with his detective handler.
Forde, who is 13-years-old, was getting ready for school last Tuesday around 7:00 am when the family's nanny took Ginger on a walk to Grand Street in New City.
"She turned around, saw the dog coming at them, and then she did the best she could to prepare," Tom Forde said.
Detective Dwayne Defino, the dog's handler finally regained control of his German shepherd. However, the massive dog had already gravely injured Ginger.
The family's nanny did not have a car to bring the dog to the vet but Defino did. Instead of bringing the dog to the hospital after allowing his dog to get loose and maul it, Defino brought the dog back to the family's home and Kristina called her dad who was an hour away at work.
"At this point, the dog still showed signs of life," Tom said.
For some reason, the officer simply sat in his car at the Forde home until Tom showed back up. According to Tom, this was a critical time which could've saved Ginger's life. Instead of simply letting her bleed to death in the back of a car, Defino could've tried to reconcile his mistake and, at the very least, tried to get the dog some help.
"I pull up and the dog was in the back, the gentleman's car and he stated to me, 'I don't think the dog's going to make it," Forde said, "And I said, 'what is the dog still doing here? Why aren't you at the hospital?"
Unlike a regular citizen, Defino did not have to defend his actions. Instead, the police chief came to bat for him to make excuses to justify the deputy's actions.
"The detective knew the dog had passed on and was going to return the dog home," Chief William Barbera said.
However, Tom Forde doesn't buy it. He feels that if Defino would've done the right thing and brought the dog to the hospital instead of simply sitting in his car, Ginger may still be alive.
"Whether the dog would've made it or not I don't know, but I find it disheartening maybe an hour went by before anything was done," Forde said.
"It's just really sad," Kristina added.
In regard to how their K9 acted, the department called the dog's behavior "out of character."
Sadly, police K9s attacking innocent people or pets is all too common. One particularly horrifying example of this propensity to maul the innocent happened on January 30, 2015, when a health food store in Henderson, Nevada called the police after a disgruntled customer, attempting to return some protein powder, allegedly threatened to rob them. The store described the suspect to police as a black male wearing a black and tan t-shirt who left in an SUV.
As police responded to the call, they quickly stopped the first person they saw, who happened to be Arturo Arenas-Alvarez. Arenas-Alvarez had just pulled up in the shopping center to do some shopping when police drew their weapons and demanded he put his hands in the air and step toward them.
Arenas-Alvarez did not appear to understand why multiple armed men were pointing their guns at him, so one officer asked him in Spanish to approach the vehicle.
Before Arenas-Alvarez makes it all the way to the vehicle, officers realized they had the wrong guy.
"That's not him, dude. That's not a black man in a black shirt," one officer said to another.
However, they continued the detainment.
Officers begin to assure Arenas-Alvarez that he will be fine. "They thought that you were involved in a robbery. You don't look like the person, so it's OK now, OK?" one officer said. However, nothing could have been further from the truth.
As officers were telling Arenas-Alvarez that he'll be okay, Sgt. James Mitchell can be heard on the radio telling the officers, "Stand by a couple of minutes. K9-1 is about two minutes out."
During the display of gross incompetence of mistaking Arenas-Alvarez for a black man in a black shirt, Arenas-Alvarez's 17-month-old daughter, Ayleen was strapped into her car seat in the SUV.
Before Arenas-Alvarez could communicate to the officers that his infant daughter was in the car, the "two minutes" had passed and Sgt. Mitchell arrived with his Belgian Malinois. Almost as soon as he exited the vehicle, Mithcell released the K-9 into the SUV of an entirely innocent man and his daughter.
"My baby," Arturo Arenas-Alvarez can be heard pleading with officers in broken English. "I've got my baby."
An officer then yelled out, "There's an infant in that car! There's an infant in that car!"
But it was too late. By the time the cops realized that their immediate escalation to violence was unnecessary - the damage had been done.
Just like Mitchell, deputy Defino will most assuredly not be held accountable for allowing his K9 to indiscriminately attack innocence. And, as history shows us, this problem will continue because of a system that fosters and protects brutality and unaccountability.