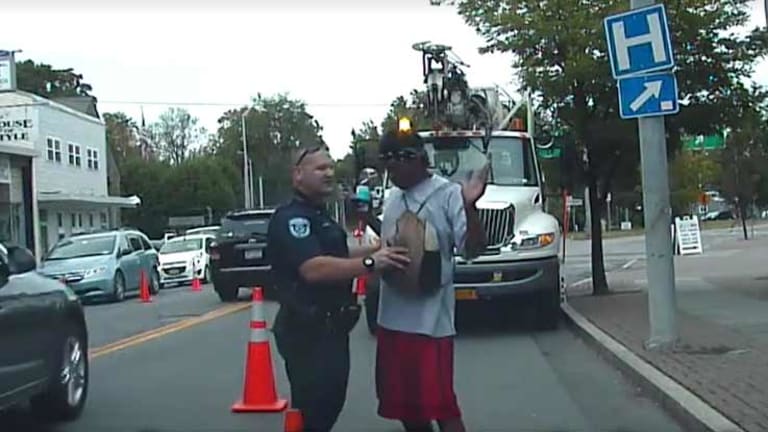 Disturbing Video Shows Cops Mistake Innocent Man for Criminal, Beat & Taser Him 21 Times
Because he had on red shorts, an innocent man was accosted by Kingston police, thrown to the ground, tasered 21 times, and then arrested and charged.
Kingston, NY — Fitting the description—as the phrase goes—can be detrimental to an innocent person's freedom. As a recent trial out of Kingston, New York shows us, being innocent is no guarantee that one will not be approached by police, beaten, tasered—excessively—and arrested.
On Friday, Fabian Marshall, 27, was found guilty Friday of obstructing governmental administration, a misdemeanor, following a jury trial before City Judge Lawrence Ball. His charges were the result of an interaction with police in which he was mistaken for a criminal.
In September 2015, Marshall had harmed no one, had committed no crime, and was merely on his way to work when he was confronted by Kingston Police Officer Jeremy Arciello.
Initially, Arciello does not tell Marshall why he is there. Marshall asks repeatedly why the officer is trying to detain him and he is not given an answer. At this point, Arciello begins pushing Marshall. Again, Marshall asks, "Why are you pushing me?"
"You were involved in an incident," replies Arciello.
When Marshall asks for more information, Archiello continues to escalate the situation—without providing any reason.
"You know what, I'm putting you in handcuffs," says Archiello as he begins kidnapping the innocent man.
As Hudson Valley One reports, the officer then wrestles Marshall to the ground, at which point the video from the phone goes dark, but the audio recording continues. He calls for backup. The officers demand Marshall roll over and put his hands behind his back or he'll be tased. A female witness, who identifies her herself as Marshall's aunt, is heard begging the officers to stop. Officers order her to back up, the tasing begins, Marshall yells, and the officers repeatedly tell him to stop fighting.
Marshall was tasered 21 times.
After they beat and tasered Marshall into compliance over a crime he never committed, an officer picks up Marshall's phone and we hear their attitude on full display.
"We can lock up whoever we want," a cop is heard saying. Then, once another cop realizes the phone is still recording, he says, "Take care of that phone, quick."
"The Kingston officers involved in the arrest must be held accountable for their extreme use of force," said Callie Jayne, lead organizer for Citizen Action of New York.
Naturally, many people will watch the video below and claim that Marshall should've just prostrated himself before the officer and complied with every demand and none of this would've happened. However, others will note that Marshall was never told he was being detained or that he was under arrest. By any legal standard, he was well within his rights to walk away until the officer told him this.
Marshall did begin filming, which is rule number one when dealing with police. However, he failed to ask two of the most important questions which could've resolved this situation far easier. "Am I being detained? Am I free to go?" Failing to ask these questions does not excuse the police behavior, though.
When speaking about another recent brutality incident, in which a Kingston man was pepper sprayed and beaten for having an open can of beer, Kingston PBA President Barry Rell, a KPD sergeant, claimed that people filming cops and wishing to hold them accountable makes police afraid.
"Officers right now are afraid to go out and do their jobs," said Rell. "Nobody wants to go through a disciplinary hearing or a trial or a federal investigation over something that started as a guy walking down the street with a beer. At the same time we still have residents who want those laws enforced and a command that wants us to enforce them."