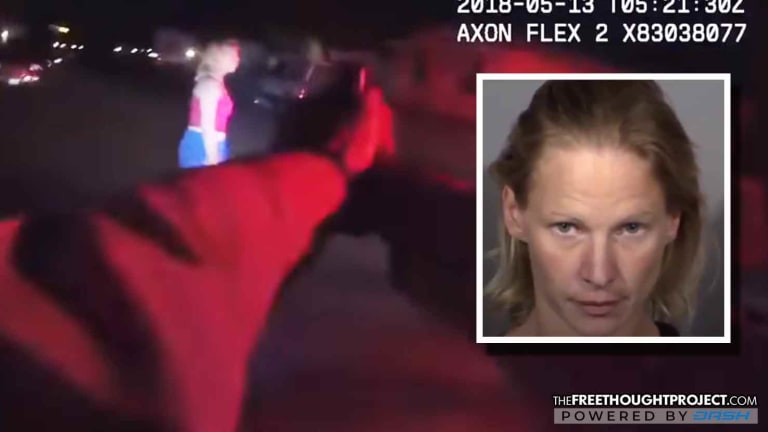 WATCH: Cop Dumps 7 Rounds into Tiny Woman As She Walked Away from Him Holding a Shovel
A mentally ill woman was shot seven times by a Las Vegas police officer as she held a shovel and attempted to walk away from him.
Las Vegas, NV — In their sixth citizen shooting of 2018, Las Vegas police have shot a young woman for holding a shovel. LVMPD officer Ondre Wills is now on paid administrative leave after dumping seven rounds into Sommer Richards, 34, as she turned to walk away from him.
According to police, they were called to the area because the tiny 120 lb woman was either intoxicated or mentally ill and threatening neighbors with a broom and a skillet. When police arrived, they saw her holding a shovel.
According to witnesses, the woman asked a family in front of their residence for a cigarette and they told her they did not have one. Richards, who was clearly in a mentally diminished state, then held out the frying pan and pointed it at the family in a threatening manner before moving on. The incident was so minor that this family never called 911.
Richards then walked to another house where she kissed a resident on the shoulder who then went inside to call 911 after a verbal dispute broke out.
A security guard arrived before officer Wills who asked Richards if she was okay. Richards responded by holding the shovel above her head with both hands before running after the security guard. Amazingly enough, the security guard escaped—unharmed—without shooting her.
When officer Wills arrived on the scene, the citizens who appeared to be trying to calm the woman down were told to get behind the officer. As he trained his gun on Richards, the 23-year-old officer demanded she drop the shovel.
"She's screaming right now," Wills says into his radio, giving the code that Richards was mentally ill.
As the officer's own body camera footage shows, the woman never once swung the shovel at him and was merely ranting while banging it on the ground.
It is important to point out, however, that not a single person had been injured by the woman prior to her being shot.
As the video shows, Richards turned to walk away from the officer when he opened fire. Wills fired seven rounds, all of which struck Richards. She was hit in her leg, arm, and abdomen.
After he shot her, police claimed that the officer was protecting the person behind Richards who had walked out on the sidewalk during the altercation.
At a press conference after the shooting, Jamie Prosser of Metro's Office of Internal Oversight and Constitutional Policing released a statement to the press, noting, "(An officer) gave her commands to put the shovel down, at which point she turned and advanced toward a citizen who was standing nearby."
However, the person in the view of the officer's body camera was also in the trajectory path of the seven rounds he fired. What's more, Wills never gave Richards time to do anything—much less 'advance toward a citizen'—as he opened fire as soon as she turned away.
For at least 30 seconds, the woman stood, from what appeared to be 10 to 20 feet from officer Wills. This distance is well within the range of the X3 model taser which is standard for most police departments. However, he resorted to deadly force before trying it.
According to the Las Vegas Review Journal, Richards was booked in absentia into the Clark County Detention Center and faces counts of assault with a deadly weapon, tampering with a motor vehicle and battery on a protected person, police said.
Below is a video illustrating the lack of courage and propensity to resort to deadly force held by so many law enforcement officers in America today.
Officers like Wills would have done well to watch body camera footage of cops the ones in Miami-Dade, who disarmed a mentally ill man who was coming at them with a knife—without killing him.
Or, cops like Detective Howard Brickner and Corporal Lynn Bays who used intellect and reason to disarm a mentally ill man who actually had a gun.
TFTP has reported on numerous instances in which police officers chose courage over killing and people's lives were saved and rehabilitated as a result. It is high time that approach becomes the norm instead of shoot first, paid vacations later.