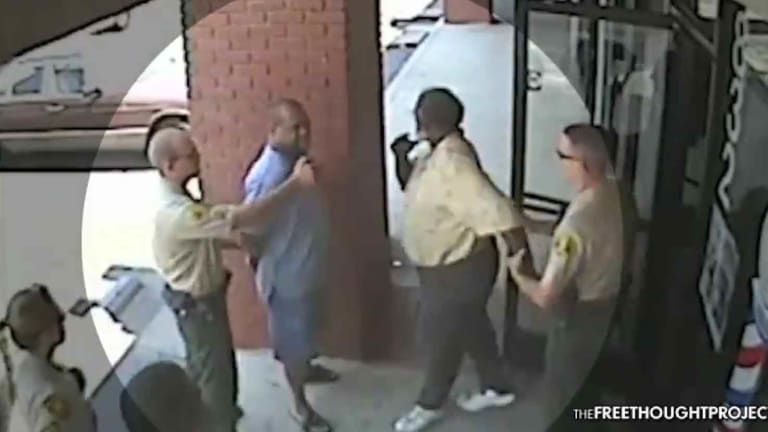 Video of Cop Macing Innocent Elderly Man Exposes Dept's History of Corruption & Violence in LA
Video of an LA cop pepper-spraying an innocent elderly veteran in the face for no reason exposes the corrupt and often deadly nature of the Los Angeles County Sheriff's department.
Los Angeles, CA — The results of an extensive LA Times investigation recently revealed the existence of a secret list within the Los Angeles County Sheriff's Department containing the names and crimes of hundreds of problem cops who are currently employed by the county. Blowing the bad apple theory completely out of the water, the list revealed over 300 deputies with histories of dishonesty, misconduct, and brutality—who all still have their jobs.
Despite the discovery of this list, however, the LA Times was unable to look at it and it remains a tight secret among the department's top brass. Not even prosecutors can access it—and this is a problem.
As the LA Times reports, amid growing public scrutiny over police misconduct, Sheriff Jim McDonnell wants to give the names on the list to prosecutors, who are required by law to tell criminal defendants about evidence that would damage the credibility of an officer called as a witness. But McDonnell's efforts have ignited a fierce legal battle with the union that represents rank-and-file deputies.
The list evolved from a roster of bad cops, known as a "Brady List," which was drafted in 2014 during interim Sheriff John Scott's tenure. It was compiled to track officers whose histories are so heinous and criminal that they may pose a problem with their credibility in court when called to testify against an accused criminal.
The LA Times was able to review a roster of these problem cops which "offered the first public glimpse of officers whose misconduct the Sheriff's Department has decided should be reported to the courts."
The deputies have been identified as potential witnesses in more than 62,000 felony cases since 2000, according to a Times analysis of district attorney records. In many of those cases, the deputies' misconduct would probably have been relevant in assessing their credibility.
Some of the crimes committed by cops on this list included deputies pulling over strangers and demanding oral sex, deputies convicted of crimes, deputies who pleaded guilty to beating their wives, and other deputies who sexually abused their victims. To reiterate the purpose of this list, it is to make sure deputies have enough credibility to testify in court—because not a single one of them was fired for these crimes.
One such problem cop who was on this list is deputy Chris­ti­an Cham­ness who was suspended for a measly 25 days after he wrote a false report and used entirely unreasonable and excessive force on an elderly veteran.
In 2007, Chamness was part of an unwarranted raid on a barbershop in which all occupants were falsely arrested without cause. After the raid, Chamness wrote in his report that he pepper-sprayed Raymond Davison after the 73-year-old refused orders to move and began to "advance" on him.
This was a complete lie.
Not only does surveillance footage prove the cop lied, but it shows an entirely unprovoked assault on an elderly veteran by a public servant.
After Davison was pepper sprayed, he was charged and arrested with the rest of the group of men for no reason. Eventually, all charges would be dropped after the surveillance footage was reviewed.
The taxpayers then shelled out close to $200,000 to pay for this reckless tyrant's violence and the county still refused to fire him. In spite of assaulting an elderly man, lying on the report to justify kidnapping him, deputy Chamness remains part of the department and still currently collects his taxpayer-funded base salary of $135,000 per year.
As you watch the video below, remember that this is only one case which happened to be captured on video. How many other times has this known problem cop attacked, kidnapped, and falsified charges against other completely innocent people? Well, thanks to a system that protects and rewards bad apples with impunity and egregiously irresponsible job security, we may never know.