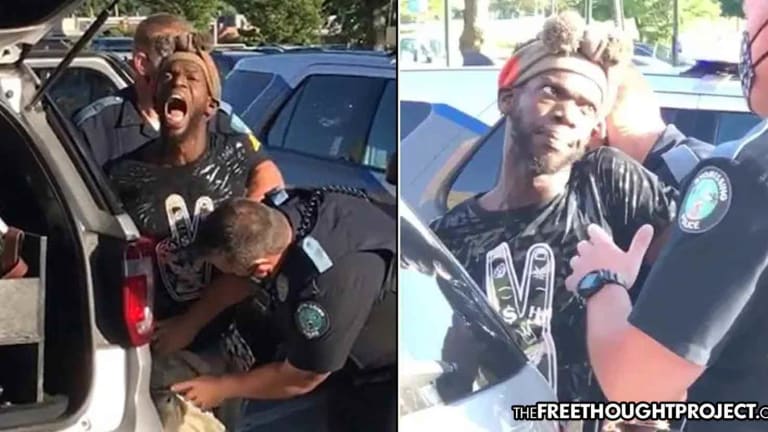 WATCH: Man Tasered and Hogtied After Riding a Bike He Bought His Son in Walmart
A man was violently arrested this week after he reportedly rode a bicycle — that he purchased for his son — through a Walmart.
Wyomissing, PA — An unsettling video is going viral this week showing the violent arrest of a man in Walmart who was reportedly purchasing a bicycle for his son. The footage shows Stanley Gracius, 37, getting tackled, tasered and hogtied for reportedly riding the bicycle inside Walmart.
According to the Wyomissing police, a store manager told them Gracius had been "riding a bicycle through the store, playing loud music and yelling profanities at other shoppers."
On July 20, 2020, the Wyomissing Police were dispatched to Walmart for an individual who was riding a bicycle through the store, playing loud music and yelling profanities at other shoppers. This individual was asked to leave the store by the store manager but refused to do so. When the Wyomissing Police arrived at the store, the store manager reported to the Wyomissing Police that the male was in the store and was paying for a bicycle. She informed the Wyomissing Police that this individual was riding the bicycle through the store, weaving back and forth in the aisles, hitting some shopping carts and almost hitting other shoppers. Again, she told the male to leave but he refused saying "You're not going to tell me what to do."
While the District Attorney claims the arrest was by the book, multiple witnesses — including the man who filmed the incident — say Gracius was spreading love in the Walmart and the music he was playing was a track by Demarco titled, Love My Life.
"The kind man was test riding a bike through the store while playing some music and telling random strangers he hopes they have a great day and complimenting them," the witness wrote. "He was absolutely no bother to anyone."
"He rode the bike to the cash register and paid for it after the cop said he was free to go," the witness wrote, adding that once he told the cop to "have a nice day," things took a turn for the worse.
According to the witnesses, once Gracius told the officers to have a nice day, they grabbed his wrist and started to arrest him.
"Walmart should have the video," the witness said, backing up his testimony.
Gracius yells out, "Why are you doing this to me?" and "I paid for my stuff" as he is taken down to the ground.
"Why are you doing this to me? I have a receipt! Please stop! I didn't do anything wrong!" he shouts.
"You didn't have to do this!" he continues. "Somebody please tell me why these cops are doing this to me."
The entire time, Gracius is resisting but not violently. He is merely stiff as he is being taken to the ground, tasered and handcuffed.
When the officers get Gracius outside, a third officer shows up and Gracius asks him for help.
"Why are your friends doing this to me?" The third officer tells Gracius he has no idea why he was arrested, urges Gracius to remain calm and says they will figure it out.
Gracius asks witnesses in the crowd to explain to him why he is being arrested and one person responds, "Because you're Black."
At one point, Gracius looks directly at the person filming, states his name and explains that he went to Walmart to buy a bicycle for his son. Gracius says he used both cash and a credit card to pay for the bike.
His passive resistance led to more escalation and at that point, police moved to hogtie him.
"They're fastening my legs! I hope everybody sees this!" he screams as police tie a leather belt around his ankles.
For riding a bicycle in Walmart and the subsequent interaction with police, Gracius was hit with a slew of charges that could land him in jail for years.
According to WFMZ, Gracius was charged with two counts each of aggravated assault and simple assault, as well as disarming law enforcement officer, resisting arrest, defiant trespass, and disorderly conduct.
As you watch the videos below, take note of the statement from the DA saying that "Wyomissing Police showed restraint, acted professionally, and did a good job deescalating the situation with the defendant, Stanley Gracius."
Did they do a good job of "deescalating"?