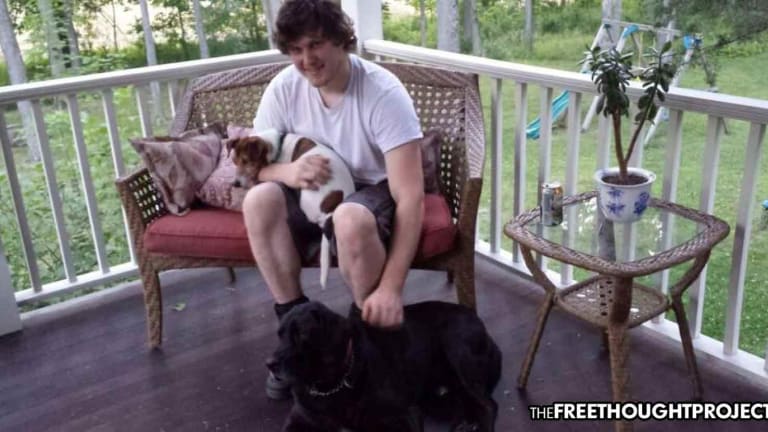 Cops Taser Man Doused in Hand Sanitizer, Engulfing His Body in Flames 'To Protect Him'
A 29-year-old man was unarmed and covered in hand sanitizer when an officer deployed his taser, setting him ablaze.
Catskill, NY — Jason Jones, according to local media, was a celebrated athlete at Catskill High School more than a decade ago and has apparently been struggling with mental illness recently. Jones is now fighting for his life after he walked into a police station last week, unarmed, and was set ablaze by a police taser. He was covered in hand sanitizer which ignited from the taser.
The Green County District Attorney is now investigating the incident and residents are wondering why a police officer would taser a man covered in a flammable liquid.
Kevin Luibrand, Jones' attorney said he could not get into details as to why his client was tased or why he was in the police department. He says his client is in a burn unit in Syracuse in serious condition.
Luibrand stated that his client walked into the police station where an "exchange" happened before Jones removed his shirt and was tasered. He said that this exchange was captured on video and they are working to preserve the evidence.
"The goal right now is to preserve whatever evidence there is as to what happened and for he to do his best with doctors to recover as far as he can," Luibrand told CBS 6 news.
When the Times Union reached out to the police department, they spoke with Chief Dave Darling, a former State Police senior investigator, who confirmed that officers deployed a Taser to subdue Jones, who was familiar to them from past encounters, according to the Union.
Darling said they had to taser him or he may have hurt himself. So he was set on fire for his own protection.
"I think they were afraid he was going to hurt himself, and that's what started it," Darling said. "There are still details that we're trying to develop."
The Times Union reports:
The chief described the incident as "horrible" and said it is under investigation by the Greene County district attorney's office. It's unclear when Jones poured hand sanitizer on himself, and if police saw him do it. Darling did not respond to follow-up questions.

A law enforcement source briefed on the investigation said that Jones had stripped off some his clothing in the police station and doused himself with hand sanitizer in front of officers before they tasered him. The chief declined to comment on that information.
Luibrand wrote a letter to Darling requesting that any and all evidence be preserved, including audio and video recorders from street cameras, as well as computer data and data from any tasers used during the horrific incident.
For now, 29-year-old Jones is battling for his life in a hospital bed.
While this case may seem outlandish, unfortunately, it is not the first time a police officer used a taser to set a mentally ill man on fire. As TFTP reported earlier this year, the family of Gabriel Eduardo Olivas filed a lawsuit against the city of Arlington after two police officers used their tasers on him — while he was soaked in gasoline — and set him on fire, killing him and burning down his family's home, according to a lawsuit.
Sadly, in February, the U.S. Court of Appeals for the 5th Circuit ruled that Jeremias Guadarrama and Ebony Jefferson, the Arlington police officers who fired Tasers at Olivas, igniting him and burning his house down, are protected under the highly controversial doctrine of qualified immunity.
This qualified immunity was granted in spite of the fact the lawsuit claimed that one of the officers lied about using his taser and blames the Arlington Police Department's use-of-force policy for Olivas' death.