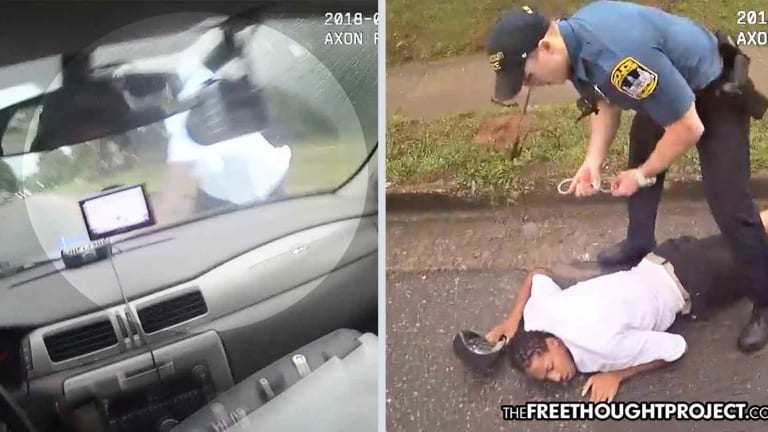 WATCH: 'Investigation' Claims Cop Broke No Law When He Used Cruiser to Mow Down Unarmed Man
A rather disturbing ruling by prosecutors was handed down this week claiming that an officer broke no law when he mowed down an unarmed fleeing man with his car.
Clarke County, GA — A Georgia police officer, who was fired from the department after body camera footage showed him pursue and then run a man down with his police cruiser, has just been cleared of any criminal wrongdoing. The chase happened in June and following outrage from the community the officer was removed from the force. However, new outrage is likely following this ruling by prosecutors.
On Friday, prosecutors announced that while using his cruiser to mow down a fleeing unarmed man Saulters broke no law.
According to investigators, Officer Taylor Saulters with the Athens-Clarke County Police Department was attempting to serve a warrant for a probation violation to Timmy Patmon. When Saulters and his partner arrived, Patmon fled the scene.
A chase ensued as Saulters pursued Patmon on foot and then got into his patrol car. Patmon continued running as Saulters chased him down in the cruiser.
The chase quickly came to an end, however, as Saulters is seen turning the car toward Patmon before he goes flying over the windshield.
Patmon's mother, Tammy Brown-Patmon watched the entire incident unfold and feared the worst after watching Patmon go flying over the cruiser.
"I thought he was dead. I thought my son was dead," she said. "It's police brutality. It's wrong."
Showing how swiftly police internal investigations can take place, after Saulters arrested Patmon, he was immediately placed on leave following an outcry from the community and those who witnessed the insanity unfold.
Only hours later, Saulters had been fired for failing to follow department policy—which apparently involves not running unarmed suspects over with your police cruiser.
Even though they fired Saulters, the department originally stated that they believe he did not intentionally run over Patmon.
"The Internal Affairs review found that he had used excessive force in this specific case because it is not in our protocol to strike individuals in this manner," Chief Scott Freeman said.
"The officer was very adamant that it wasn't his intention to strike Mr. Patmon," Freeman said.
After further investigation, however, the chief said, "The officer accelerates the vehicle, there is some wheel movement where it appears that steering wheel is being turned to strike Patmon." 
As WSB reports, Brown-Patmon says her son should not have run from the officers but contends the officer's actions were also wrong. She said she was thankful the officer was fired at the time.
"I understand whatever he did was wrong, but they didn't have to run over him," Brown-Patmon said. "I am relieved that he was fired. Justice was served."
After he was run over, Patmon was brought to the hospital to be treated. His mother says he suffered a broken arm and now limps when he walks. Police say Patmon only sustained scrapes and bruises during the incident.
As for Saulters, he's still claiming he did nothing wrong.
I'm still in shock a little bit. I feel like there's been a heavy burden lifted off of me and my family's shoulders," Saulters said.
"You still stand by your actions that day?" Channel 2's Michael Seiden asked.
"Oh, I do 100 percent. I feel I did nothing wrong," Saulters said.
Below is the full length video.
Patmon is the second man TFTP has reported on in Georgia—in a year—who has been run over by police. Warren Hill was walking through the parking lot of Mall West End last September when he suddenly found himself being run down by a police cruiser. An Atlanta police officer is now off the job after he was accused of running Hill over after mistaking him for a suspect.
"It hurt bad," Hill told WSB-TV. "My head, my neck, my back, my whole body. You get hit by a car, what do you think is going to happen?"
According to Hill, the officer mistook him for a domestic violence suspect. Hill, who was afraid of the police, decided to try and get away from the officer. However, the officer apparently took the fact that Hill tried to avoid him as a threat or admission of guilt and decided to run over the man.
"I was trying to get away from the cops and I was scared of the cops, so I ran. So they thought I was the suspect and ran me down like a dog or an animal," he said.
While Patmon had a warrant out for his arrest, as Hill's case illustrates, even being innocent is no protection that police won't run you over.