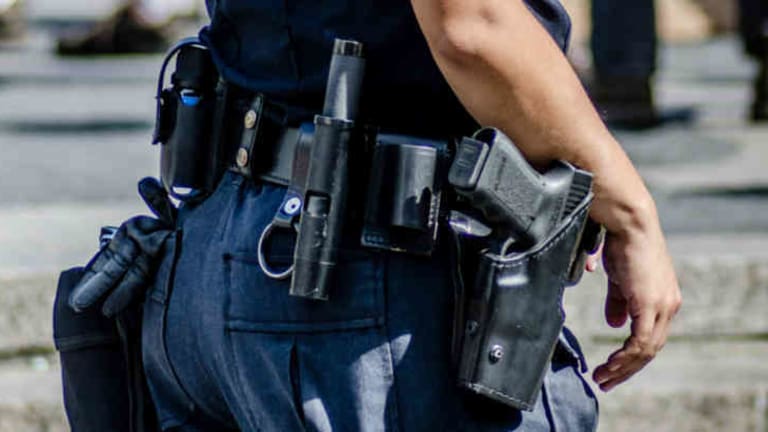 Man Who Wanted to "Kill Law Enforcement Officers" & Shot a Cop, Used to be a Cop
"It may have been the most intense fire fight in the nation this year"
Brule County, South Dakota - A man who allegedly wanted to "kill law enforcement officers" was arrested after a standoff last week during which he fired over 100 rounds at police.
Turns out, he was a former cop.
Donald London,was charged with attempted murder and aggravated assault after reportedly barricading himself in his home for over a week, and threatened to kill police officers.
"It may have been the most intense fire fight in the nation this year," Sioux Falls Mayor Mike Huether said at a conference.
It was discovered after the standoff that London was an officer himself in various departments throughout the country during the 90's.
According to Sara Rabern, Public Information Officer at the South Dakota Attorney General's Office, Michael London, was an officer with the Chamberlain Police Department from May 1988 to October 1991, and he was the deputy for the Brule County Sheriff's Office from October 1991 to March 1996. His certification expired March 1998.
He was fired from the police force and imprisoned after he was caught minting and attempting to pass off counterfeit money.
According to his former supervisor, London was accused of passing off a counterfeit $20 bill at a restaurant, a charge to which he eventually plead guilty to, and served five months in federal prison.
London's activities since leaving the police force have not been reported.
According to investigator Chris Konrad, London had a stockpile of weapons and was prepared for a battle with police last week.
"Law enforcement was told that Donald London was loading guns into his vehicle and was going to Chamberlain to kill law enforcement officers," Konrad said in a report.
London did not actually kill any cops, but he did fire multiple shots, wounding Sgt. John Koenig. Koenig was struck in the arm and side by the bullet, and was taken to the hospital for non life threatening injuries.
Col. Craig Price, superintendent of the Highway Patrol, said in a statement that "We're very thankful that Sgt. Koenig's injuries were not life-threatening. He and his family will continue to be in our thoughts and prayers as his recovery progresses."
If convicted, London faces a maximum penalty of 25 years and a $50,000 fine.
John Vibes is an author, researcher and investigative journalist who takes a special interest in the counter culture and the drug war. In addition to his writing and activist work he is also the owner of a successful music promotion company. In 2013, he became one of the organizers of the Free Your Mind Conference, which features top caliber speakers and whistle-blowers from all over the world. You can contact him and stay connected to his work at his Facebook page. You can find his 65 chapter Book entitled "Alchemy of the Timeless Renaissance" at bookpatch.com.