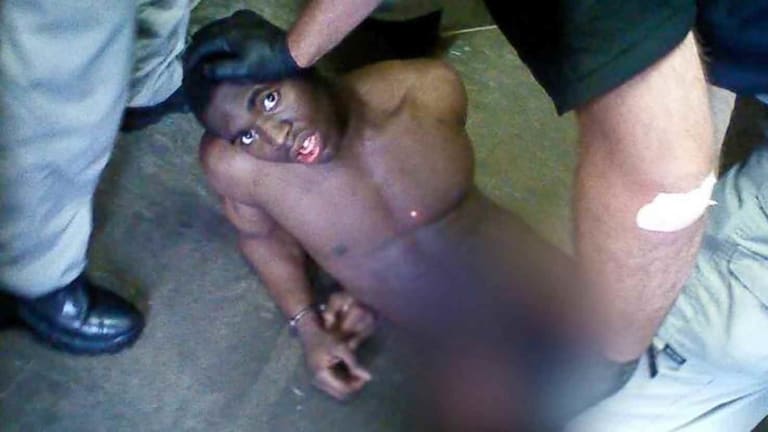 Horrifying Video Shows Deputies Punch, Kick, Taser Naked Mentally Ill Man
A mentally ill man was arrested for running into traffic and was subsequently thrown in a cage where he was repeatedly beaten, tasered, and assaulted by deputies who clearly lacked the training to deal with him.
Muscogee County, GA — When your only tool is a hammer, everything begins to look like a nail. To illustrate this point, a disturbing and graphic video was released this week showing a mentally ill man being repeatedly punched, kicked, and tasered by deputies whose only tool appeared to be violence.
The video was so shocking that even the head of the jail said it was excessive. According to the Ledger-Enquirer, Major T. Culpepper described the use of force as extensive and "outside of policy under most circumstances." He recommended better training for staff to avoid such situations in the future.
Cortney Jackson, 21, was in the midst of a mental breakdown in February of 2016 when he encountered police officers. Jackson had run into traffic and was arrested on charges of disorderly conduct. Instead of receiving the mental help that he needed, Jackson was thrown into a cage where he became suicidal.
Clearly lacking the training in dealing with mentally ill individuals, deputies attempted to remove Jackson from his cell with tasers, fists, chains, and boots.
Although the video does not show Jackson being combative, police claimed in their report that the naked 21-year-old was a threat and the severe beating he received that left him permanently injured was necessary.
"At this point, several closed fist strikes were delivered to inmate Jackson's head, face abdomen and ribs," deputy Bryan Davis wrote. "Due to his continuous combative and aggressive behavior, C.O. Gilliland attempted to drive stun using the CEW (Controlled Electronic Weapon). The CEW had no effect and the subject, as he attempted to grab the CEW from C.O. Gilliland. A second CEW and all available officers were called for.
"... Once multiple officers and another CEW arrived, they entered the cell and at that point a second CEW was deployed at this time," Davis continued. "Contact was made and he eventually let go of me. Once he released his grip, I was then pulled from the cell by other officers as others moved into the cell to restrain him."
"I then kicked inmate Jackson on his right side multiple times until he released the CEW," Corporal Robert Denney wrote. "Jackson was then brought down to the ground in attempt to roll him over to be handcuffed. Jackson continued to fight the officers and refused all commands given.
"The CEW was deployed and contact was made," Denney continued in his report. "I became tangled up in the wires during the fight. I was tased multiple times during the fight trying to get Jackson to roll over. All officers then attempted to back out of the cell while tasing inmate Jackson under power. I was the last one out attempting to leave the cell. Inmate Jackson jumped up at the end of the 5 second cycle. He came at me and got me in a headlock. I reached for his testicles and squeezed them until he released me. Inmate Jackson was then brought to the ground and shackled."
During the melee, Jackson was tasered for more than 70 seconds. At the end of the assault, Jackson was left dazed, shackled, and bloody.
The beating was so terrible that it prompted inmates in the Muscogee County Jail to contact Jackson's family in order to let them know how badly he was being treated.
Jackson's sister, Chasity Lee, responded by sending a letter to then-Sheriff John Darr and other officials expressing concern about how her brother was being treated at the jail.
"... No one has seen him since an altercation that happened on Saturday, June 25th," she wrote. "A worker with the NAACP has went to the jail to see him, with permission from Sheriff Darr and he was denied the visit. I am asking you to please help my brother and stop the attacks that is inflicted on him by jail guards."
Lee said the family had spoken to nurses, doctors and the jail warden about her brother's condition, and they all said Jackson was fine with no physical injuries, according to the Ledger.
However, as the medical reports show, Jackson was not "fine."
As the Ledger-Enquirer reports, Jackson underwent a CT scan of his chest, neck and brain to evaluate physical injuries sustained following the alleged assault by guards and officers at the jail. The results showed that he "suffered a pneumothrorax to his right lung and emphysema due to the trauma sustained at the hands of defendants," according to the lawsuit. He also allegedly "suffered from urethral stricture secondary to his trauma, as well as subcutaneous facial hematomas caused by the repeated blows." He was subsequently diagnosed with abnormal liver function and elevated liver enzymes and his hematology lab work was abnormal, according to the lawsuit.
"Despite all these serious medical conditions, the Plaintiff was not provided medical care to determine the reason for the abnormal findings," Jackson's recently filed lawsuit reads. "The Plaintiff also did not receive any additional or follow-up medical treatment for his injuries."
After the video was released, an unknown person bailed Jackson out of jail and he is now free until his trial. He spent two years in a cage—getting beaten repeatedly—for running into traffic.