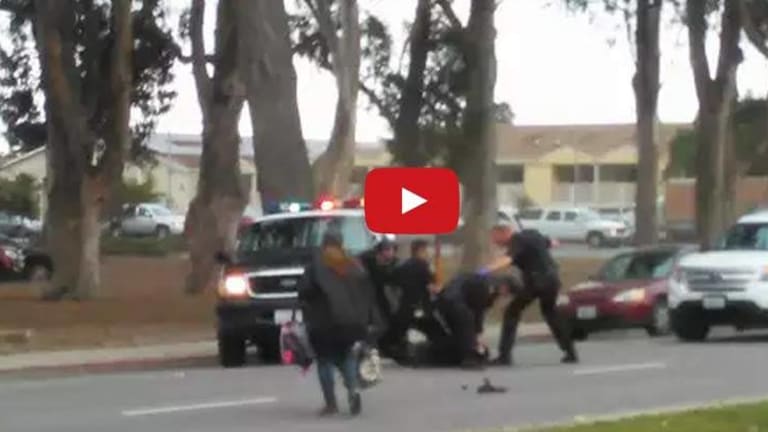 Mentally Ill Man Faces 11 Years After Cops Caught on Video Using his Body for Batting Practice
In police state USA, mental illness is treated with haymaker baton blows from armed men dressed in black, and steel cages.
Salinas, CA -- Last month, the mother of Jose Velasco called police because he was having a mental breakdown. When police arrived on the scene they treated Velasco like he was a criminal instead of a mentally ill man in need of help.
When police attempted to subdue Velasco, he was having hallucinations that there were demons after him, sadly, he was figuratively correct. A struggle ensued in which Velasco attempted to free himself from the grasp of the police, which they saw as a threat, so they proceeded to brutally beat the man down with their batons.
Velasco was soon after taken to jail and has remained there ever since, where he now faces multiple bogus charges that may land him in jail for 11 years.
Police claim that Velasco attempted to attack his mother and the police officers, but his family disputes these claims, saying that they called the police to get help for Jose, not for themselves.
"I feel that the charges against him are bogus," Velasco's sister, Isabel Loya told reporters.
"If they're filing an assault charge, why wasn't she treated like a victim? She never cried that she's a victim," Loya added.
Prosecutor Lindsey O'Shea never even bothered to get a statement from the family because she does not believe that their testimony would be legitimate.
"It's not uncommon (with) family violence for people to recant their statements, or say things happened differently. But we have to look at whether or not a crime was committed. If it was, we have a duty for public safety to press the charges," O'Shea said.
In video taken of the arrest, multiple officers can be seen hitting the victim with haymaker power swings with their batons while Velasco is laying prostrate on the pavement. The video then appears to show the officers holding Velasco down until another officer arrives on the scene. The newly arrived officer immediately begins brutalizing him with his baton as other officers restrain Velasco on the ground.
Allthough the officers beat Velasco far worse than he is accused of hurting anyone else, they are facing no charges.
On Wednesday, the District Attorney made the following statement:
"Monterey County District Attorney Dean D. Flippo announced today the filing of three charges against Jose Velasco, age 28 of Salinas, for acts committed on June 5, 2015. The charges are felony assault likely to produce great bodily injury upon Velasco's mother Rita Ramirez (Acosta); removing Salinas Police Officer David Pritt's taser while resisting arrest, a felony; and misdemeanor assault on firefighter Collin Mitchell. Further, after careful review of all of the available evidence, including independent consultations with two certified instructors in defensive tactics using baton and fixed stick weapons, there is insufficient evidence to prove any officer committed a crime during the incident."
John Vibes is an author, researcher and investigative journalist who takes a special interest in the counter culture and the drug war. In addition to his writing and activist work he organizes a number of large events including the Free Your Mind Conference, which features top caliber speakers and whistle-blowers from all over the world. You can contact him and stay connected to his work at his Facebook page. You can find his 65 chapter Book entitled "Alchemy of the Timeless Renaissance" at bookpatch.com.