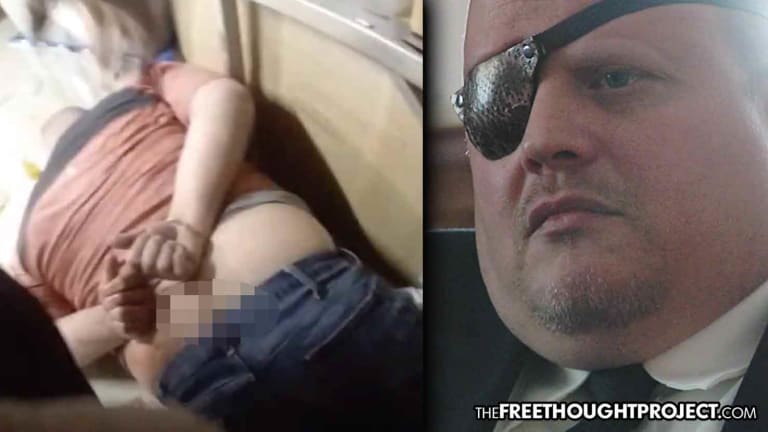 WATCH: 3 Cops Hold Mentally Ill Man Down, Literally Blast His Eye Out With Pepper Spray Gun
An innocent man was having a mental episode after a change in medication and needed help. Instead of help, police blasted out his eye.
St. George, UT — On the night St. George police confronted Benjamin Joseph Herold, 41, Herold had committed no crime, had not been suspected of committing a crime, and had harmed absolutely no one. Herold's family had called police for help after he began regressing into a bipolar state. Instead of help with his mental illness, however, according to a recent lawsuit, police used multiple acts of taunting, provoking, and violence which left Herold without an eye.
The incident unfolded on March 13, 2019 after Herold's sister called 911 and told the dispatcher that Herold was having a mental health episode and had dumped his medication down the drain. According to a recently filed lawsuit, Herold was experiencing side effects from a change in medication that made him feel confused and angry.
According to the family, this is not the first time police had been sent to home but never had things ever turned violent. This time, however, all that would change.
According to the lawsuit and backed up by the video, Herold says police arrived and only made things worse by taunting him, goading him, and attempting to get him to lash out. He never got violent and the one physical thing Herod did was to pull away from cops attempting to arrest him for absolutely no reason.
As the body camera footage shows, Herold was clearly delusional and angry, but never attempted to attack an officer. It was officers who initiated contact with Herold when he tried to grab a root beer from the fridge. Responding officers were Sgt. Michael Christensen and officers Pace Truman and Gage Gardiner.
Christensen tells Herold, "Stay out of the fridge," as he grabs Herold's shoulder.
"Do not push me," Herold responds.
When Herold rolls a can of root beer across his garage floor out of frustration, Christensen tells him he is under arrest.
Illustrating how out of touch with reality Herold was, when cops moved in to handcuff him, Herold told them "I will have all your badges on my desk by tomorrow morning."
When the officers attempt to cuff Herold, he pulls away, and the officers react by tackling Herold to the ground.
While on the ground, Christen tells Herold to comply or "I will shoot you in the face!"
"Go for it," Herold says, "I hope it kills me."
"This is OC and you will be shot in the face if you don't stop," Christensen repeats.
Christensen then demands Herold "roll onto your stomach right now!"
However, it was clear that he couldn't because three officers were on top of him. One of the other officers even acknowledged this, saying, "he can't."
Moments later, Christensen shoots Herold in the eye from only a few inches away causing Herold to begin writhing in pain on the ground. The pepper spray had blasted away at Herold's eye so hard, that he actually began bleeding from his eye socket.
Once the officers realize what they had done, they call for an ambulance as Herold's limp body lies face down, blood dripping from his eye.
"No one was at risk of any harm. No one was threatened and there were no weapons involved," Herold's attorney, Robert Sykes, wrote in a news release.
Sykes also pointed out that OC guns are not meant to be deployed from just a few inches away — especially at point blank range into someone's eye. They are meant to be deployed from five feet or more.
The lawsuit alleges that even though Herold was yelling, he never once resisted until they put hands on him and he pulled away. Sykes called the use of force "grossly excessive and a significant violation of Joey's constitutional rights."
Over the last 21 months, Herold has undergone multiple surgeries to repair his eye socket. He now wears a patch and a glass eye. Though he admits to being delusional that night, Herold says police did nothing to deescalate the situation.
"Whatever is on that film is not me. I am not the one who goes out looking for fights," Herold said. "I felt like I was just taken advantage of at the moment. I just felt like I was being taunted."
After his arrest, Herold was hit with five misdemeanor counts from that night, including allegations of assault on a police officer. He has pleaded not guilty.