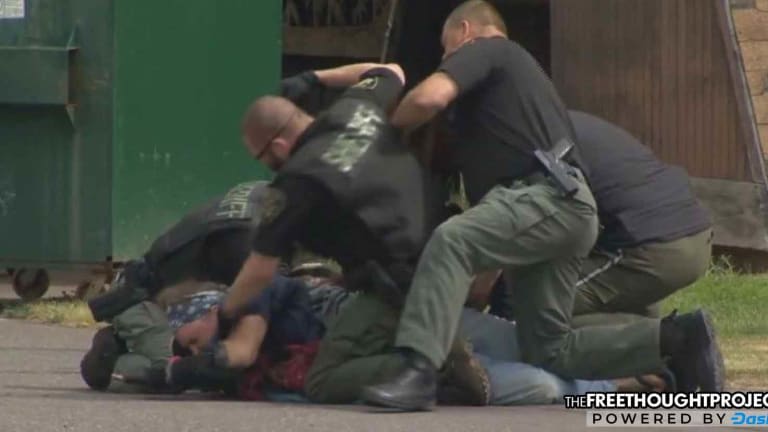 WATCH: Mentally Ill Man Punched 17 Times In the Face for Warning Cops About a Cougar
A mentally ill man was shouting that a cougar was going to harm people, so cops surrounded him, threw him to the ground and began pummeling his face in.
Detroit, OR — Disturbing video captured a Marion County Sheriff's deputy repeatedly punching a homeless mentally ill man in the face on Monday. The video has since sparked outrage in the community and, according to police, an internal review.
According to police, the homeless man had walked up to an area police had cordoned off while coordinating a search for a missing 67-year-old man and his 40-year-old son. Police said they "were left with no choice but to" arrest him.
However, as the graphic video below illustrates, this man got more than just arrested. He was thrown to the ground and punched in the head more than a dozen times.
The video is perfectly clear as it was taken by a local news crew from KGW who was on the scene covering the missing father and son who'd not returned from fishing. It shows officers surround Kevin Straw, a 28-year-old homeless man, and bring him to the ground as he yells "no!"
Without giving Straw any time to comply with the order to put his hands behind his back, one of the deputies begins punching him, and punching him, and punching him. Over and over the deputy continues to seemingly take out his pent up aggression on this man's face.
All the while, Straw is screaming out for help and saying he's not resisting. Indeed, when watching the video, it appears that the only thing Straw is doing is attempting to shield his face from the deputy's fist.
Indicating that he may be suffering from mental illness, during the struggle, Straw tells the deputies why he was there. "I just wanted to brush my teeth before I left town. I came to warn you about the cougar," Straw yells out. "There's a cougar. It's hurting people."
Straw thought he was helping deputies. But deputies were agitated with his warnings so they moved to arrest him. According to the statement from the sheriff's office, Straw had been shouting this warning near a police command post and radio operations center.
Straw was so loud, according to the sheriff's office, that police couldn't hear the searchers in the field looking for the missing father and son, who were found just fine hours later. Straw was apparently so concerned about the presence of this cougar that he refused to leave and returned twice after deputies ran him off.
None of the deputies involved in the arrest were named and the video is under review internally as well as by another police department. The sheriff's office said they sent Straw in for a mental health evaluation at the Psychiatric Crisis Center in Salem and he will likely be issued citations for interfering with a police officer and resisting arrest.
According to Oregon Live, Straw has been in the Detroit area for several weeks. He was yelling at strangers in Detroit about cougars and military special forces on Saturday and refused to go with members of a county crisis team who respond to calls involving people with an apparent mental illness, the sheriff's office said.
Community members have weighed in on the video and the ACLU has issued a statement.
"That video is disturbing. It's violent. Honestly, if that does not represent excessive use of force, I'm not quite sure what does," said David Rogers, executive director of the Oregon ACLU.
If you'd like to express your concern over the actions of the Marion County Sheriff's deputies in the video below, you can do so on their Facebook Page, here. 
Police kill an average of around 1,200 people per year, with many of those killed being mentally ill. As TFTP has reported, nearly 25 percent of officer-involved shootings that end with a citizen losing their lives, happen in cases where the target is mentally ill.