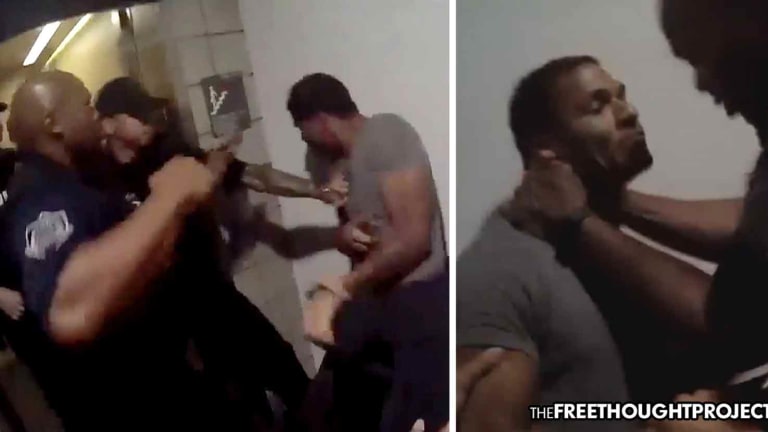 WATCH: No Charges for Cops Who Attacked Innocent Man, Beat Him Unconscious
Despite graphic video of multiple Mesa police officers surrounding and pummeling an innocent man, the investigation ruled they did nothing wrong.
Mesa, AZ — As TFTP reported at the time, a shocking video surfaced out of Mesa, Arizona in May showing a half-dozen cops jump an unarmed and non-violent man—punching him in the head until he falls unconscious to the floor. Despite several cops participating in the beating, not one word of it was mentioned in a report and the chief claims he had no idea it even happened. Now, after bumbling the case for months, the department said the cops involved in the violence have done nothing wrong.
A review of the Mesa Police officers' conduct in the savage beating of an innocent man by the Scottsdale Police department has found that the officers who surrounded, punched, kneed, and hit their victim after he fell unconscious, have done nothing wrong.
The video is of an incident from May 23, in which police were responding to a call at an apartment complex. The Mesa Police department says they received a call from a woman stating that 20-year-old Erick Reyes was trying to get into the apartment of his ex-girlfriend.
When police arrived on the scene, Reyes and another man, 33-year-old Robert Johnson were leaving the complex. When police told Reyes to sit down on the ground, he reportedly complied with their order. Johnson was given the same order as he walked to the elevator.
Instead of sitting on the ground, Johnson, likely knowing he had done nothing wrong, simply sat against the wall. Apparently, this was not enough to appease the officers who then swarmed the unarmed and seemingly innocent man.
Cops are then seen on video brutally punching the non-violent man in the face and kneeing him in the stomach. Even after he's knocked unconscious, the massive cop in front of him pummels his face as he falls to the ground.
"Johnson's body language was projecting he was preparing for a physical altercation," one of the officers wrote in the report. "It appeared Johnson was trying not to sit down in order to retain a position of physical advantage by remaining on his feet."
To those who watch the video, this was clearly not the case.
In a statement at the time, Mesa police chief Ramon Batista claimed he had no idea that this video existed nor did he know his officers savagely beat a man for no reason. Once it was publicly released, four of the officers involved in the incident were placed on administrative leave but now they will all soon be back on duty.
At the time, chief Batista said his officers appeared to have made a "mistake."
"This in no way represents the whole work that is done every day," Batista said of his department. "They're human beings and certainly at first glance, this looks like a mistake."
The "mistake" nearly killed a man. What's more, the officers never reported it and then charged Johnson with disorderly conduct and hindering in an apparent attempt to cover their tracks. But this is fine and dandy according to the police union.
"Violence is ugly, it looks terrible, no matter what," said Sgt. Nate Gafvert, President of the Mesa Police Association. "Mr. Johnson was giving several indicators that he was going to resist arrest, that he was being verbally abusive to the officers. It was pretty clear that there should absolutely be no files charged on these officers."
The video made its way to Johnson's pastor who is teaming up with his attorney to aid in Johnson's defense.
"There is no explanation that you can justify that level of force," said Pastor Andre Miller with New Beginnings Church.
"I understand that police have to use force in certain situations," Miller said. "At the end of the day, when do you not use force?"
"You had footage from the apartment complex, Mesa police can't finagle their way around this and cover their butts. You see what happened on the camera, he was brutalized, he was unarmed, and he was not a threat," said Taylor.
Proving Johnson was no threat and that he was innocent, despite being originally and erroneously charged in the incident, just weeks after he was beaten, all the charges were thrown out.
"It's almost like a death blow, to realize these officers will not be held accountable," said Taylor. "As a lawyer, we will hold them accountable civilly. So Mesa and the Mesa Police Department, even though they might walk free today, they won't walk free with a civil suit."
Although the Scottsdale department has cleared the officers, there is still an internal review underway in the Mesa Department. In June chief Batista had this to say about the situation.
"The actions shown on that video and others recently released do not reflect the values of the Mesa Police Department," Mesa Police Chief Ramon Batista said. "I promise you, we will fix this."
We will see.
Below is this graphic video.
Here is the entire raw video below:
Body camera footage:
Mesa police are no strangers to violence and corruption. For those who don't remember, in March of 2016, Mesa Police Officer Philip Brailsford was charged with second-degree murder for gunning down Daniel Shaver, an innocent husband, and father of two.
The shooting was captured on body cam footage and showed an innocent unarmed dad beg for his life as he crawled on the ground just before Brailsford opened fire and murdered him. In December, a jury, apparently blinded by the badge delivered a verdict of not guilty.