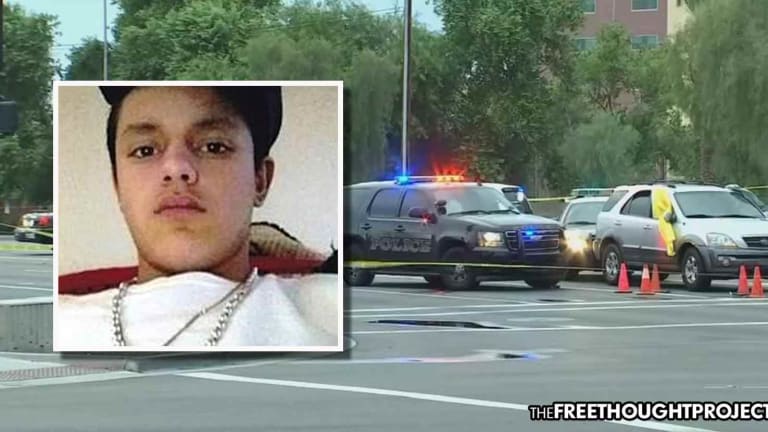 Mesa Police Shoot and Kill Unarmed Man as He Had a Seizure During Traffic Stop — Lawsuit
A new lawsuit alleges Mesa police officers shot and killed an unarmed man during a traffic stop as he suffered from a seizure.
Mesa, AZ — Anyone who has ever taken a shallow dive into the world of police brutality and excessive force has likely heard of the Mesa Police Department. This department has a history of killing innocent fathers, beating up grandmothers and doling out police brutality in general, to anyone they wish. Now, they are in the news once again after being named in a wrongful death lawsuit. Patricia and Caesar Lopez have filed a lawsuit against the department claiming Mesa officers used excessive force when they shot and killed their son Anthony last year.
In the early morning hours on July 21, 2018, police officers Heath Carroll and Jena Thranum pulled Anthony Lopez over for suspicion of DUI. Moments after the stop began, Lopez would be shot and killed.
According to Anthony's parents, Anthony suffered from a seizure disorder. According to the lawsuit, "[Lopez] had a seizure immediately prior to and/or during this incident. During the traffic stop, Carroll shot [Lopez] multiple times without justification or cause," the lawsuit states.
The reason police gave for opening fire on Lopez is the typical reason of fearing for their lives when Lopez allegedly attempted to flee. However, according to his parents, he may not have been trying to flee at all and was suffering from a seizure when he was shot and killed by Mesa's finest.
Lopez's parents allege that shooting their son "was excessive and unreasonable because the officers could step out of the path of [Lopez's] vehicle and because at the time of the shooting, [Lopez] was not armed and posed no immediate threat of death or serious bodily injury to any person. Moreover, there were less-than-lethal alternatives to take [Lopez] into custody."
According to police, when Lopez attempted to drive forward, he allegedly hit officer Carroll in the leg with his vehicle. Carroll first had out his taser, but when the vehicle hit him, he put up his taser, pulled out his pistol, and started firing.
Carroll claimed he was injured but the Mesa police department released no information on the extent of said injuries. Carroll is back on full duty.
The lawsuit states that after shooting Lopez, police failed to treat his fatal wounds and instead handcuffed the man as he bled to death. Also in the lawsuit are claims that the Mesa police department should've "known [Carroll and the other officers on the scene] had dangerous propensities for abusing their authority and for using excessive force and had a lack of proper training and knowledge regarding the risks of shooting at vehicles and their occupants."
However, as the Phoenix New Times points out, it might be difficult for the family to find out whether Carroll or the other officers do, in fact, have a "propensity ... for using excessive force," since until recently, the Mesa Police Department instructed officers to remove excessive force complaints from their internal affairs files if they were more than three years old.
The Times was able to easily find another case in which Carroll was accused of using excessive force. In that instance, Carlos Miguel Pagan alleged Carroll "held me down with an unknown officer while officer Trevizo delivered multiple strikes to the right side of my face, as stated by the witness Troy Nicholas Perry."
Pagan's mugshot from that night confirmed the horrific injuries he sustained to his face.
The Lopez' lawsuit is seeking in excess of $3.5 million for wrongful death damages, funeral and burial expenses, attorneys' fees, and loss of financial support.
As TFTP has previously reported, this is the same department that responded to the hotel room of an innocent unarmed father and murdered him on video as he begged for his life on his knees.
In March of 2016, Mesa Police Officer Philip Brailsford was charged with second-degree murder for gunning down Daniel Shaver, an innocent husband, and father of two. The shooting was captured on body cam footage, part of which was released the following May. In December of 2017, a jury, apparently blinded by the badge delivered a verdict of not guilty. Brailsford was quietly rehired earlier this year when he promptly resigned just so he could keep his pension.
The Mesa police department is the same department who was seen on video savagely attacking an innocent grandmother, leading to her hospitalization. After they hurt this innocent grandmother, police actually went to the hospital to intimidate her.
The Mesa police department is the same department whose officers were caught on video viciously attacking an innocent man trying to get on an elevator.
As TFTP reported at the time, a shocking video surfaced out of Mesa in May of 2018 showing a half-dozen cops jump an unarmed and non-violent man—punching him in the head until he falls unconscious to the floor. No officers were held accountable for the beating of Robert Johnson.