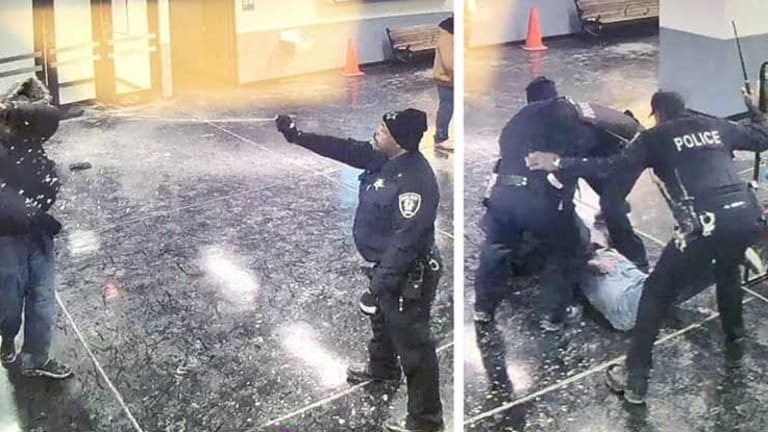 Cop Arrested After Bragging About Video Of Unprovoked Attack on Helpless Man
A Metra cop was caught on video bragging about another video of him beating a man for no reason subsequently exposing a massive cover-up.
Chicago, IL — A Metra police officer's inability to contain his glee while watching the surveillance footage of him brutality attacking a non-violent man for allegedly trespassing at a train station has led to the officer being charged.
Then-Metra police officer David Robertson, 50, of Matteson, told Metra officials the 45-year-old man he arrested on charges of trespassing started the fight in 2015 at Millennium Station. However, the surveillance video from the station proved that claim to be a lie.
In the video, according to Cook County prosecutors, Robertson is seen striking the man in the face unprovoked, spraying pepper spray at him and smacking him with a baton as two other officers joined in.
As the Daily Herald reports:
An investigation into the arrest was sparked by a video that Robertson filmed with his phone while watching a playback of surveillance footage in the company of other Metra police officers who laughed and offered a running commentary of the beating.

"You got him!" one police officer said during the viewing.

Robertson, who could not be reached for comment, turned over his video to Cook County assistant state's attorneys who informed Metra on Nov. 9, 2016, that Robertson might have provided false testimony because the images contradicted his version of events.

Robertson was released after an appearance in Cook County bond court Monday. He also was charged with perjury and official misconduct.
Naturally, the Union-supplied attorney Shay T. Allen is claiming that the state's attorney's office is being "overzealous" and his client is innocent—in spite of the video showing him initiate unprovoked violence.
"Mr. Robertson was working in his capacity as a police officer. I am expecting he will be fully exonerated of all charges," Allen said, adding that Robertson had served for 25 years with no previous complaints.
However, Metra disagrees.
"As an agency that now prides itself on having a well-run and professional police force, and after our own investigation into the matter, we are disturbed and deeply troubled by this conduct," Metra CEO Don Orseno said in the statement.
"This conduct is unacceptable to us and will not be tolerated. It is not representative of the culture and standards of the Metra Police Department."
Metra began their internal investigation into this matter after they were contacted by the state's attorney's office and made aware of Robertson's bragging video. Last November, Robertson and a second officer were suspended without pay and then both fired in December. The third cop seen joining in on the beating was dismissed prior to the investigation.
According to Metra spokesman Michael Gillis, the two officers heard laughing about the attack in Robertson's video were disciplined and no longer work at Metra.
As the Herald reports:
Robertson testified the other man started the fight and "rushed" him, then reached into his right pants pocket, which led the police officer to pull out the pepper spray. The confrontation began around 9 p.m. Jan. 15, 2015, as the man sat on a bench. Robertson initially told the man he needed to leave if he didn't have a ticket and the man refused. Both exchanged words.

Prosecutors state Robertson punched the man in the face and aimed pepper spray at him without any physical aggression on the 45-year-old's part and the video backs up that version. The video also shows backup officers arriving and the man being pummeled with batons. Robertson later punches him in the face, the video shows.
Robertson was subsequently charged and released on a $25,000 bail and on the condition that he have no contact with his victim.
While neither of the videos has been released publicly, the following screen grabs show the entirely unnecessary and excessive force.