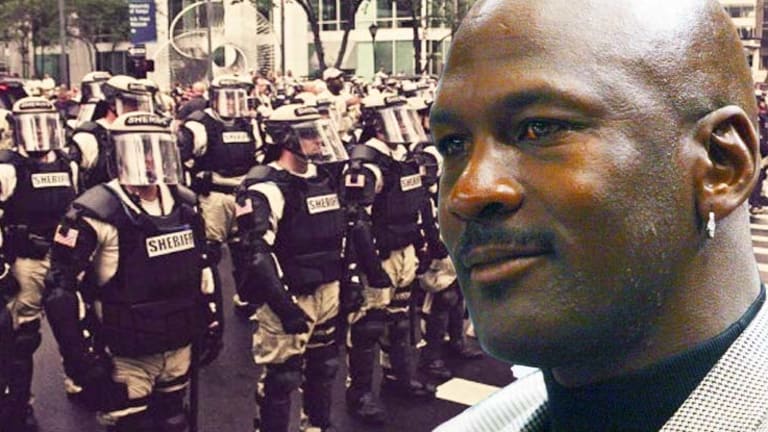 "I Can No Longer Stay Silent" Michael Jordan Speaks Out Against "Deaths at the Hands of Police"
Michael Jordan just bravely came forward to speak out about the unnecessary killing by American police. He also posed a solution.
Retired pro-athlete, businessman, owner of the Charlotte Hornets, and widely considered the best basketball player of all time, Michael Jordan, has bravely come forward with a powerful message.
"I have been deeply troubled by the deaths of African-Americans at the hands of law enforcement"
In an exclusive letter to The Undefeated, Jordan chose to speak out against the recent violence plaguing America today. During the interview, he also notably voiced his concern over the senseless murder of police officers.
"As a proud American, a father who lost his own dad in a senseless act of violence, and a black man, I have been deeply troubled by the deaths of African-Americans at the hands of law enforcement and angered by the cowardly and hateful targeting and killing of police officers," Jordan writes in a one-page letter released exclusively to The Undefeated. "I grieve with the families who have lost loved ones, as I know their pain all too well.
"I was raised by parents who taught me to love and respect people regardless of their race or background, so I am saddened and frustrated by the divisive rhetoric and racial tensions that seem to be getting worse as of late. I know this country is better than that, and I can no longer stay silent. We need to find solutions that ensure people of color receive fair and equal treatment AND that police officers – who put their lives on the line every day to protect us all – are respected and supported."
In his letter, Jordan announced that he will be donating $1 million each to two groups working to bridge the divide between the police and the policed.
"To support that effort, I am making contributions of $1 million each to two organizations, the International Association of Chiefs of Police's newly established Institute for Community-Police Relations and the NAACP Legal Defense Fund. The Institute for Community-Police Relations' policy and oversight work is focused on building trust and promoting best practices in community policing. My donation to the NAACP Legal Defense Fund, the nation's oldest civil rights law organization, will support its ongoing work in support of reforms that will build trust and respect between communities and law enforcement. Although I know these contributions alone are not enough to solve the problem, I hope the resources will help both organizations make a positive difference." Jordan wrote.
After announcing his donations, Jordan ended his letter with a show of unity, noting that working together will create peace.
"The problems we face didn't happen overnight and they won't be solved tomorrow, but if we all work together, we can foster greater understanding, positive change and create a more peaceful world for ourselves, our children, our families and our communities," wrote Jordan.
Michael Jordan's comments come just days after several WBNA teams were fined for making similar remarks on their warm-up shirts. In fact, when the Minneapolis Lynx wore shirts decrying the killings of Philando Castile, Alton Sterling, and the murdered Dallas police officers, the cops working security for the game abandoned their post.
It is unclear how police will respond to Jordan's letter. However, if it is anything like their response to the WNBA, Jordan has a difficult road ahead.
The bravery and courage illustrated by Jordan in this matter are most certainly admirable and he deserves commendation. That being said, Jordan, like so many before him who call for an end to police brutality and killings -- fail to address one of the root causes of so much of this suffering -- the war on drugs.
If you honestly believe that black lives matter, it is your duty to call for an end to the drug war.
And if police honestly want to prevent violence, it is their duty to refuse to enforce immoral laws that criminalize arbitrary substances and personal choices.
When the government makes certain substances illegal, it does not remove the demand. Instead, the state creates crime by pushing the sale and control of these substances into the illegal black markets. All the while, demand remains constant.
Tasking police with enforcing this ridiculous war creates constant hostile interactions. Remove the drug war and remove most of these confrontations -- thereby fostering peace.
We can look at the prohibition of alcohol and the subsequent mafia crime wave that ensued as a result as an example. The year 1930, at the peak of prohibition, happened to be the deadliest year for police in American history. 300 police officers were killed, and innumerable poor people slaughtered as the state cracked down on drinkers.
When the people's freedoms to do as they wish without harming others become threatened -- the people lash out. This can be seen throughout history.
Hopefully Jordan has more words coming in the future, as a person with his status could certainly force this conversation into the forefront -- and end this violent cycle once and for all.