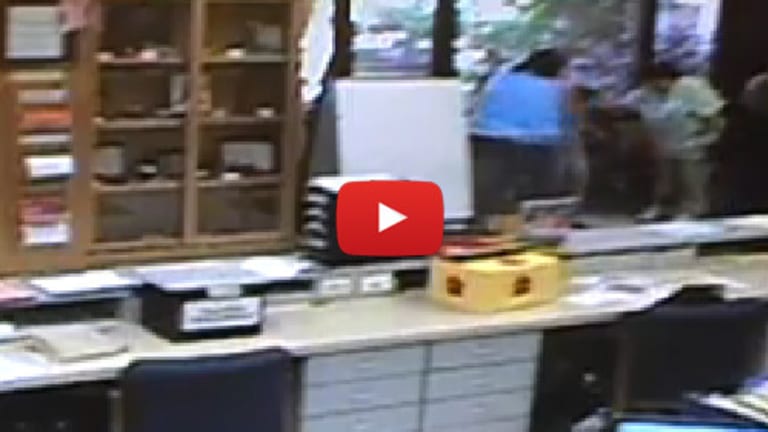 This Mom Was Assaulted and Arrested For Attempting to Checkout Her Children from School
A woman in Lehigh Acres, Florida was assaulted and arrested in front of her daughter, for attempting to take her out of school while police dogs were set loose to search for drugs and other prohibited items.
Mother LeAnn Ladd was concerned about her daughter being in school during the lock-down because their family dogs were in heat, and she did not want one of the police K-9 units to pick up the scent and attack her daughter.
However, when Ladd arrived at the school to pick up her children, the school staff and police treated her like a criminal, and when she attempted to take her children home she was assaulted and then arrested. She was held in lockup for 15 hours until she was finally released. Only after her release from jail was she able to get medical attention for the injuries inflicted by the attackers.
Eventually, she was cleared of all charges in a jury trail over a year later, but has been unable to bring any formal charges against the officers involved. The incident happened in September of 2012, and ever since, Ladd has been struggling to find a lawyer to take her case, even though she has been able to obtain security camera footage from the Lee County School Board which documents the attack.
Ladd tells The Free Thought Project that she is not looking for financial compensation in anyway. She does want to see these officers lose their jobs and certifications however.
"These individuals caused my children and I unbearable pain and now my family feels threatened every time a badge is in sight," said Ladd.
You can follow their story on their facebook page.
Below is the very low resolution surveillance video from the school which shows Ladd being assaulted and arrested in front of her children.

Original facebook post.
Post by LeAnn Rose.
John Vibes is an author, researcher and investigative journalist who takes a special interest in the counter culture and the drug war. In addition to his writing and activist work he is also the owner of a successful music promotion company. In 2013, he became one of the organizers of the Free Your Mind Conference, which features top caliber speakers and whistle-blowers from all over the world. You can contact him and stay connected to his work at his Facebook page. You can find his 65 chapter Book entitled "Alchemy of the Timeless Renaissance" at bookpatch.com.