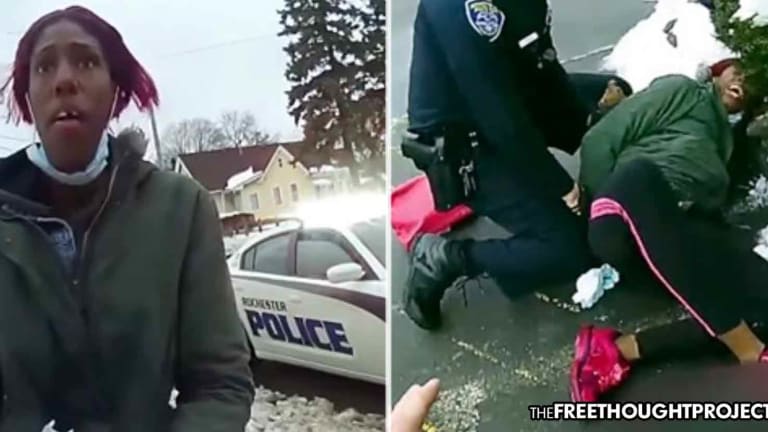 WATCH: Cops Curse Out Witnesses as Mother Pepper Sprayed With Her 3yo Child
A mother was wrongly accused of shoplifting and subsequently thrown to the ground, handcuffed and pepper sprayed in front of her little child.
Rochester, NY — Over the years, TFTP has reported on Rochester police and their various misdeeds up to and including handcuffing little girls, even pepper spraying them. Staying true to their reputation, the Rochester police department is back on the radar again — this time for pepper spraying a mother in front of her three-year-old child.
On Feb. 22 of this year, Rochester police reportedly received a call about an alleged shoplifter at a Rite Aid. When they responded to the scene, they found the accused woman walking with her three-year-old child.
Body camera video recently released from the incident shows why this department deserves so much scrutiny. When the video was released it was announced that the officer involved has been placed on administrative leave pending an internal investigation.
As the video shows, the officer stops the woman and her child and rather quickly determines that there is no evidence of shoplifting. However, he then demands she get in the police cruiser to further investigate.
"Did you steal from that store," the officer said while exiting his police cruiser, clearly having made up his mind that she had.
"Oh, come on, they said you stole; what did you take?" the officer said again while approaching the woman.
The officer continued to shout down the woman as she tried to tell him she'd done nothing wrong.
"Tell me what you took. Tell me the truth," the officer said. "Okay — I don't have time for your B.S."
Showing that she had nothing to hide, the woman allows the officer to search her belongings and he finds no such stolen merchandise.
After not finding anything, the officer radios back to the store in an attempt to get a description of the alleged stolen items, however, there was not one.
"Negative, no description," a dispatcher said in return.
"Nothing, right?" the woman asked, asserting her innocence.
"Yeah," the officer replied.
"Well, we've gotta talk with them to see," the officer said before telling the mother to get into his police cruiser.
"No sir," she replied.
Apparently scared of being kidnapped with her child, the woman made the decision to flee the scene, holding her 3-year-old as she briefly got away.
When officers caught up to her, she was pepper sprayed in her eyes as her child screams in horror. The mother is then taken down and handcuffed.
The woman being thrown to the ground and pepper sprayed in front of her child garnered the attention of bystanders who took to filming the interaction. This further enraged the police.
"F**king get out of here; you're not helping anything," one officer said to a bystander who was recording the scene.
When cops curse out people for filming as they assault a mother in front of her child, that should throw up a red flag that you absolutely should be filming them.
Police Chief Cynthia Herriot-Sullivan told reporters on Friday the officer appeared to follow protocol, but "some things to me aren't as simple as whether a policy was followed or not."
"Just because we can do certain things, doesn't mean we should," she said at a news conference. "Can we get to the same place by utilizing a different strategy?"
The answer to that question is a resounding, yes.
Highlighting the utter gratuitous nature of the use of force, police found no evidence of shoplifting. Instead, they chose to charge the woman with trespassing.
"These disturbing incidents prove that the Rochester Police Department needs to fundamentally change its organizational culture," the Rochester Police Accountability Board said in a statement obtained by the Democrat & Chronicle newspaper. "These incidents also affirm our community's call to fundamentally reimagine public safety."
Indeed they do. Just last month, TFTP reported on the case of a 9-year-old girl who was pepper-sprayed by Rochester cops as they threw her in the back of a police cruiser. Just like in this incident, police threatened bystanders for filming them.