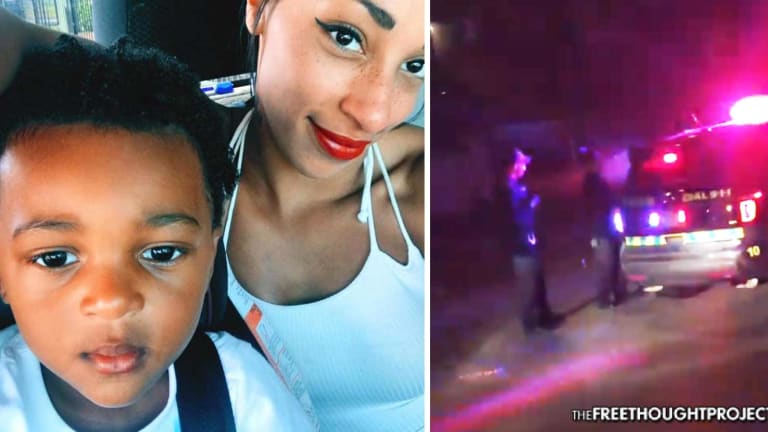 EXCLUSIVE: Mom Thrown to the Ground, Tasered by Cops While Holding Her 3yo Son
For asking if her fiance was okay during a traffic stop, a mother was attacked by police, thrown to the ground and tasered—as she held her son.
East Pittsburgh, PA — Jessica Short, 29, had harmed no one when she says she was accosted by police, tasered, arrested, and forced to spend a night in jail. During the interaction—when police began to taser her—she was holding her son.
The incident happened last week and it all started over an alleged window tint violation. Short was not in the vehicle with the allegedly unlawfully dark windows, however, she was on the phone with her fiancé, Darnell Scott, when he was being detained by police for his tint.
While the couple was on the phone, Short noted that she heard the officer tell Scott that if he didn't roll his window down all the way that he was going to break it. Hearing this insanity over the phone, Short, who was only a block away, walked over to the stop.
"She's on the other sidewalk," said Scott. "I'm on one sidewalk, she is directly across the street, and she is asking was it all right to break someone's windows at a traffic stop."
Short tells the Free Thought Project that she didn't go anywhere near the officer.
"I wasn't breaking any laws just observing from the other side of the street where they had pulled my fiancé over for a traffic stop and dragged him out of the car," Short said.
However, according to Short, that's when things took a turn for the worst. "The officer had walked over and screamed in my face for talking to my fiancé, asking him if he was okay," explained Short.
"I said why are you so angry, that's all I said," Short explained. "He grabbed me and said, 'You are going to jail,' threw me to the ground, pinned my son beneath me on the ground."
While Short and her toddler were on the ground, the officer fired a taser at her multiple times. Seeing the violent interaction unfold, a witness to the incident pulled out her phone and filmed. Short was able to obtain that video and gave it to the Free Thought Project.
While the video doesn't appear to show a lot of detail, you can hear witnesses describing that Short is holding her son in her arms as the officers attacked her. In a true display of dishonesty, no mention of the child was made in the police report.
In the police report, Officer Klebbas claimed that Short was obstructing the stop by yelling at the officers while they were arresting Scott for a marijuana roach they found in his car.
According to Klebbas' report, he approached Short several times to tell her to be quiet and it was the last time he approached that caused him to attack. "At this time I again approached Short," he wrote. "She adopted an aggressive stance with her shoulders back, head forward and fists clenched."
Exactly how a small woman like Short could somehow hold a child while clenching both fists and threaten an officer remains to be seen. Either she is a magician or Officer Klebbas is lying.
"At this point I took control of her and took her to the ground," Klebbas wrote in his report. As the report goes on, there is no mention of Short's son.
"He completely leaves my son out of the report as if he was never with me...like he didn't just throw his mother and him to the ground and taser me on top of him while he's screaming, scared to death trapped beneath us," Short noted.
Also, according to the report, Klebbas claims that he only deployed his taser once. However, according to Short, he deployed it multiple times, and she says she has the scars to prove it.
Short was eventually arrested for obstruction and she spent the night in jail. She has since filed a complaint with the department and has retained an attorney to pursue legal action against her alleged assailants in the East Pittsburgh Police department.
As for how short feels about officer Klebbas, she says, "He has no right to have a badge."