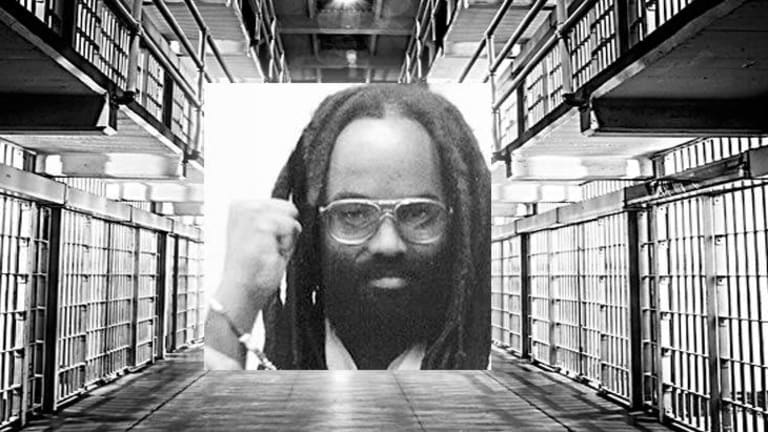 Political Prisoner Mumia Abu-Jamal Secretly Removed from Prison and Hidden From Family
Political prisoner and internationally renowned journalist Mumia Abu-Jamal has been taken from the prison and his family kept in the dark.

Philadelphia, Pennsylvania - Political prisoner Mumia Abu-Jamal, who has been in solitary confinement on death row for over 30 years, was silently taken to the hospital last week.
Mumia was convicted of killing a police officer in 1982. However, he has insisted on his innocence from the beginning, and since his trial evidence has come to light which casts doubt on the flimsy witness testimony that convicted him.
For the past several months, Mumia has been struggling with health complications relating to diabetes and eczema , and the prison has been refusing to allow his family, his lawyer, or any other outside doctors to see him. The prison's secrecy is leaving many supporters to wonder if his health has deteriorated as a result of abuse at the prison.
For the past three months, Mumia has been suffering from an extreme eczema outbreak, and according to Pam Africa, the medicine that he was given by the prison actually made his condition worse.
Also alarming is the fact that Mumia has never had a history of diabetes. "Mumia does not have a history of diabetes, but had been experiencing a series of symptoms that should have alerted medical staff at the prison to the onset of the disease. Instead, he was not given comprehensive diagnostic treatment and a medical crisis emerged that could have resulted in his slipping into a diabetic coma or worse," Bret Grote, one of Mumia's attorneys said.
The following statement was released by friends and supporters of Mumia Abu-Jamal on May 17, 2015:
Mumia once again taken to hospital outside SCI Mahanoy; held incommunicado from family, attorneys and doctor. We need to act now!

Political prisoner and internationally renowned journalist Mumia Abu-Jamal has once again been taken from the prison infirmary at SCI Mahonoy in Frackville , Pa. this time to Geisinger Medical Center in Dansville , Pa. about 3 hours from Philadelphia .

Having received no phone calls from Mumia, including on Mothers' Day when he always calls, Mumia's wife Wadiya Jamal called the prison infirmary on Tuesday, May 12 and learned of the transfer. Since then Mumia has been out of communication with his immediate family and doctor, despite the Pennsylvania Department of Corrections' obligation and agreement to keep Mrs. Jamal informed of his medical condition.

State regulations also prohibit prison officials from blocking attorney's access to their clients however visits by his attorneys have also been denied.

On Wednesday, May 13 Wadiya was told that immediate family visitation was approved by Superintendent John Kerestes and the DOC. This was confirmed by Laura Neal of the DOC Legal Counsel's office.

Wadiya prepared to visit Mumia at the hospital on Wednesday, May 13, however she was then told by Neal that Geisinger Hospital would not permit the visit because Mumia was not in critical condition and the hospital has a policy of not allowing visits to prisoners.

Mumia's family and attorneys have been given conflicting reports that updates on his medical condition were released to authorities at SCI Mahonoy. Wadiya was told repeatedly by medical officials at SCI Mahonoy that no medical updates were given to them. However Donald Zaycosky, Litigation Counsel at Geisinger told Rachel Wolkenstein, an attorney representing Wadiya Jamal, that a medical update had been provided to infirmary doctors on Thursday, May 14.

Wolkenstein reported that on Friday May 15, Zaycosky stated that under the circumstances an exception could be made to the hospital's "no visitors" policy. He explicitly stated that Geisinger did not object to phone calls or family or legal visitation, but wanted to make sure it was OK with the DOC.

On 9:30am Friday, May 15, Wolkenstein forwarded Zaycosky her correspondence with Laura Neal that stated the DOC approved family visitation. Since then, despite phone calls and emails, there has been no communication from either the prison infirmary or the hospital regarding either medical updates on Mumia's condition or to confirm or deny family visitations.

Mumia's family, attorneys and supporters are extremely worried about his current medical condition and alarmed that he is being held incommunicado while his wife, legal counsel and his private doctor are being denied any access to him.

When Mumia was first rushed to the emergency room this March in diabetic shock, a global network of supporters sprang into action to inundate phone lines of prison and hospital officials demanding that they allow visitation from his family and attorneys. Once again it's time to activate that support.

Just last week supporters delivered a letter to Pennsylvania Governor Tom Wolf calling on him to release Mumia from prison in order to get the proper medical care he needs. It was signed by numerous world dignitaries, including South African Archbishop Desmond Tutu, Minister Louis Farrakhan, Former President of the UN General Assembly, Father Miguel d'Escoto Brockmann, New York Congressman Charles Rangel, President of Local 1199 SEIU, George Gresham, Danny Glover, Alice Walker and many more. For the full letter and list of signers, click here.

Please call the officials below to demand:

Unrestricted hospital visitations by Mumia's family,
Demand access for his attorneys
Let Mumia call family, supporters and doctors
Stop state's attempt to murder Mumia by medical mistreatment
Release Mumia from prison to be able to obtain needed health care.
Use these demands appropriately for each of these venues. So with the hospital, we want to emphasize the access and communication issues, the first three demands.

Geisinger Medical Center – 570-271-6211
DOC Secretary John Wetzel – 717-728-2573; [email protected]
PA Gov. Tom Wolf –717-787-2500; fax: 717-772-8284; [email protected]
Note: The hospital has Mumia on a "confidential" list so the operators will say they have no one named Mumia Abu-Jamal or Wesley Cook at the hospital. People should tell the operator that their call should be reported to the hospital administration and use both names.
There is currently a fundraising campaign to get Mumia adequate medical care, consider donating if you have the means.
The interview below was filmed two weeks ago when Mumia's health took a turn for the worse:
John Vibes is an author, researcher and investigative journalist who takes a special interest in the counter culture and the drug war. In addition to his writing and activist work he organizes a number of large events including the Free Your Mind Conference, which features top caliber speakers and whistle-blowers from all over the world. You can contact him and stay connected to his work at his Facebook page. You can find his 65 chapter Book entitled "Alchemy of the Timeless Renaissance" at bookpatch.comi