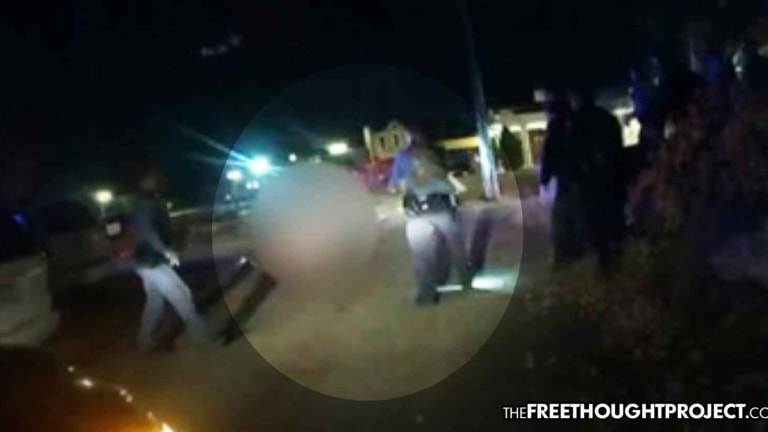 WATCH: Cops Taser and Sic K-9 on Naked, Unarmed Man as Another Cop Shoots Him
A cop was fired but not charged after he opened fire on a naked unarmed man who was already tasered and had a K-9 biting him.
Minneapolis, MN — Joseph Javonte Washington, 31, is an alleged criminal, who needed to be held accountable for his alleged crimes. He is accused of three counts of first-degree criminal sexual conduct, one count of kidnapping and one count of second-degree assault. He will go to court and face accountability for these actions. However, he will likely receive a hefty sum of taxpayer money as well after officer Anthony Dean shot him at least twice. When he was shot, Washington was naked and unarmed.
Despite shooting a naked and unarmed man, officer Dean was not arrested or charged with a crime. He was simply fired and could possibly be rehired at a neighboring department.
"When I ask myself if the officer's actions on Saturday night were reasonable or necessary, the only answer I can come up with is no," St. Paul Police Chief Todd Axtell said.
"Lives have been altered. A person has been shot, the community is feeling the effects of an officer-involved shooting. An officer that has served honorably in the past has had his life changed forever," Axtell said.
According to police, Washington and his victim crashed in a vehicle Saturday night. After the crash, Washington — completely naked — broke into a nearby home. The homeowner called 911 and Washington fled to a nearby dumpster where police found him hiding.
Police said officers tried to talk him out of the dumpster but Washington refused to come out, prompting officers to fire pepper balls into the dumpster. Washington then jumped out of the dumpster and ran toward the officers, naked and unarmed.
One officer deployed a taser as another deployed her K-9. By all standards of force, this was enough to stop Washington in his tracks. Nevertheless, officer Dean felt it necessary to start shooting the naked and unarmed man. As the dog was tearing into his arm, Washington collapsed to the ground from at least two bullet holes in his body.
After shooting Washington, police attempted to justify it by searching for a gun or any weapon that they could find. Nothing was found near Washington or in the dumpster.
Though Dean was not charged, it appears that the recent pressure on police in the country has forced the hand of city attorneys and there is going to be an outside investigation.
After firing Dean, Ramsey County Attorney John Choi announced that outside agencies will now lead an investigation into the shooting to determine if any criminal charges will be brought.
The request was made Monday as a move to "further trust and confidence in the prosecutorial decision that will be made in this matter going forward," said Choi.
WCCO reported that Choi said it's important for another office that does not work with SPPD to make prosecutorial decisions in this matter to "avoid any actual or perceived conflict of interest."
The fact that an independent investigation is being launched is certainly a welcome change. Just last month TFTP reported the case of Marcus-David L. Peters—an honors graduate and high school science teacher— who was shot and killed while he was naked and unarmed.
Unlike Dean, the officer who killed Peters was not fired nor charged and the killing was ruled justified as investigators claimed that "being naked does not remove a threat."
The shooting happened along I-95 in Richmond, Virgina after Peters lost control of his vehicle, sending it crashing into the trees. Police say that Peters then exited the vehicle, entirely naked, and began running into and then rolling around on or near the interstate. Like Washington's shooting, it was all captured on the officer's body camera.