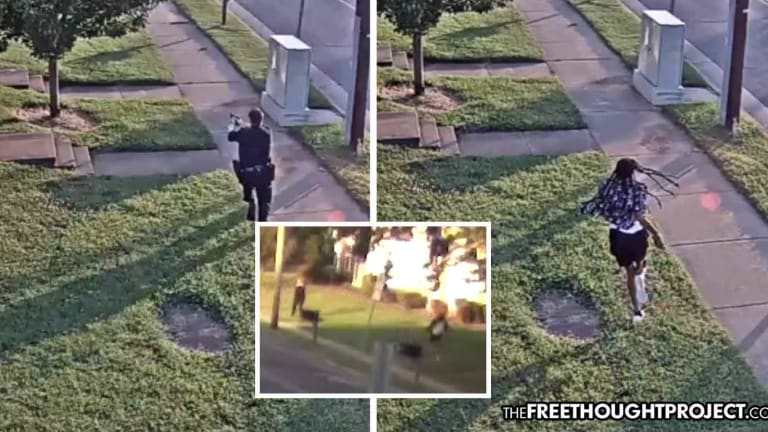 Cop Arrested for Homicide After Video Caught Him Executing A Man for Running Away
A Tennessee police officer has become the first cop in the department's history to be charged for shooting a man after disturbing video showed him execute his victim, shooting him in the back as he ran away.
Nashville, TN — A disturbing trend seems to be happening among police in America in which they are shooting people in the back as they run away. One of the latest victims to be publicly executed for running from police is 25-year-old Daniel Hambrick of Nashville. His execution by officer Andrew Delke was caught on a graphic video. The officer was actually charged with homicide.
Prosecutors filed a criminal homicide charge against a white police officer who shot and killed a black man, securing approval from a judge after a setback earlier in the day, according to the Tennessean.
Delke becomes the first officer in the entire Metropolitan Nashville Police Department's history to be charged for shooting someone while on duty. He surrendered himself to be booked into jail, quickly paid his $25,000 bond and was released by Thursday afternoon.
"In August, I spoke with Daniel Hambrick's mother to express my condolences for her loss. I assured her that we would show respect for the life of her son, because his life mattered," Mayor David Briley said. "At that time, Ms. Hambrick asked for justice for Daniel. The District Attorney's decision to file charges in this case is a necessary step toward that end."
Hambrick was shot and killed during a traffic stop in North Nashville on July 26. Nashville Mayor Briley called for the release of the graphic video in August to ensure the "transparency of the investigation."
"We all want to know what happened on the 26th of July," Briley said. "This video will shed some light on those circumstances but it won't certainly be the last information that our community receives."
According to police, Hambrick was killed after police stopped a car they believed was seen 'driving erratically'. When officers pulled the car over, Hambrick got out and fled on foot, holding what was described as a "dark object" in his hand.
As the graphic video shows, never once does Hambrick attempt to harm officer Delke. In fact, he only looks back once before continuing to run.
When Hambrick rounds a corner, the camera angle shows Delke pursuing him and when we look closely at the video, it appears that there is a dark object in his hand. However, it is unclear what the object is.
As the two run past a tree, Delke opens fire on the fleeing man and he drops dead on the grass.
Prosecutors did not dispute the fact that Hambrick was holding a gun. However, they disputed Delke's attempt to claim self-defense by noting in the arrest warrant that Delke stopped running after Hambrick, took aim as Hambrick continued to run, and shot him in the back.
The video was so graphic that three Metro officers contacted WSMV to let them know that it does not show enough evidence to justify Delke killing Hambrick.
The three officers spoke on the condition of anonymity to WSMV and noted that the video does not show Hambrick demonstrating any threat to the officer or to people nearby.
Naturally, the police union expressed their anger with the release of the video, attacking it as "low resolution" from a "different block," noting that it "tells us what we already know."
"To release it without any narrative or context, causes confusion in the community and the potential for further division between law enforcement and the people we serve and invites people to draw their own conclusions without any facts," James Smallwood, a representative for the Fraternal Order of Police said.
The union is now signalling that they intend to fight these charges till the end with Delke's attorney saying that he will plead not guilty.
Joy Kimbrough, the family's attorney, says the graphic video speaks for itself and shows that Hambrick's death is nothing short of murder.
"The proof is out there. We've got the video," Kimbrough said. "If there's ever a case of premeditated first degree murder, this is it."
"I just want justice for my son. That's all I'm asking," Vickie Hambrick, Daniel's mother said. "And for all the black guys and young women, I want justice for them."
Below is this graphic footage showing just how deadly it can be to run away from police.
Below is the entire collection of footage showing the shooting from different angles.