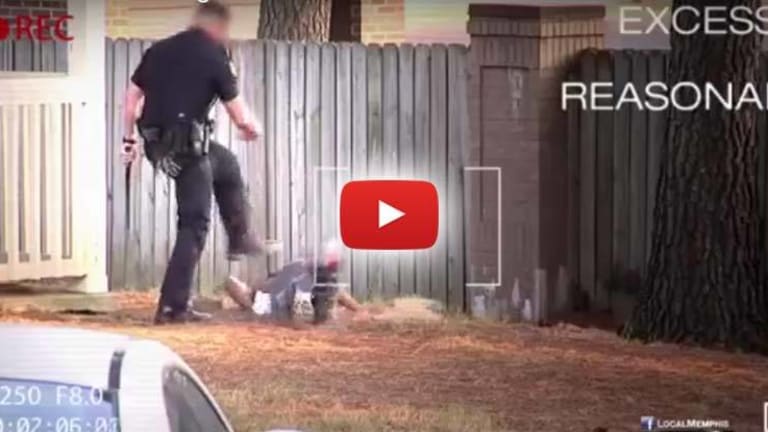 Police Brutality So Common, A News Crew Just Happened to Catch Brutal Arrest On Camera
News crew inadvertently catches officer needlessly assaulting suspect.
Memphis, TN - Reporters with the Local 24 news crew inadvertently caught a brutal arrest on camera while working on an unrelated story at the Country Squire Apartments in Cordova. While the crew was filming for their other story, they heard sirens and noticed a man running away from police.
While he was in front of the cameras, the man dropped to the ground where he was repeatedly bludgeoned with the officer's baton and kicked several times. After assaulting the man, the officer ordered him to put his hands behind his back. The man obeyed and the officer lifted him up from the ground by his handcuffs while having his other hand around the man's throat. He then kicked the suspect into the back of squad car.
The film has sparked an investigation into the officer's actions and has even drawn comments from state lawmakers.
"There's obviously some abuse going on here, excessive force. When I'm looking at a young man that's on the ground and supporting himself with one arm laying down, that is not a position where he's a threat to anybody standing," State Representative G.A. Hardaway said after watching the video.
Steve Mulroy, a former federal prosecutor and civil rights lawyer for the Department of Justice, also expressed his disgust with the incident, saying, "When the suspect was already down on the ground with his arms indicating that he was going to comply, offering no resistance and not failing to obey any commands from the officer, it was not justified for the officer to strike him with the nightstick or to kick him."
"That's unacceptable, completely unacceptable. It unravels every bit of goodwill that has been rolled out. Any child that sees that is going to be imprinted with it for lifetime. Any adult is going to be imprinted with it. They're going to teach their children that this is what the police do," he added.
When contacted initially about the incident by reporters, the victim said that he felt that he was treated wrongly. However, now he is afraid to talk about the incident, leading many to believe that he was intimidated.
While the police department is refusing to comment on the incident, the police union has come forward and said that the victim of the attack was the suspect in a domestic violence incident where he was accused of hitting a woman and his child. Abusing children and women is unacceptable behavior, and if these allegations are true, then the suspect does deserve to have charges filed against him. However, in this incident, he clearly did not pose any threat to the arresting officer, and it is obvious that excessive force was used against him.
Memphis Police Association president Mike Williams said that this was not a case of excessive force because no one went to the hospital.
"I don't think they took it to a point, to me, to where it was excessive because I don't think anybody had to go to the hospital, anyone was injured. You know, I think they deployed the ASP right because you are allowed to strike people in the fatty parts of the body. But I don't know if citizens are ready to see that, you know, because they're like, 'Oh, wow, they beat him,'" Williams said.
" width="790" height="444" frameborder="0" allowfullscreen="allowfullscreen">
John Vibes is an author and researcher who organizes a number of large events including the Free Your Mind Conference. He also has a publishing company where he offers a censorship free platform for both fiction and non-fiction writers. You can contact him and stay connected to his work at his Facebook page. You can purchase his books, or get your own book published at his website www.JohnVibes.com.