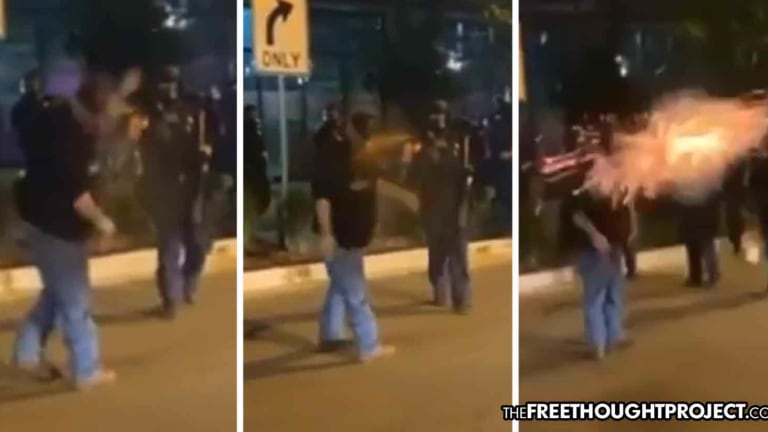 NO CHARGES for Cop Who Shot Innocent Man at Point Blank Range with Tear Gas Grenade on Video
Despite video showing what could be attempted murder with a tear gas grenade, a Grand Rapids cop received only a two-day suspension and is still a cop.
Grand Rapids, MI — A few days after protests broke out for George Floyd, an infuriating video was shared with the Free Thought Project showing just how sadistic and sick some of the police officers working the protests across the country had become. A non-violent, unarmed, and innocent man was practicing his right to free speech when he was pepper sprayed in the face and then shot with a tear gas grenade at point blank range.
The disturbing incident happened on May 30 during the beginning of the unrest and now, nearly four months later, we've found something equally as disturbing — the cop's "discipline."
After investigating their own officer, the Grand Rapids Police Department found no criminal act, only a violation of his training.
As WZZM reported, Kent County Prosecutor Chris Becker said that it is virtually impossible to bring charges against an officer who is working to disperse a riot or unlawful assembly, per Michigan law.
So, instead of being charged for an act that could have killed Sean Hart, Officer Phillip Reinink received just a two-day suspension. Though the state law protects the cop from criminal charges, the idea that he wasn't fired for this criminal act speaks volumes.
Since the system refused to hold the officer accountable for what could easily be an act of attempted murder, Hart is now pursuing a lawsuit against the department.
"Sean turned back to the officer line and Officer Reinink shot Sean, without giving Sean a warning, at point blank range with a long range projectile designed to be launched from 375-450 feet away,'' the lawsuit states.
Hart had committed no crime and was simply standing in the street.
As the video shows, Hart simply walked toward the officers and was doing nothing but talking to them. With absolutely no reason to do so, one officer douses the man's face with pepper spray causing him to turn around.
As he tries to catch his breath from being sprayed, Reinink takes aim with his tear gas grenade launcher and shoots him in the face with it. You cannot make this stuff up.
"It's despicable, this young man is clearly walking towards the officers…lets even give them the benefit of the doubt," Ven Johnson, a police brutality attorney, said. "We don't have any video, of what happened before that. Who knows what they've been told. Who knows what happened before. But he's walking toward the officer, in a relatively non threatening manner…clearly has nothing in his hands except maybe a cigarette."
"It looks like he got shot with a projectile," Johnson said. "Whether it hit him or not I don't know…that was shot at his person. That is horrible, tragic. We want to know why things are escalating? This is a perfect example where the police could have stayed back, stayed in line, said nothing, which they're trained to do. They're trained to de-escalate. Not escalate."
Bystander James Curley says he witnessed the whole thing.
"Some people were lighting fireworks, that were just going straight up, because we have a point to make," Curley said. "Black Lives Matter. Police brutality needs to stop."
"(He) Walked up to the line of police, to express his freedom of speech," Curley said. "The cop stepped up to him and pepper sprayed him. Completely no threat after that. Don't know what's going on. They shot him, it looked like they shot him, from the chest to the head with some type of flash grenade."
Curley says this is exactly the type of action being protested. It is also what turned the peaceful protests into riots.
"After that, that's when things started escalating," Curley said. "Police started shooting off more of those flash grenades at everybody there. That's when they started rioting."
Others backed up the notion that police provoked violence toward protesters that kicked off riots.
"I don't know what would of happened last night if the police hadn't provoked violence, but I do know that the police provoked and caused violence in downtown Kalamazoo last night," Kalamazoo resident Matt Lechel wrote. "What they did was unnecessary and harmful and almost seems as if they wanted to start a fight."
Below is a video illustrating why there is so much anger directed at police right now. These people are trying to protest police brutality and the police react with more brutality and no accountability. When they aren't shooting people in the face with tear gas grenades, they are shooting innocent grandmothers in between their eyes with rubber bullets.