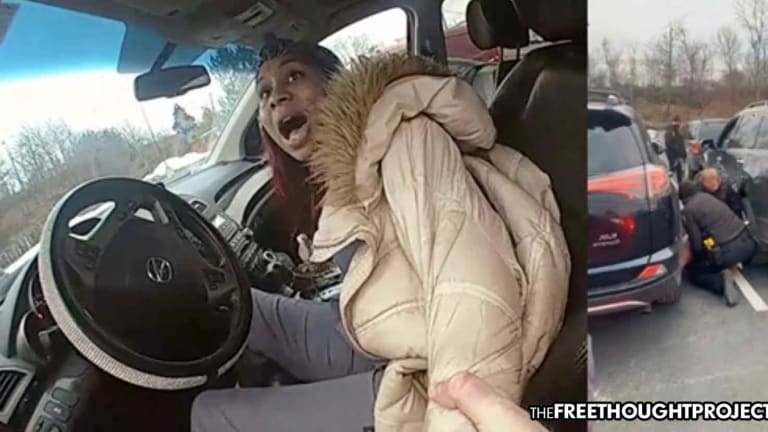 Watch: Cop Accuses Frontline COVID Worker of 'Cutting Him Off', Drags Her from Car, Arrests Her
A nurse assistant on her way home from work was pulled over for allegedly cutting off a cop before being thrown to the ground and arrested.
Ulster County, NY — Shana Shaw, 26, is a nurse assistant working the front line of the COVID-19 pandemic in New York. She was on her way home from work last week when a cop who is already being sued for wrongfully detaining another woman, decided he was going to pull her over, accusing her of failing to use a blinker while cutting him off. Minutes later, Shaw would be in handcuffs, facing multiple charges.
The incident unfolded on December 28 around 3:45 as Shaw drove home from work. Deputy Brian Woltman accused her of cutting him off, so he used his police powers to pull her over.
While pulling the woman over, Woltman ran Shaw's license plate and found that her license was suspended.
After she pulled over and complied with the deputy, Shaw asks him why she is being pulled over. The deputy responds: "you cut me off without signaling back there on 9W," and "your license is suspended."
Shaw denied that she failed to signal and said that she had already taken care of her suspended license and that her paperwork was at home.
"That stinks," said Woltman.
Woltman then tells Shaw to "hop out" of her car and Shaw again immediately complies. When she asks why she is being asked to get out of the car, Woltman tells the woman — who hasn't harmed anyone — that she is being placed under arrest for driving on a suspended license.
Naturally, Shaw then became uneasy when she realized she was about to be kidnapped for something she says she already took care of.
"Let's not make things difficult," says Woltman."Let's make this very easy."
"I can prove that I have everything cleared, though," Shaw says as she pleads with the deputy to follow her home so she can prove to him that she had already taken care of the suspended license. But he wants nothing to do with it.
"No, I'm not following you home," says Woltman.
"So you're going to arrest me after I just left work, and I'm a nurse?" says Shaw, who told Hudson Valley One she is a nurse assistant.
Shaw, who was sure that she had already take care of the suspended license then gets back in her car and says she would like to wait for a lawyer.
At this point, the deputy began to escalate force and attempted to drag Shaw from her car.
"Why are you grabbing me like that?" Shaw asks.
Woltman then calls for backup as he pulls the woman's arm and when another officer arrives, Shaw is thrown to the ground where she says she hit her head and received a concussion.
"I feel fully taken advantage of," Shaw told Hudson Valey One. "I don't think there needed to be two male officers to yoke up a girl that is 130 pounds, in her scrubs from work, and I'm an essential worker."
She said she was disturbed by Woltman's apparent familiarity with her even though she didn't know him and was worried that the encounter could turn deadly.
"He knew who I was already. He proceeded to say step out of the car. In my head I don't have enough information and he knows who I am so I felt uncomfortable…I am an African-American and cops are shooting us in the head and killing us," Shaw added.
After the incident, Shaw retained an attorney who announced in a press release that they would be suing the officer for excessive force.
"Deputy Sheriff Brian Woltman Jr. used excessive force that resulted in Ms. Shaw getting a concussion, nerve damage in her wrist from the handcuffs, bruises on her body, putting her out of work for days," the press release said.
"Even if I broke a law, that was still excessive force," Shaw said.
Shaw would later find that her fears were justified about Woltman. Hudson Valley One reported that he has an alleged history of false detention of women.
Woltman has been previously accused of false detention and excessive force against another woman who is also suing Woltman and Ulster County. Shaw plans on joining that suit.