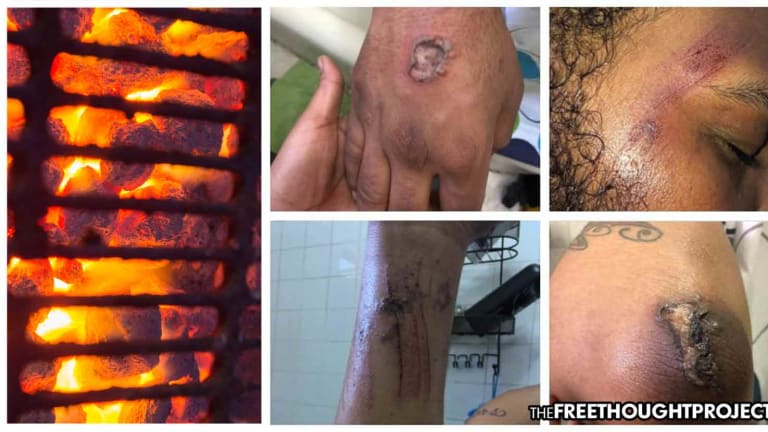 Innocent Man Severely Burned As Cops Shoved Him Into Hot Coals For Barbecuing During COVID
Violent cops accused a family of breaking social distancing over a barbecue in their front yard, and shoved a man into hot coals while breaking it up.
Brooklyn, NY — On May 25, 2020, otherwise known as Memorial Day, millions of Americans — many of whom were still under strict social distancing lockdowns — took to their yards to barbecue. The overwhelming majority of those people did so without incident. However, 20-year-old Tyreik Bowers was not in the majority and his decision to barbecue with his family that day has left him with permanent, police-inflicted burn scars.
On Monday — after two weeks of mass protests — the NYPD announced that it was disbanding its plainclothes 'Anti-crime' units because they are involved in a disproportionate number of fatal shootings, violence, and civilian complaints. Unfortunately for Bowers, the move to disband this violent gang of cops came too late as it was officers from the anti-crime unit who showed up at his home that day.
As Bowers hung out with his family, like millions of other families did that day, plainclothes officers from the 71st Precinct's anti-crime unit decided to terrorize him over New York's social distancing guidelines. They were told to shut down the barbecue and go inside because of social distancing guidelines during the COVID-19 pandemic, according to a recent claim filed by attorney Sanford Rubenstein and civil rights leader Reverend Kevin McCall.
According to Bowers' attorney, Bowers listened to the cops and was doing exactly what they asked. However, it was apparently too slow for these authoritarians.
"They told them that they will—just give us a chance to clean up and get the people inside the house," McCall. "They didn't have patience."
Instead of allowing them to pick up the barbecue, the cops cracked down and escalated to violence.
"They took the food and the coal from the grill and they threw the food and the coals from the grill on the ground. That was fuel to the fire. The people began to be very irate and was very upset about what transpired," McCall said.
Imagine, for a moment, the above scenario happening on your property. Imagine cops coming onto your property, knocking over your barbecue pit and throwing all of your food onto the ground. Imagine you had committed no crime, harmed no one, and after they destroyed your food, they proceed to initiate violence against you. Now, imagine what kind of person it takes to do such a thing.
A video which has since been removed from YouTube for "violating YouTube's Terms of Service," captured the violence unfold.
As the Gothamist reports:
Video of the chaos shows an officer yelling "go inside," and as Bowers is moving up the stairs, he is taken back down the stairs to be detained. His shirt was pulled over his head at one point.

At the end of the video, Bowers was held face down on the ground with his hands behind his back, to the outrage of people watching and screaming during the encounter. One person yelled out, "Yo, there's coal in this f**king grill...There's coal in his face." Rubenstein said Bowers was the only person detained that evening.

McCall says the NYPD's Internal Affairs Bureau is investigating what happened, but the NYPD did not confirm this or answer other questions.
"We will assess the merits of these claims once the legal actions have been filed," NYPD spokesperson Mary Frances O'Donnell said in a statement.
According to his attorney, Bowers was then thrown in a holding cell at the 71st Precinct and held until 5 a.m. the next morning. He was then released from jail because they had nothing on which to charge him. In other words, police officers terrorized a family and then tortured and kidnapped an innocent man.
"This is really uncalled for, and this shouldn't be happening," Bowers said outside the 71st Precinct on Tuesday. "I'm just looking for justice...I just want justice, that's all."
Unfortunately, Bowers is not alone in his turmoil. Other New Yorkers have also been terrorized by police recently for their attempts to barbecue. The video below shows a violent altercation as cops shoved and attacked people who were trying to barbecue "after curfew" earlier this month.
According to the Gothamist, during NYC's stay-at-home order, Black New Yorkers made up two-thirds of arrests for social distancing. Another 24 percent were Hispanic. Just seven percent of social distancing summonses were made against white people.
Still think racism in law enforcement isn't an issue?
This is why people are in the streets.