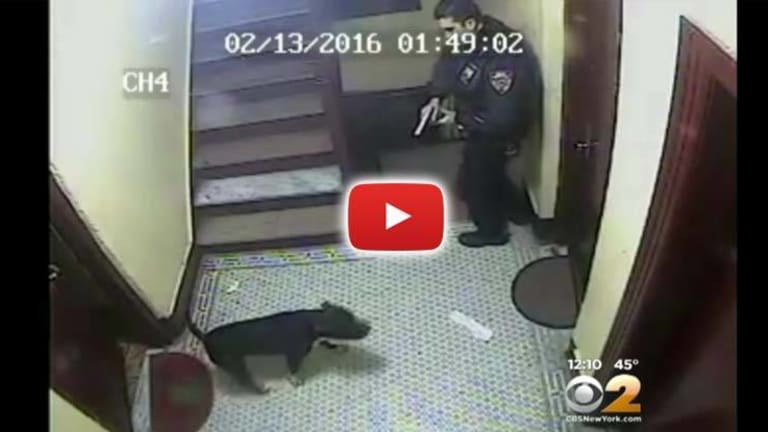 VIDEO: He "Died Wagging His Tail" -- NYPD Cop Kills Family Pet in Cold Blood as Child Watches
Graphic video shows an NYPD cop executing a non-aggressive family dog as it was wagging its tail in greeting.
New York, NY -- Excited by activity outside the apartment, Spike rushed out, wagging his tail eagerly to greet whoever stood on the other side of the door — and was promptly executed by an NYPD officer wielding his gun.
Graphic video of the February 13th slaughter of Yvonne Rosado's beloved pit bull has now been released — and it is nothing short of outrageous.
"He was a big Snuffleupagus — a gentle giant," Rosado described Spike to the New York Daily News. "He was a member of the family … He would wag his tail, letting everyone know he was friendly."
Immediately before the inexplicable shooting, Rosado had been dancing with her dog — a weekly ritual in which Spike stood on his hind legs so she could hold his paws.
"He's right there when the music's about to start," Rosado explained. "I dance around with him and I spin him with one paw."
NYPD was responding to a call from a neighbor over a person in possible violation of an order of protection — though the person in question had left the apartment building by the time the cops arrived. Their presence in the hall, where they were speaking to 16-year-old neighbor, Serena Santiago, piqued Spike's interest, and he began to bark. Rosado opened the door to investigate, and the happy pooch rushed out.
But Spike, as seen in the video, clearly wasn't aggressive, wasn't acting viciously to protect his owner, and didn't try to attack the officer in any way. In fact, the cop fires his gun at the dog's head from around three feet away.
"Spike died wagging his tail," Irma Sue Santiago, Serena's mother, told the Daily News. "What if he had missed the dog and shot my daughter?" She added her daughter had been "traumatized" by the shooting and has since had to seek psychiatric help in coping with what she witnessed.
Immediately after the shooting, Rosado — clearly stricken with grief and wearing only undergarments — rushes out, slipping on Spike's blood, and runs down a small flight of stairs to confront the cowardly cop. After lashing out in anger, Rosado is then forced to the ground by several officers with batons.
Rosado said no explanation has ever been offered nor an apology given by the NYPD for the murder of her pet.
An unnamed source cited by the Daily News identified the officer as Ruben Cuesta, who has been with the NYPD since 2008, though that information has not been verified. He reportedly went to the hospital complaining of tinnitus after the shooting in the enclosed hallway.
A police spokesperson offered only a canned response to questions about the puppycide, stating, "The incident is being reviewed by our Force Investigation Division and the findings will be subject to a firearms discharge review board."
Rosado filed notice of a potential lawsuit against the city and "was also planning to file a grievance against the officers with the city's Civilian Complaint Review Board."
NYPD policy states officers are permitted to shoot animals "only to defend themselves or others from threats of physical injury, or death." Footage shows nothing of the kind from the friendly, tail-wagging Spike.
Incredibly, Rosado told the Daily News she had previously lost a second pet to NYPD violence around six years ago. Officers searching for someone in her old apartment in the Bronx broke the neck of her legless cat, Bebe.
Below is the video. WARNING EXTREMELY GRAPHIC