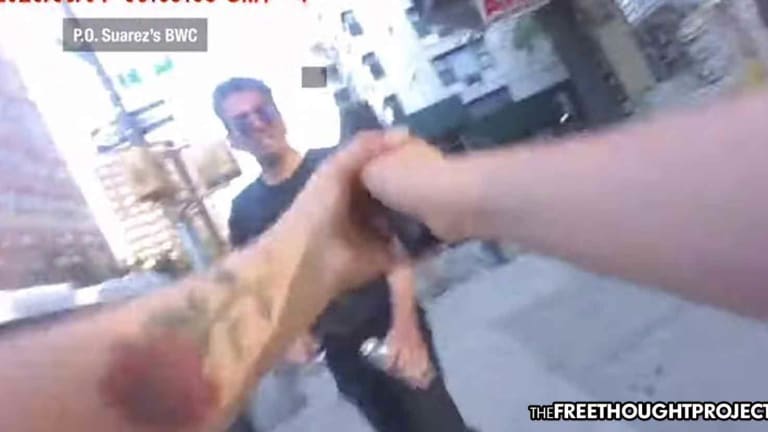 Father Now a Paraplegic After Police Shot Him in the Back for Holding a Bottle of Water
A father in the midst of a mental health crisis was "armed" only with a bottle of water when police opened fire on him, hitting him in the spine.
New York, NY — A former Wall Street trader and father of a young girl will spend the rest of his life in a wheelchair after he was shot by cops during a mental health episode last year. Peyman Bahadoran, 56, was holding only a bottle of water when officers Jillian Suarez and Bryan Rozanski opened fire on him.
Prior to the release of body camera footage, police claimed Bahadoran had "lunged" at officers and reached toward his waistband. However after watching the footage below, it becomes clear that it didn't unfold the way police claim it did.
"The body camera footage shows clearly that Mr. Bahadoran was unarmed when shot," said Bahadoran's lawyer, Earl Ward. "It further disproves the claim by the department that he was 'reaching' and 'lunging.' He posed no deadly risk."
The incident unfolded on June 4, 2020, and this week, Bahadoran has filed a lawsuit against the NYPD and the two cops who shot him.
According to the lawsuit, Bahadoran is bipolar and was in the midst of a mental episode that day. He says his bipolar disorder was exacerbated after multiple nights of loud and relentless Union Square police brutality protests which took place outside of his apartment.
"I was manic, paranoid, scared, anxious," Bahadoran told the NY Daily News at the time of the shooting. "You are watching everything. You are doing things that are not normal."
On the day he was shot, Bahadoran walked his dog to a bodega with a large sheathed knife on his belt. Before Bahadoran entered the store, two NYPD cops, Suarez and Melissa Brown entered.
According to surveillance footage Bahadoran took the knife from its sheath and waved it around as he argued with the store clerk. He then placed it down on the counter and walked out of the store.
All parties agree that Bahadoran should not have waved the knife around in the store and had police opened fire on him inside as he held the knife, his lawsuit would hold no weight. However, he put it down and left it in the store when he was approached by the officers. In fact, police were in possession of the blade before Bahadoran was shot.
As Bahadoran walked out of the store, he shoved his way past Suarez and walked out on the sidewalk before he was shot.
"I left my dog inside and I came out," Bahadoran recalled. "And there was a cop with a gun out, and other cops."
As the video shows, Bahadoran appears frantic when he walks out of the store and sees guns pointed in his face. So he tries to move the cops out of his way.
"I wasn't pushing them. I think I was shooing them," Bahadoran said. "It was like, 'Get out of my way.' I wasn't attacking them. I've always been a law-abiding citizen. I just wanted to get home."
"I was like, 'What are you going to do? Shoot me? I have nothing. I am not armed.' I put up my hands and, 'Boom!'" he told The News.
Police have acknowledged that Bahadoran left the knife in the store, but the have maintained officers did not see him do so. This is in spite of original reports of the clerk actually handing the knife to police before Bahadoran was shot.
Ward argues that cops did know his client was unarmed as Suarez was right in front of him and Brown actually witnessed him put the knife down in the store.
"They know he's not armed. There's no reason for them to shoot him," Ward said. "He did not pose a serious or deadly threat to these officers and now he's forever damaged."
After the shooting, the National Iranian American Council (NIAC) released a statement in support of Bahadoran and noted how he spent the next two months of his life in the hospital, away from his 12-year-old daughter because police chose violence instead of de-escalation.
Frightened and in a manic state, Bahadoran pulled out a knife in the store in front of the officers. When asked, he placed the knife on the store counter and walked outside leaving his knife behind. After police pursued Bahadoran outside the store, now unarmed, they surrounded him with their guns drawn. While Bahadoran's erratic behavior and combative demeanor warranted intervention, his mental health state should have signaled the officers to deescalate the situation. Instead, officers on the scene defaulted to the same pattern of violent escalation that has become a commonplace occurrence leading to similarly tragic outcomes. Despite leaving Bahadoran permanently paralyzed, police handcuffed him to his hospital bed for nearly two days.