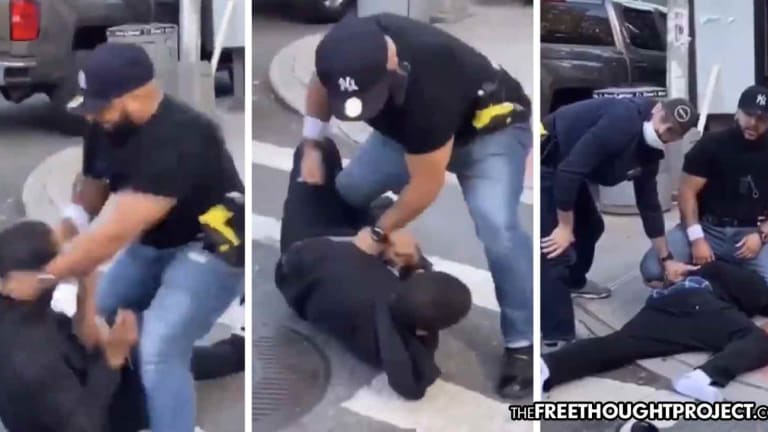 Video Shows Cop Beating Unarmed Man After Alleged Social Distancing Violation
NYPD cops are reportedly going to violent extremes to enforce social distancing on the streets of New York and it is driving up tensions fast.
Manhattan, NY — A disturbing video began making its way around social media over the weekend after it showed a cop punching and attacking a man over an alleged social distancing violation. The NYPD cop has been placed on modified duty since the video went viral.
The video showed a raging NYPD cop charging at bystanders on a Manhattan street with a Taser in his hand, NYPD Commissioner Dermot Shea said Sunday.
"I am aware of the video that's out there. It's being investigated currently by our Internal Affairs Bureau," Shea said. "The results of that very preliminary investigation that's ongoing: There was one officer who was modified, and that's where we stand right now."
As the video shows, NYPD officers were involved in a violent arrest of a man and a woman outside of a store. NYPD says the man was getting arrested for improperly social distancing.
According to PIX11, a group of people were standing on the corner of Avenue D and East 9th Street around 5:30 p.m. when officers told them to leave, according to an NYPD spokesperson. Most of the group complied, but some remained on the corner, the spokesperson said in a statement.
When the remaining stragglers failed to disperse, that's when police became violent and defeated the entire purpose of social distancing in the first place. As police were violently arresting Shakiem Brunson, 31, and Ashley Serrano, 22, Donni Wright was one of many bystanders filming and observing the arrests.
For some reason, the officer dressed in plainclothes left the arrest he was making and demanded Wright "get the f**k back!" Wright was well over 20 feet away from the arrest and did not appear to be interfering at all.
Nevertheless the officer charged at him while cycling his taser in some attempt to intimidate the man. Wright appeared to back up as the officer charged him but when he got to the street, he couldn't back up anymore. That's when the cop started beating him.
The officer is seen punching Wright in the face multiple times as he takes him to the ground. At no point was Wright fighting back or resisting. Another officer then puts Wright into handcuffs as the attacking cop kneels on his head.
According to PIX 11:
Brunson, was charged with resisting arrest, obstructing governmental administration, criminal possession of a weapon, disorderly conduct and unlawful possession of marijuana, police said.

Serrano of Hicksville, was charged with resisting arrest, obstructing governmental administration, criminal possession of a weapon and disorderly conduct, according to police.

Wright was also charged after police said he "took a fighting stance against the officer." Wright, 33, of Manhattan, was charged with assaulting a police officer, menacing, resisting arrest, obstructing governmental administration and disorderly conduct, police said.
While the charges against Brunson and Serrano may stick, prosecutors will have a hard time keeping these trumped up charges against Wright, especially with the mayor of New York speaking out against his arrest.
Mayor Bill de Blasio said he "was really disturbed by it."
"The behavior I saw in that video is simply not acceptable," he said.
City Councilwoman Carlina Rivera, who represents the neighborhood, also spoke out publicly against the officer's actions in the video.
"Regardless of what transpired before the video, what is the justification for the rage? Where's the professionalism and de-escalation tactics we should expect? We will hold these officers accountable," she said on Twitter.
This video is an indicator showing just how far some cops are willing to go to follow their orders. Had this activity taken place in the beginning of March, rest assured that cops wouldn't have even been on the scene as there was no violation. Now, however, as lower-income folks with no where to go, gather outside, this is used as a pretext for violence and kidnapping. 
If there is a silver lining to all this, it is the fact that this treatment of people by police is finally getting the attention of the right who have largely ignored police brutality by claiming anyone killed or beaten by a cop likely deserved it. Now, however, we are seeing MAGA folks share these videos, as seen below. When both parties stand against police brutality, the days violent cops get to keep their jobs and freedom become numbered.