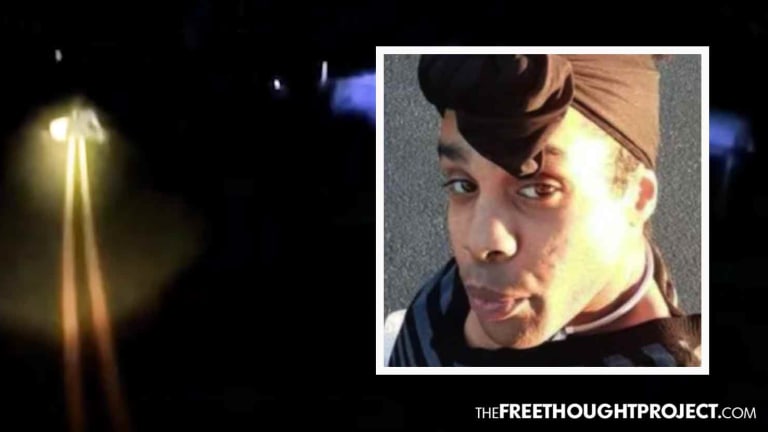 Cop Charged for Shooting Unarmed Innocent Man on 911 Call After Mistaking His Phone for a Gun
An officer who opened fire on an innocent unarmed man after mistaking a phone for a gun has been charged in the shooting.
Spotsylvania County, VA — An hour after Virginia sheriff's deputy David Turbyfill gave him a ride home and dropped off Isaiah Brown, 32, he would return to Brown's home and fill the unarmed innocent man with bullet holes. Brown was shot while on the phone with 911 dispatchers after the deputy mistook Brown's phone for a gun to his head. Now, three months after the tragic incident, this apparently trigger happy deputy has been charged.
According to Fredericksburg.com, deputy Turbyfill was charged by a special grand jury with felony reckless handling of a firearm.
According to special prosecutor LaBravia Jenkins, this charge is normally a misdemeanor, however, they stepped it up to a felony in this instance due to the significant injuries suffered by Brown. According to his family, Brown was hospitalized for over a month and is still recovering at home.
As TFTP reported at the time, body camera footage and the 911 recordings were released which detailed the steps leading up to the shooting.
The same deputy who filled Brown with bullet holes responded to a call about a "disabled motorist" and gave Brown a ride home from a gas station earlier that evening. An hour later, Turbyfill would return to Brown's home, mistake a cordless phone for a gun, and open fire on the innocent man.
"After viewing the Spotsylvania County Sheriff's deputy's bodycam video and listening to the 911 call, it is evident that the tragic shooting of Isaiah Brown was completely avoidable," David Haynes, an attorney for Brown's family, said in a statement. He said Brown was "on the phone with 911 at the time of the shooting and the officer mistook a cordless house phone for a gun."
Apparently prosecutors agree.
According to the 911 audio, Brown was involved in a "domestic incident" with his brother, who reportedly wouldn't let Brown into their mother's room. As the deputy arrives on the scene, Brown tells the dispatcher that he is outside.
"You need to hold your hands up," the dispatcher tells Brown. "Hold your hands up ... Isaiah, are you holding your hands up?"
The video is too dark and blurry to determine if Brown had his hands up. However, the body camera video shows Turbyfill arriving on the scene and yelling at Brown to show his hands. The deputy then yells, "drop the gun," multiple times and appears to say over his radio, "he's got a gun to his head."
"Drop the gun now and stop walking towards me," the deputy then yells. "Stop walking towards me. Stop. Stop."
At this time, the deputy opened fire, repeatedly shooting Brown for holding a phone.
After filling Brown with bullet holes, Turbyfill continues to yell at Brown to show his hands. As he walks up to him, Brown has fallen on the ground and the deputy is heard calling in the shooting.
The officer claimed he only fired five shots on the radio, however, more than five shots are heard on the video. Also, the family told reporters that Brown had been shot 10 times.
Haynes said Brown "clearly told dispatch that he did not have a weapon" before the deputy arrived.
"The deputy in question made multiple, basic policing errors and violated established protocols," Haynes said. "The deputy was situated nearly 50 feet from Isaiah, was never threatened and should not have discharged his weapon."
If convicted, Turbyfill faces a maximum sentence of five years in jail.