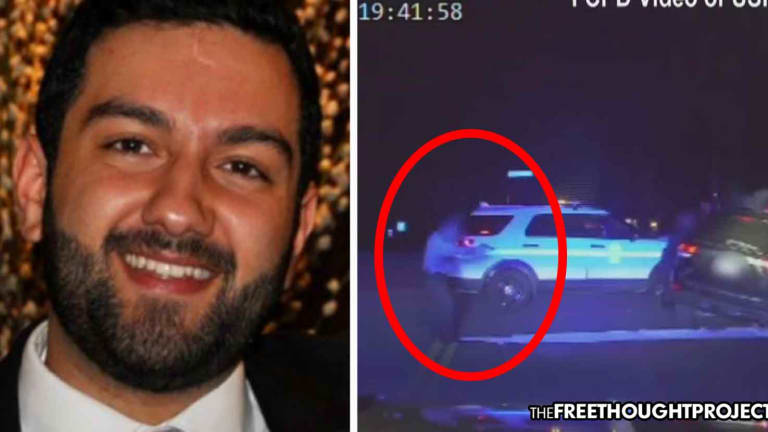 Cops Charged After Video Showed Them Execute Unarmed Accountant, With 3 Bullets to the Head
Two officers have been charged with manslaughter after video showed them execute an unarmed accountant, shooting him three times in the head.
Fairfax County, VA – As TFTP reported, dash cam footage was released that shows police shooting and killing an unarmed man they claimed was responsible for a hit-and-run. However, the man was actually the victim of a traffic accident and the video shows that he then became the victim of murder by police.
It's been nearly three years since the shooting death of Bijan Ghaisar and the FBI, the Justice Department and Park Police have not given a single reason for the use of deadly force — until now. The two officers involved in the death of Ghaisar have finally been brought to justice. It will now be up to a jury to see them through it.
Officers Alejandro Amaya and Lucas Vinyard have been indicted on manslaughter charges in the 2017 shooting death of Ghaisar, an unarmed accountant who had reportedly been the victim of a hit and run.
Ghaisar was shot three times in the head, and transported to INOVA Hospital, where he died 10 days later. He was a first-generation American-born citizen. He graduated from Virginia Commonwealth University in 2015 and had been working as an accountant at his family's firm in McLean. He had no criminal record.
"At no point did Bijan Ghaisar do anything to cause these officers to believe that their lives or the lives of anybody else was in danger," family attorney and former DOJ official Roy Austin said.
After the charges were brought, the Ghaisar family released the following statement Thursday evening:
Our heavy hearts are a little lighter tonight knowing that the police officers who murdered our son and brother are closer to being held accountable for what they did. Too many of the people who are sworn to protect and serve our communities commit heinous acts of violence and go unpunished. With these charges we are reminded that, at least here in Fairfax County, Officers Alejandro Amaya and Lucas Vinyard are not above the law.

Our Bijan suffered the most brutal terror and cruelty in his final moments of life. We know this because it was caught on police video and we watched it. Our family has a permanent hole in it - one that no amount of time or any act could possibly fill or heal. We carry this grief with us as we have fought, and will continue to fight, for justice for Bijan and so many other victims of police brutality. We will not stop demanding justice for Bijan until we get it – today was a first step.
James and Kelly Ghaisar, Bijan's parents, have done everything they can to try to get answers as to why their son was killed that night. As TFTP reported in 2018, they filed a lawsuit and the taxpayers could be held liable to the tune of $25 million. Now they may see the cops receive justice as well.
The Free Thought Project reported on the fact that no gun was found in the original investigation. Ghaisar family's lawyers also released police reports provided by Fairfax County, including a report confirming Ghaisar was unarmed. However, this report did not come out until investigators literally scanned every inch of the scene with metal detectors in an attempt to justify the shooting by finding a gun.
The incident began on Nov. 17, 2017, when Ghaisar was rear-ended by an Uber driver, and although he was the victim of the accident, he left the scene.
The accident was reported to the Fairfax Country Police and they treated it as a suspected "hit-and-run." The McLean Patch reported that when police located Ghaisar's car, they attempted to pull it over twice and "both times two officers appeared to approach Ghaisar's car with weapons drawn before he drove away."
While police originally attempted to paint this situation as one in which officers were chasing a dangerous suspect who was putting their lives at risk by evading their attempts to arrest him, Ghaisar's family told a very different story.
"Bijan Ghaisar was repeatedly threatened by over-aggressive and out-of-control law enforcement officers after he drove away from a minor traffic incident in which he was the victim and in which there was little property damage and no known injuries," the family said.
While an armed Park Police officer can be seen banging on the window of Ghaisar's car, it is not clear what directions the officers were giving him at the time.
However, it is clear that the officers were becoming increasingly frustrated with Ghaisar. He continued to drive away and was followed by both Fairfax County and U.S. Park Police officers. When Ghaisar stopped at a stop sign, a police cruiser pulled in front of his car to block it, and two officers approached him with guns drawn.
As Ghaisar's vehicle began to move forward once again, two of the U.S. Park Police officers fired nine shots into his vehicle—three of which struck him in the head.
These charges were entirely unexpected as the two U.S. Park Police officers had since gone back to work after a brief paid vacation and no word of any discipline has been released.
They likely thought they had gotten off Scot free, and for three years, they had. But not anymore.