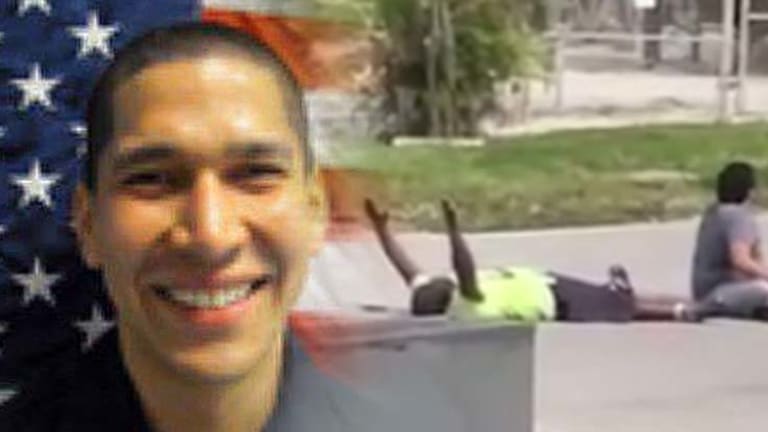 Cop Who Shot Innocent Unarmed Therapist to "Protect" Him was "Officer of the Month" -- Twice
The North Miami cop who shot a therapist accidentally when aiming for his patient was officer of the month, twice, and served on the SWAT team.
In the ongoing debacle following the putatively accidental shooting of a black behavioral therapist by a North Miami Police officer whose intended target was actually the man's patient with autism — who was 'armed' with … a toy truck — was previously named 'Officer of the Month,' twice.
Officer Jonathan Aledda, a four-year veteran of the force, had been named the top performing officer for September 2013 and October 2014, as Photography Is Not A Crime's Carlos Miller reported, before he shot behavioral therapist Charles Kinsey earlier this week under circumstances best described as inexplicable.
Cellphone video of events leading to the shooting went viral this week, showing Kinsey prone on his back with arms raised straight over his head and elevated slightly off the ground as he counsels the distressed man with autism holding a toy truck.
Although footage stops just prior to Aledda shooting Kinsey in the leg, and restarts as Aledda has just handcuffed his bleeding victim, controversy over the incident has only escalated as further details emerge.
"I took this job to save lives and help people," Aledda said in a statement, cited by PINAC, after the shooting. "I did what I had to do in a split second to accomplish that and hate to hear others paint me as something I'm not."
Saying he opted to shoot Kinsey on a dime, however, simply doesn't ring true considering Aledda and another officer had been at the scene for at least fifteen minutes.
According to North Miami Police, an emergency call placed to 911 described a suicidal man with a gun in the area — when, in actuality, the patient with autism had fled his group home residence, toy truck in hand, in a moment of distress. Kinsey came to the man's assistance and conducted an impromptu counseling session on the pavement in an attempt to calm the young man and bring him home.
When Aledda and another officer arrived on scene, they trained rifles at the pair from the 'safety' of their patrol car, as video footage shows.
With guns pointed at himself and his client, Kinsey stated loudly and clearly that neither had weapons; that he is a behavioral therapist; that the man seated next to him has autism; that the object the young man grasped in his hands was a toy truck, and not a gun; and repeatedly pleaded with officers not to fire.
Fifteen minutes later, without provocation or explanation, Aledda fired three shots, hitting Kinsey in the leg. Stunned in disbelief, Kinsey says he asked the officer, "Sir, why did you shoot me?"
To which Aledda replied flatly, "I don't know."
As if this detail weren't troubling enough, police officials later claimed Aledda indeed hadn't meant to shoot Kinsey — because he intended to shoot the patient sitting next to him.
Worse still, as it turns out, Aledda is also a member of the SWAT team.
Kinsey's attorney, Hilton Napoleon, justifiably expressed doubt a multi-year veteran of the SWAT team could somehow miss his intended target less than 50 yards away. Those suspicions couldn't be quelled by the fact that, if Aledda intended to protect Kinsey as he and union official allege, why, then, would the officer rush to the bleeding therapist, roll him onto his stomach, and place handcuffs on his wrists behind his back.
Aledda has since been placed on leave pending the outcome of several investigations — but he isn't the only officer in hot water.
Police Commander Emile Hollant has now been suspended — without pay — as North Miami City Manager Larry Spring Jr. explained, for "evidence of conflicting statements," though he failed to elucidate any further.
During a press conference Friday, City Councilman Scott Galvin, apparently referring to Hollant, said,
"By giving misinformation to this department, he not only jeopardized Mr. Kinsey's life and the life of his client, but he jeopardized the life of every police officer who serves in this city," adding, "[w]e will not tolerate these types of behavior."
As The Free Thought Project summarized, "By the department's and union's logic, either the public is to be satisfied with Aledda's admitted lack of any reason for shooting Kinsey, or that Aledda — a SWAT officer with a rifle — accidentally shot the unarmed therapist with one of three bullets because he meant to shoot the also-unarmed autism-suffering patient holding a toy truck."
Whatever baffling and conflicting details next to emerge will be reported as they become available.