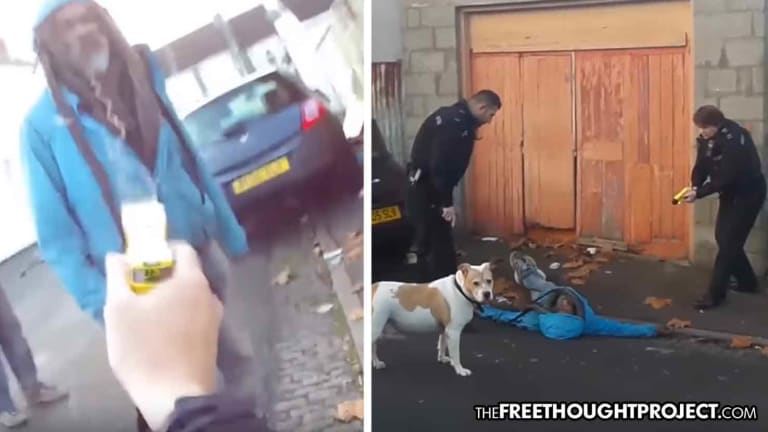 WATCH: Cop Tasers Fellow Coworker in the Face, After Mistaking Him for a Criminal
After mistaking a fellow co-worker for a criminal, without warning a police officer deployed a taser directly into his face.
Body camera footage showing the shocking moment a police officer tasered her co-worker—on purpose—has just been released. The victim, Judah Adunbi, the department's race relations adviser was tasered in the face as he walked his dog because the officer mistook him for him for a criminal.
Despite the overt act of excessive and unnecessary force, sergeant Claire Boddie was cleared of any wrongdoing in May by an internal review for tasering the 64-year-old race relations officer in the face.
"Our investigation considered the actions of two officers, including the circumstances leading up to Mr Adunbi's arrest and the use of Taser. Both Boddie and a second officer involved had no case to answer for misconduct in respect of allegations that they discriminated against Mr Adunbi on the basis of his race," the Bristol, UK police department noted.
Now, months after she was cleared by the department, police have released the footage as part of a second misconduct hearing.
As the video shows, without warning, Boddie raised the taser in a single motion and without aiming properly, shot Adunbi in the face. During the hearing for her misconduct, Boddie said she was aiming at Adunbi's chest and it was "regrettable" that the prong stuck in his face requiring surgery to remove it.
According to a report in the Guardian:
The incident unfolded last year outside Adunbi's house in Easton, Bristol. A video taken by a passerby was shared widely on social media and made headlines around the world.

Footage from the passerby and from the officers' bodycams was played during the hearing and showed Boddie and her colleague, PC Darren Weston, approach Adunbi and ask him for his name.

Boddie told Adunbi: "You look familiar." Adunbi refused to say who he was, informing the officers: "I'm not telling you my name, I've done no wrong." He added: "I'm an African black individual living in my own city."

There was a scuffle between Adunbi and Weston at his gate. The footage appeared to show Adunbi moving away with his hands at his side when the Taser electrical weapon was discharged by Boddie at close range.

Adunbi fell to the ground after he was shot and told the officers: "I'm nearly 70 … here's my fucking ID." The hearing was told that people hit with stun guns suffered "a sensation of intense pain" and the barb from the electrical weapon was removed at hospital.
Even if Adunbi had physically assaulted someone or been guilty of a crime—neither of which were the case—Boddie was still out of line for deploying the taser with no warning.
George Thomas, who led the prosecution case against Boddie explained at the hearing that it only took three seconds for Boddie to deploy the taser, giving Adunbi no chance of complying with orders had they come.
"It's apparent from the footage that she moved very quickly from drawing to using," he said. "She didn't give him the opportunity by warning him. She didn't give Mr Adunbi the opportunity to back off."
However, Boddie's defense, Richard Shepard claims that Boddie acted "honestly and instinctively" and brought a dangerous situation to an quick end. "She is calm, she is trusted," he said. "It is unlucky that the barb hit him in the chin."
In the separate panel that concluded on Wednesday, Boddie was once again cleared of any wrongdoing. Chairman Peter Cadman ruled it was "reasonable" of Boddie to Taser Adunbi after mistaking him for suspect Royston McCalla.
Below is the cell phone footage taken by a bystander and below that is the officer's body camera footage.