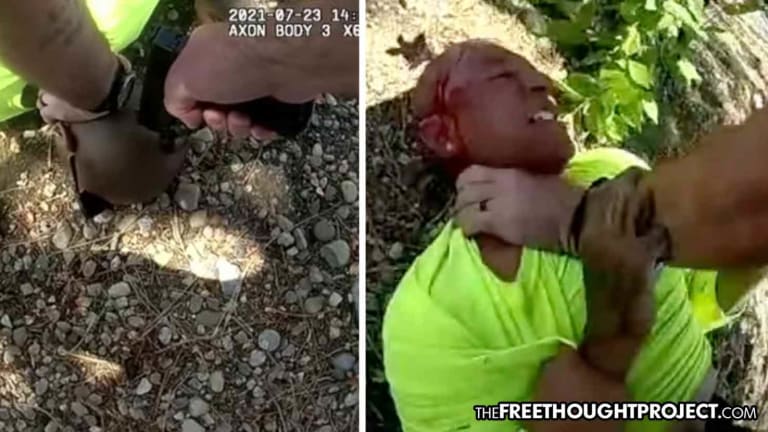 "You're killing me!" Cops Arrested After Bashing Man's Face in With a Gun, Strangling Him
Two cops have been arrested after a young man was beaten bloody by an officer's gun, strangled, and tasered for no reason.
Aurora, CO — In his last few words on this planet, an aspiring massage therapist from Aurora, Elijah McClain could be heard saying, "I'm an introvert. I'm just different. That's all. I'm so sorry. I have no gun. I don't do that stuff. I don't do any fighting. Why are you attacking me? I don't even kill flies! I don't eat meat! But I don't judge people, I don't judge people who do eat meat. Forgive me ... I'm so sorry."
He was innocent, successful, and a light in this often dark world, and Aurora police killed him for being different. Then, after they killed him, they went back to the scene of the crime and reenacted it for fun. This is not some case of a bad apple. This is systemic and sadistic and shortly after these atrocities, the department made the news several more times. Now, they are in the news once again, this time for doing the same thing to another man, Kyle Vinson. Luckily for Vinson, however, he was not killed and his attackers are now in jail.
Vinson's attack took place last Friday and the body camera footage was just released this week.
"The video will strike your conscience," said Aurora Police Chief Vanessa Wilson to reporters on Tuesday. "I know as I watched it I felt myself welling up with tears as well as anger."
Indeed, this is exactly what the video does.
According to police, Aurora officers John Haubert and Francine Martinez stopped three young men who were hanging out in a parking lot. While detaining them, they ran their names and claimed that all three of them had outstanding warrants. Two of the young men the fled while Kyle Vinson remained seated and cooperated with police.
However, his cooperation was no defense against Haubert's violent attack that followed.
As Vinson lie facedown on the ground, Haubert begins strangling him as he bashes his gun into Vinson's skull. Blood begins pouring from Vinson's face and head, seemingly inspiring the violent cop to dish out more abuse.
At this point, Vinson is begging for the officer to stop, literally crying, saying "Please stop! Don't shoot me," and "You're killing me!"
As the assault continued, Vinson started crying for help from anyone who could hear him. But no help would come.
"If you move I will shoot you," Haubert says as he strangles Vinson for nearly a minute causing him to start losing consciousness.
Eventually, another officer arrives on the scene and thinks Haubert is the victim so he tasered Vinson. Vinson was then handcuffed but he did not go to jail. He was brought to the hospital instead.
"We're disgusted. We're angry. This is not police work," Wilson said. "We don't train this. It is not acceptable."
She also stated that it was likely that Vinson didn't know there was a warrant out for his arrest because it was from another county.
On Tuesday, both Haubert and Martinez was arrested and booked into jail for their crimes. Haubert was charged with attempted first-degree assault, second-degree assault, oppression, felony menacing and first-degree official misconduct. Martinez was charged with failing to intervene and report use of force by a peace officer. Haubert has been placed on unpaid leave while Martinez is currently on paid leave.
"We will continue to do training and we will continue to take people out of this agency if that is how they're going to police," Wilson said. "It's not right."
"I hope that the transparency that we're giving you here today, as well as the swift action by our police department can make some of you believe that we are trying to do the right thing," she said. "We are trying to reform, and we are trying to make a difference. This is not the Aurora police department."
According to Colorado Public Radio, Vinson is now being represented by a Denver civil rights firm, which in a statement Tuesday said the "vicious, unprovoked assault" on him "illuminates the ongoing issue of police violence, particularly against communities of color."