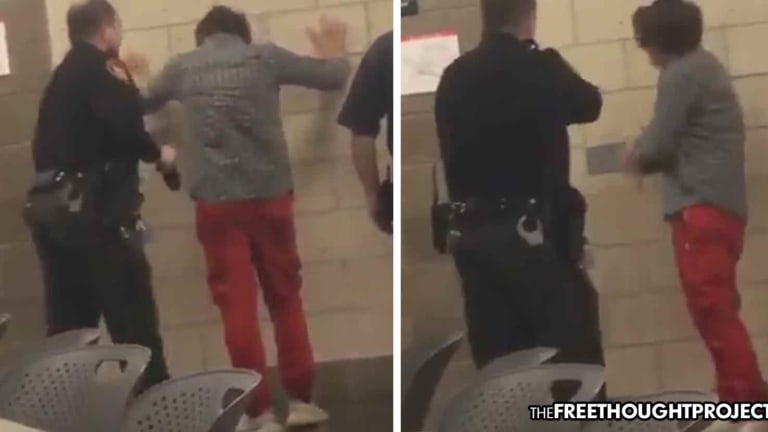 WATCH: School Cop Tasers Peaceful Child Over Dress Code Violation—Twice
A disturbing video shows a high school teen in Ohio being tasered by the school officer over a disagreement about the color of his pants.
Smithville, OH — A disturbing video shows the reality of what education in a police state looks like as a non-violent teen was tasered by school resource officer over an argument about a dress code violation.
According to Wayne County Sheriff's Office Capt. Doug Huner, the teen was being non-compliant and refusing to obey officials in regard to a disciplinary issue. So, the school resource officer intercepted the defiant teen.
According to Hunter, "there was a problem between the dean of students and this particular student which centered around a school policy violation."
The violation was over the color of his pants.
The student "allegedly became disruptive and ran away from the dean of students," Hunter said, "and (the dean) soon encountered the school resource officer, who was going down the hallway."
Hunter said that Deputy Matt Little then claimed the teen threatened him.
"What I was told," said Hunter, was the student "allegedly threatened to assault the deputy by punching him."
However, this was not evident in the video.
As the video shows, the teen is certainly being hard-headed, but at no time did he become violent or resist in any way. At no time did police attempt to handcuff him or grab him before deploying the taser.
In the video, we see the teen, who is referred to by his father as "Hammy," put his hands on the wall as if he was being arrested. Hammy's father explained that when his son saw the taser light on his shoe, he turned around and was immediately tasered. This is backed up by the video.
"At the end of the struggle, the deputy tases him," Hunter said, incorrectly implying that there was a "struggle." "It looks like (the student) is hit on the left side just above his belt line, which is typically where we target."
Hammy's father said that his son's behavior was unacceptable and he "put his child in his place" when he got to school. However, he said that the police officer senselessly deploying his taser was unnecessary and excessive.
Indeed, as the video shows, the officer deployed the taser without provocation. Then, as the teen laid on the ground in pain, the officer shot the taser again.
"Why didn't they call me when he wouldn't change his pants?" asked Hammy's father. "They know I am more than willing to work with them."
"If he wasn't breaking a law, but only a dress code, why did it even get to this level?" he asked. "No anger, no aggression, no fighting, no taser!" 
We agree. Below is a video that perfectly illustrates what going to school in a police state looks like.
" width="640" height="360" frameborder="0" allowfullscreen="allowfullscreen">
As the Free Thought Project previously reported, according to statistics released by the U.S. Department of Education and published by NBC News, in the 2011-2012 school year, teachers called the cops on students a total of 31,961 times in the state of California alone, leading to 6,341 arrests.
If a teenager was tasered by a school cop in the 90's, you can rest assured that this would not fly. Instead, it has become the go-to approach in the land of the free.
In May, we reported on the video showing a San Antonio Independent School District police officer body slam a 12-year-old girl. In February, the Free Thought Project brought you the story of the Baltimore School cop who was seen beating a student who had done nothing wrong.
In fact, recent videos have revealed a myriad of school cops attacking unarmed students. In December, Officer Rigo Valles was cleared of any wrongdoing after grabbing a student by the neck and slamming him to the floor. In October, Richland County Deputy Ben Fields was fired after students recorded him flipping over a girl's desk and dragging her across the floor. Oklahoma City Master Sgt. Thomas Jaha was charged with assault and battery in October as well, after repeatedly punching a student in the face for not having a hall pass.
In November 2015, prosecutors agreed to dismiss assault charges against Louisville Metro Police Officer Jonathan Hardin for punching a student in the face if the former officer completes anger management classes.
In separate incidents earlier this year, school cops have also been caught attacking an autistic boy, body-slamming a child, and raping nearly two dozen students.
And these are the ones the public knows about. How many more incidents, just like this one, go unreported and unpunished?
What this data illustrates is the societal dependence on the state to solve matters that should be handled without government. Being dependent upon the state to solve one's problems is a de facto dependency upon violence.
"The State represents violence in a concentrated and organized form. The individual has a soul, but as the State is a soulless machine, it can never be weaned from violence to which it owes its very existence." -Mohandas Karamchand Gandhi
If you truly want a glimpse into the horrid effects of the police state on all school children, take a scroll through our archives, at this link.
Until people wake up to the reality of relying on a system of violence to maintain "order" and behavior compliance, we can expect this problem to get worse.