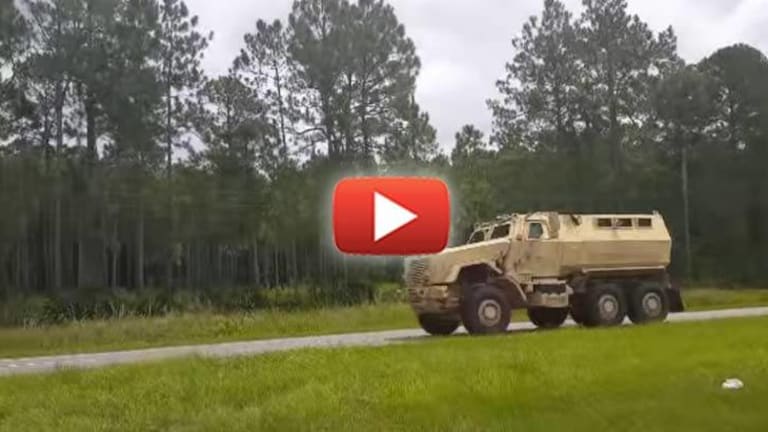 Paramilitary Police With MRAPs Lock Down Florida Town After Cops Kill Former Cop
A retired Miami officer was shot and killed by police and the entire town was placed on lockdown. Police and local media changed the official story multiple times.
Micanopy, FL -- Dozens of police vehicles, including MRAPs, shut down large sections of Interstate 75, and shut down an entire town for several hours, to hunt for a retired police officer and corrections officer who was allegedly involved in a shootout with police.
Thus far, there have been very few details released to the media, and those that have been released are constantly changing. It was actually admitted, and then immediately denied by an Alachua County PIO agent Art Forgey, that police went door to door checking people's homes without a warrant during the manhunt.
Initially, it was reported by the mainstream media that the suspect fired a gun at police during a traffic stop, and made terroristic threats relating to ISIS. As these reports were being made, a massive police presence enveloped the area and shut down traffic for miles.
Free Thought Project reporter and radio host Bob Tuskin was actually stuck in traffic on I-75 at the time, and began recording the police presence that he saw around him. In the video linked below, you can see an entire stretch of highway shut down, with large armored vehicles driving around, and paramilitary police lined up along the median.
Several hours after the search began, local mainstream news source TV20 reported that the suspect made terrorist threats and shot at police before he was captured and taken into custody. Not long after the story was reported, it was removed by TV20, and the story was republished stating that the suspect had either been killed by police, or turned the gun on himself after shooting. All mentions of ISIS and terrorism were then removed after the initial hype was created.
Luckily, Tuskin was able to capture a screenshot of the original story, which is documented in the video below, along with a series of interviews with TV20 reporters and PIO agent Art Forgey. These interviews highlight the many discrepancies between what was said on the police radios and what was later officially reported by police.
TV20 told us that Forgey was the person who confirmed the ISIS scare with them, an accusation that he later denied during his phone interview with Tuskin. During the same interview, Forgey also admitted that police were in fact going door-to-door searching people's homes during the manhunt, and then when the question was immediately asked again he vehemently denied it.
Later that day, it was reported by Local10 that the alleged suspect killed in the manhunt was 59-year-old Earl Jackson, of Miami, a former corrections officer.
One commenter on a Gainesville Sun article said that Jackson was his "Sargeant" during his time as a Miami-Dade County police officer, so it is possible that he was a high-ranking police officer for a period of time, as well as a corrections officer. The commenter also said that Jackson was always calm and well-mannered, not mentally ill as he was described by police.
Another person claiming to know the deceased also spoke up on the Local 10 page, similarly describing Jackson.
The massive police presence was criticised by many, who described the situation as one of martial law, but Alachua County Sheriff Sadie Darnell responded by saying "You don't know when you'll need it, but incidents like this show how valuable it is to be prepared and well-equipped."
Still, it seems that more frequently, whenever any situation occurs where someone evades police, they roll out the military equiptment and put entire communities on lock-down during their search. Also, it seems that false rumors of terrorism or terrorist threats often appear during these situations, and are used as an excuse for the heavy police presence, even if the rumors are untrue, as they were in this case.
John Vibes is an author, researcher and investigative journalist who takes a special interest in the counter culture and the drug war. In addition to his writing and activist work he organizes a number of large events including the Free Your Mind Conference, which features top caliber speakers and whistle-blowers from all over the world. You can contact him and stay connected to his work at his Facebook page. You can find his 65 chapter Book entitled "Alchemy of the Timeless Renaissance" at bookpatch.com.